US Open Images – The photos from Flushing Meadows
TENNIS US OPEN IMAGES – The images taken during the last few days of competition at Flushing Meadows by Ray Giubilo and Art Seitz. Federer, McEnroe, Monfils and James Blake
Ubitennis Photographer Roberto Dell'Olivo Awarded in Monte Carlo
Every year the Monte-Carlo tournament awards the best photographers. First prize for Ubitennis' Roberto Dell'Olivo thanks to his artistic eye
Every year during the Rolex Monte-Carlo Masters the tournament holds a small award ceremony to acknowledge the best pictures taken by credentialed photographers during the previous edition of the event. This year the best photos from the 2019 tournament were awarded since the 2020 edition had to be cancelled due to the COVID-19 pandemic and the 2021 edition took place behind closed doors.
Ubitennis' photographer Roberto Dell'Olivo was already acknowledged in 2018 for his work during the week in Monaco, but this year he received an even more prestigious accolade. In fact, he has been awarded the ex-aequo first prize in the photographic contest, chosen among all the photographers credentialed at the tournament.
The ceremony was officiated by Alain Manigley, President and CEO of SMETT (Société Monégasque pour l'Exploitation du Tournoi de Tennis), the company in charge of the commercial development of the Rolex Monte-Carlo Masters. Roberto Dell'Olivo has been taking pictures at professional tennis tournaments around the world for several years: from the Australian Open to Roland Garros, from Wimbledon to Paris-Bercy, he has become a stable presence at the most important tennis events around the world.
Ubitennis wants to congratulate Roberto on this important achievement, thanking him for the coverage of his fifth Rolex Monte-Carlo Masters and wishing him the best of luck for the rest of the season.
Luigi Serra: A Tribute To A Great Friend In 50 Snapshot
Our unforgettable friend, who passed away on December 9, gifted us with hundreds of pictures – here is a selection of his best work.
All of us at Ubitennis send our love to Luigi Serra's family, including his wife Bonnie, his sons Alessandro and Gianluca, as well as the tribe of grandchildren (Isabella, Gabriella, Daniela, Lexi and Vincent) of whom he was incredibly proud and whom he loved dearly – they reciprocated their affection for a grandfather who was often as genuine as they are, always mirthful, funny, unique. Here is Ubaldo Scanagatta's tribute to the late Luigi, and here are his best shots: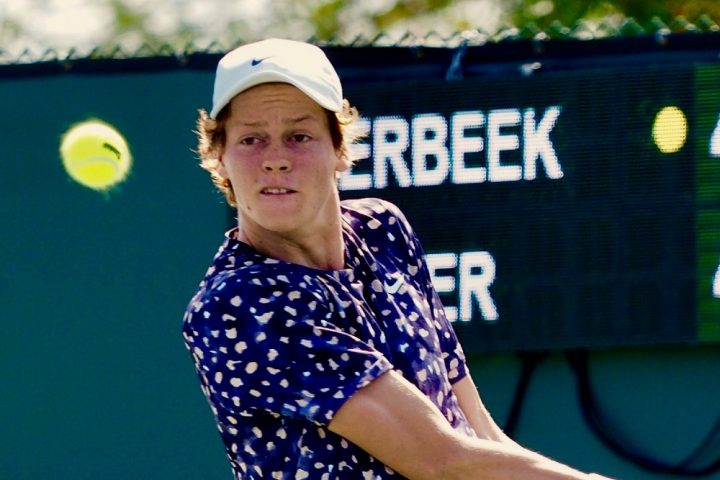 (VIDEO) Australian Open Day Seven: Roger Federer Fights Back Once Again
Ubaldo Scanagatta analysis the key matches that took place in Melbourne on Sunday, which includes the roller-coaster win of the Swiss Maestro.
Sunday in Australia saw two of the big favourites in the men's draw progress, but it was far from straightforward for one. Roger Federer had to battle back from a set down to edge out Hungary's Marton Fucsovics. Setting him up with a clash against world No.100 Tennys Sandgren. Meanwhile, defending champion Novak Djokovic is rapidly gaining in momentum following his triumph over Diego Schwartzman.
In the women's draw, Ash Barty has given herself a shot of revenge after setting up a quarter-final meeting with Petra Kvitova. The same player who beat her in the last eight of the tournament 12 months ago.