ANALYSIS Of Jannik Sinner Vs Daniil Medvedev: There Is Still Something Missing In Sinner's Serve
Given his recent success in Montpellier, Ubitennis takes a close look at Jannik Sinner's match against Dnaiil Medvedev in the final of the Rotterdam Open last Sunday. The Italian was defeated by Medvedev who shift his gear up and knocked Sinner down.
By Federico Bertelli
Sunday's match was a sort of maturity test for the Italian player, who was beaten but showed that he is on the right track. The problem, however, is that overthrowing a top 5 player who plays at his best, is still a tall order.
General overview: once again, we take this opportunity to present our own elaboration of the main dimensions of analysis regarding service and return:
1st_in – percentage of first serves in
1st_won – percentage of points won on first serves
2nd_won – percentage of points won on second serves
Bp_saved – percentage of break points saved
Bp_converted – percentage of break points converted
1st_ret_won – percentage of points won on return of opponent's first serve
2nd_ret_won – percentage of points won on return of opponent's second serve
Pt_won – percentage of total points won
Ret_won – percentage of points won on return Srv_won – percentage of points won on serve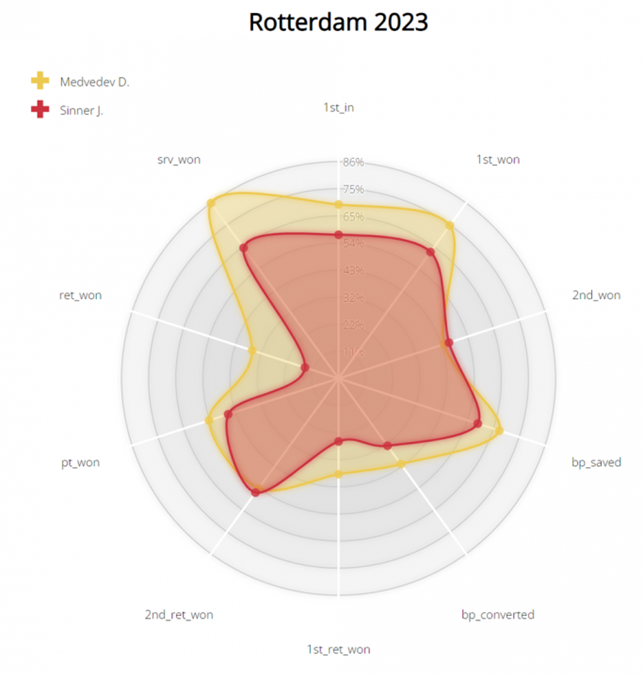 The advantage of this visualization is that it allows us to immediately see the dominance of one player over the other for the various dimensions of analysis. What we see first and foremost is how much of the difference was made by Medvedev's ability to increase the percentage of first serves in after the first set. At this level, a gap of more than 12% in first serves in is a considerable handicap, so hats off to Medvedev for shifting a couple of gears in his game. It is interesting to note that Jannik was able to match Medvedev's performance on second serves; in fact, this is an extremely comforting data point considering the quality of the Russian player's rallies and the fact that the match often played out in extended rallies. Of course, this is a big improvement for Sinner compared to last Sunday's match against Cressy.
Service directions: based on the charting provided at the end of the article, we have graphically represented the serving choices of the two players:
The graphs can be read as follows: the blue arrows represent the directions of serves from the even court side (with the players serving from right to left). The yellow arrows represent the directions of serves from the odd court side (with the players serving from left to right). The thickness of the arrow visually indicates how much a certain direction was chosen over the other. The values are expressed in percentage, with the service area divided into 6 zones:
Services on the deuce side
    Wide serves
    Body serves
    T Serves 
Services on the advantage side
    Wide serves
    Body serves
    T Serves 
With reference to the choices on the first serve, we have fairly similar predictions, except for the distribution of the wide serve on the even side. In this case, Medvedev had a greater intent in seeking the open angle.
On the second serve, Sinner's choice was mainly to go for a kick serve with a central bounce, with the aim of giving Medvedev few angles to respond with. On his part, the Russian favoured a greater search for the outer angles in his second serve. In terms of the efficiency of their choices, we can see that Sinner could have favoured the first serve going wide on the even side more, while in general, he had difficulty taking Medvedev out of position on the advantage side. In this situation, the Russian was very good at handling Sinner's outer serves and starting long exchanges. On the other hand, Medvedev was able to construct advantageous situations on his first serve, often using variations of serves to the centre and to the wide side.
Return performance: Both players were extremely conservative, as they rarely tried to enter aggressively on the opponent's second serve. In particular, when Medvedev served a second serve, Sinner was aggressive on only 12% of occasions and he won the point in all those instances. The problem for the Italian was that Medvedev's second serves with less pace were really few, so the window of opportunity was rather slim. However, as the match progressed and with the increasing pressure imposed by the Moscow native, a solution could have been to try going for outright winners with more aggressive returns. This could be a key to Jannik's future development, the ability to attack his opponent's second serve. On the other hand, Medvedev always positioned himself calmly at the back of the court, grinding out points and minimizing Sinner's chances to hit winning serves.
The graphic of the Russian's position in response, both on the first and second serve, is particularly telling in this regard:
Sinner, on the other hand, had a more proactive approach, both on the first and second serve, but unfortunately, as we have seen, it did not translate into a greater ability to take control of the point from the return.
Length of rallies: it's worth noting how this was a particularly intense match for indoor standards; compared to a match like last week's between Cressy and Sinner, in which the prevalence of short rallies was clear, Sunday saw a completely different context: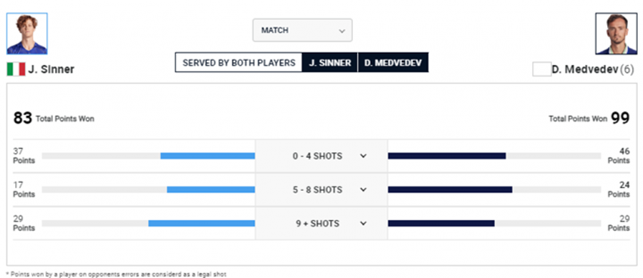 The distribution is quite clear: Sinner was able to keep up with Medvedev in extended rallies, which is not at all obvious against a player of such tactical and physical skills as Medvedev. However, the Russian was able to demonstrate greater efficiency on his first serve, which allowed him to slam the door in Sinner's face. Particularly emblematic was the sixth game of the second set, where Sinner found himself in the rare situation of having three consecutive break points, but Medvedev was able to produce a series of six consecutive first serves, which allowed him to dig himself out of the hole.
Conclusions: The big difference was made by Medvedev's ability to elevate his quality on serve, a weapon that Sinner still does not possess at the same level. Or rather, Sinner's serve works, but not yet at the level of the world tennis elite; and having the possibility to have a greater impact and close points more quickly in the long run can prove to be a determining factor, especially in Slam tournaments.
Tennis Player Disqualified From Shanghai Qualifying Match Two Points Away From Victory
It will be a match that Australia's Marc Polmans will never forget but for all the wrong reasons.
The World No.140 looked to be on the verge of victory against Italy's Stefano Napolitano when leading their match 7-6(3), 6-6(6-5), in the final round of qualifying at the Shanghai Masters. However, disaster struck at the next point when Polmans temper got the better of him and subsequently cost him.
With match point, he approached the net to hit a backhand shot but it ended up in the net. Prompting the frustrated 26-year-old to hit a tennis ball that unfortunately hit the umpire. As a result of that action, he was automatically disqualified from the match which handed Napolitano the victory and a place in the main draw.
It is not the first time a tennis player has been disqualified for such an incident. During a 2017 Davis Cup tie between Canada and Great Britain, Denis Shapovalov was disqualified for firing a tennis ball that hit the umpire's eye. Novak Djokovic was also disqualified from the 2020 US Open after hitting a ball that accidentally struck a lines judge.
"Players shall not violently, dangerously or with anger hit, kick or throw
a tennis ball while on the grounds of the tournament site except in the reasonable pursuit of a point during a match (including warm-up)," the 2023 ATP rulebook outlines.
"For purposes of this rule, abuse of balls is defined as intentionally or reckless- ly hitting a ball out of the enclosure of the court, hitting a ball dangerously or recklessly within the court or hitting a ball with disregard of the conse- quences.'
"Violation of this section shall subject a player to a fine of up to $350 for each violation. In addition, if such violation occurs during a match, the player shall be penalized in accordance with the Point Penalty Schedule."
It is a tough lesson for Polmans to learn. He was on the verge of playing in the main draw of a Masters 1000 event for the first time in his career. He is currently the 10th highest-ranked Australian player on the ATP Tour and reached the final of a Challenger event in Guangzhou, China last month.
Team World One Win Away From Victory in Laver Cup
Team World take a huge 10-2 lead over Team Europe heading into the final day
After losing the first four editions of the Laver Cup, Team World look set to win the event for a second time as the event reaches its conclusion tomorrow.
Team World Captain John McEnroe was thrilled with the day's results but warned against complacency: "We're just going to keep doing what we're doing. The job's not done but we're pretty close."
American duo Taylor Fritz and Frances Tiafoe both earned straight sets wins over Andrey Rublev and Hubert Hurkacz, while Felix Auger-Aliassime and Ben Shelton beat Hurkacz and Gael Monfils.
"I want to play well for the guys," said Tiafoe after his singles victory. "I played really well tonight. Just being in a team environment is so foreign to us as tennis players, it's such an individual sport."
After winning his third singles match in three appearances at the Laver Cup, Fritz was also motivated to do well:
"Yesterday, all the guys played really well. I felt that and wanted to come out on court and show what I can do. That definitely motivated me. Any type of team environment, I feel like it always elevates my game. I feel like my record in team events is really strong because I have a team cheering for me. I get pumped up. I'm excited to play for them. It just adds more pressure and fire to it. I think I play better in those situations."
The doubles was a typically dynamic and feisty affair, and after the match Shelton was full of praise for his partner:
"It's amazing, when you play with a guy who serves and returns like Felix, is as athletic as him, and goes back for the overhead as strong as him, it's a fun time," said Shelton. "We call him 'Laver Cup Felix' because he turns into something special this week, just glad I got to share the court with him at least once."
Auger-Aliassime returned the compliments: "The best comes out of me when I'm playing not only for myself but for team-mates. Ben carried me through the end of that match, it was tough for me to get it done."
Casper Ruud, meanwhile, beat Tommy Paul for Europe's only points so far.
Matches on the final day are worth three points each – meaning that Team Europe would have to win all four remaining matches to prevent Team World from winning the trophy.
Results:
T. Fritz def A. Rublev 6-2, 7-6
F. Tiafoe def H. Hurkacz 7-5, 6-3
F. Auger-Aliassime & B. Shelton def H.Hurkacz & G. Monfils 7-5, 6-4
C. Ruud def T. Paul 7-6, 6-2
ATP RANKINGS UPDATE: Novak Djokovic, No.1 once more
After the US Open the Serbian champion reclaims top spot. Alexander Zverev is back in the Top 10
By Roberto Ferri
"Don't ever underestimate the heart of a champion"
Rudy Tomjanovich coined this maxim just after his Houston Rockets won the NBA championship in 1995. He was paying homage to Akeem Holajuwon. It perfectly suits the heart of Daniil Medvedev, who proved 99% of tennis fans in the world to be wrong, convinced as they were that he would lose the semifinal to former No 1 Carlos Alcaraz.
But his dream to win a second US Open, after his triumph in 2021, was shattered by another champion, whose heart and class is even greater: that's Novak Djokovic, who affixes his seal on his return to No.1, equalling Margaret Court Smith's record of 24 majors.
Djokovic dethroning Alcaraz is not the only change in the top 20: Sascha Zverev is back in the top 10 after almost one year and Ben Shelton, great protagonist of the Us Open, debuts in the top 20 best players in the world.
TOP 20
| | | | | |
| --- | --- | --- | --- | --- |
| Position | Player | Country | Pts | +/- |
| 1 | Djokovic | Serbia | 11795 | 1 |
| 2 | Alcaraz | Spain | 8535 | -1 |
| 3 | Medvedev | Russia | 7280 | |
| 4 | Rune | Denmark | 4710 | |
| 5 | Tsitsipas | Greece | 4615 | 2 |
| 6 | Rublev | Russia | 4515 | 2 |
| 7 | Sinner | Italy | 4465 | -1 |
| 8 | Fritz | USA | 3955 | 1 |
| 9 | Ruud | Norway | 3560 | -4 |
| 10 | Zverev | Germany | 3030 | 2 |
| 11 | Tiafoe | USA | 2690 | -1 |
| 12 | de Minaur | Australia | 2685 | 1 |
| 13 | Paul | USA | 2660 | 1 |
| 14 | Auger-Aliassime | Canada | 2340 | 1 |
| 15 | Khachanov | Russia | 2135 | -4 |
| 16 | Hurkacz | Poland | 2035 | 1 |
| 17 | Norrie | GB | 1985 | -1 |
| 18 | Musetti | Italy | 1925 | |
| 19 | Shelton | USA | 1735 | 28 |
| 20 | Dimitrov | Bulgaria | 1735 | -1 |
A few comments:
Stefanos Tsitsipas, Andrei Rublev and Alexander Zverev gain 2 positions.
Ben Shelton devours 28 positions.
Sinner, Tiafoe, Norrie and Dimitrov lose one.
Casper Ruud and Karen Khachanov, runner up and semi-finalist respectively  at the 2022 US  Open, drop 4 positions.
One step forward for Fritz, de Minaur, Paul, Auger-Aliassime and Hurkacz.
ATP NITTO FINALS
From 12 to 19 November the 8 best players of the ranking based on the points earned in the ongoing solar season will be playing the Nitto ATP Finals in Turin.
Will Novak Djokovic succeed in winning a second straight title? He appears to be heading in the right direction.
| | | | | |
| --- | --- | --- | --- | --- |
| Rank | Player | Country | Pts | +/- |
| 1 | Djokovic | Serbia | 8945 | 1 |
| 2 | Alcaraz | Spagna | 8175 | -1 |
| 3 | Medvedev | Russia | 6590 | |
| 4 | Sinner | Italia | 4365 | |
| 5 | Rublev | Russia | 3640 | 1 |
| 6 | Tsitsipas | Grecia | 3570 | -1 |
| 7 | Rune | Denmark | 3055 | |
| 8 | Zverev | Germania | 3030 | |
| 9 | Fritz | USA | 3010 | |
| 10 | Ruud | Norway | 2625 | |
Thanks to his triumph at the US Open the Serbian overtakes Alcaraz also in the Race to Turin.
Jannik Sinner holds fourth spot while Andrei Rublev overtakes Stefanos Tsitsipas and is now fifth.
The eighth position is occupied by Alexander Zverev.
Last year runner up, Casper Ruud is currently 10th. This means he would feature in Turin as a reserve.
ATP NEXT GENERATION FINALS
The Next Gen Finals, dedicated to the best under 21s, (8 effectives and 2 reserves) of the season will take place this year in Gedda, Saudi Arabia.
The 2022 winner, Brandon Nakashima, will not be defending his title, since he was born in 2001.
| | | | | | |
| --- | --- | --- | --- | --- | --- |
| Position | Player | Country | Pts | YOB | ATP rank |
| 1 | Alcaraz | Spain | 8175 | 2003 | 2 |
| 2 | Rune | Denmark | 3055 | 2003 | 4 |
| 3 | Shelton | USA | 1455 | 2002 | 19 |
| 4 | Musetti | Italy | 1300 | 2002 | 18 |
| 5 | Fils | France | 953 | 2004 | 44 |
| 6 | Van Assche | France | 597 | 2004 | 69 |
| 7 | Stricker | Switzerland | 576 | 2002 | 90 |
| 8 | Michelsen | USA | 492 | 2004 | 117 |
| 9 | Medjedovic | Serbia | 485 | 2003 | 121 |
| 10 | Cazaux | France | 455 | 2002 | 130 |
| 11 | Cobolli | Italy | 405 | 2002 | 132 |
| 12 | Llamas Ruiz | Spain | 370 | 2002 | 133 |
Taking for granted that Alcaraz and, most likely Rune, will be playing the ATP Finals, we have included in the chart the 12 current top under 21s.
BEST RANKING
Besides Ben Shelton, other 11 players have achieved their career highest this week.
We tribute a double applause to the four players who are making their debut in the top 100.
The 25-year-old Croatian Borna Gojo, 22-year-old Australian Rinky Hijkata and the Swiss next gen Dominic Stricker all reap the reward for their brilliant runs at the US Open. Seyboth Wild, the Brazilian who stunned Medvedev in the first round of Roland Garros leaps to No.76 after winning the Challenger in Como last week.
| | | | |
| --- | --- | --- | --- |
| Player | Position | Country | Progress |
| Shelton | 19 | USA | 28 |
| Jarry | 22 | Chile | 3 |
| Baez | 28 | Argentina | 4 |
| Fils | 44 | France | 4 |
| Arnaldi | 47 | Italy | 14 |
| Altmaier | 49 | Germany | 4 |
| O'Connell | 53 | Australia | 16 |
| Seyboth Wild | 76 | Brazil | 30 |
| Gojo | 77 | Croatia | 28 |
| Watanuki | 78 | Japan | 7 |
| Mmoh | 81 | USA | 8 |
| Hijkata | 83 | Australia | 27 |
| Stricker | 90 | Switzerland | 38 |
Translated by Kingsley Elliot Kaye