Shapovalov Starting a New Run in Toronto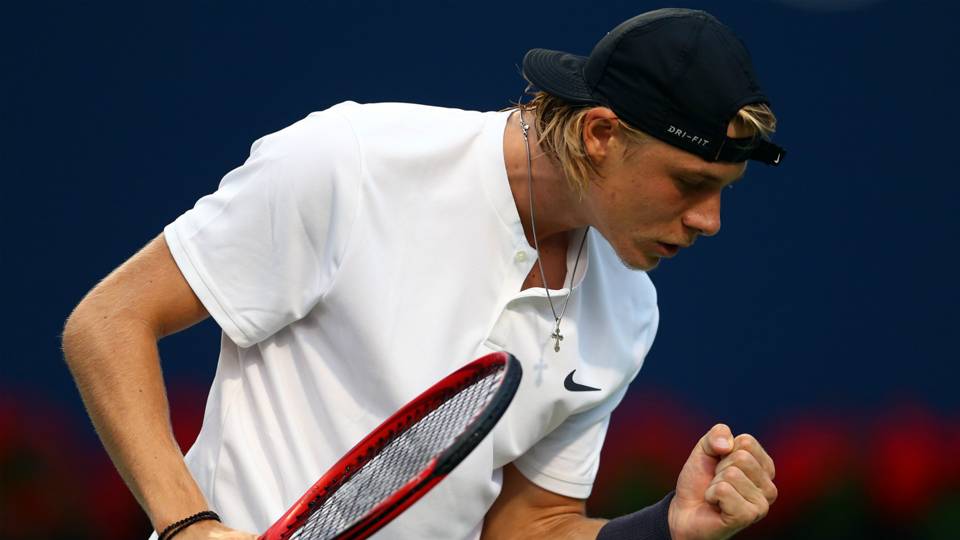 -Toronto, Canada
Denis Shapovalov had the best moment of his career on home soil at the Rogers Cup in Montreal last year. The way he is playing through his first two matches in Toronto this year, Canadian tennis fans could be in for another treat. The 19-year old Canadian needed 80 mins to dispatch Fabio Fognini 6-3, 7-5 in the second round on Wednesday night.
It was an impressive win for "Shapo" especially after going down 0-4 after being broken twice in the second set but then rallying to win 7 of the last 8 games of the match. Another moment early in his career where his poise and confidence helped him win another match.
The first break of the opening set came in the fourth game after Fognini decided to challenge a call mid-point which he thought went wide. He was wrong and it gave Shapovalov a pair of break points. The World No. 26 then hit an enormous backhand service return winner on the next point and he went up 3-1.
After an hour plus rain delay, Shapovalov won four straight points to give him the opening set in 34 minutes of playing time.
The start of the second was all Fognini. He broke Shapovalov in his opening two service games. The Canadian making a plethora of errors from both the forehand and backhand sides. Suddenly it was 4-0 for the World No. 14.
After a racquet change and a large boost from the hometown crowd, Shapovalov immediately broke Fognini after one of his 33 unforced errors in the match went into the net.
Two games later Fognini, coming of the title at Los Cabos last week, double faulted another break away and the set was back on serve.
In the eleventh game, a couple of mistakes off Fognini's racquet including a double fault and a forehand that went long on break point sent the crowd into an uproar and gave Shapovalov his third break of the set. The youngster motioning the crowd to get on their feet which didn't appear to sit well with the older Fognini. The Italian sent a few words in the direction of Shapovalov as they walked to their seats both players continuing to chirp each other during the sit-down. Fognini appeared to call his opponent "arrogant" at one point.
In the next game, Shapovalov hit a spectacular backhand crosscourt winner to go up 30-15 and on match point he hit a forehand deep into the corner to set up an easy put away volley and the match was his. For the second straight year, the youngster is thrilling crowds in Canada.
"The crowd on Grand Stand, I think it helped me a lot," said Shapovalov " because it was so ecstatic, so energetic because it's so compact, that it actually bothered Fognini quite a bit, especially toward the end. So it really worked in my favor, and I really enjoyed myself out there."
Shapovalov had 18 winners and 28 errors in the match along with 9 aces. Fognini had just 6 winners throughout and just one ace. So could the 19-year old duplicate his run in Canada from a year ago?
"Definitely. I think my game is at a very high level right now," Shapovalov said. "You know, last week, even though I lost to Kei, it was a really good match. And I was telling everyone, I'm playing well in practice. I'm feeling really good. And I think having my mom on the side has really helped me the last couple weeks. I've really picked up my game. We've really worked on a couple of aspects that have helped me in the last couple of weeks. So I'm playing really good tennis, and I'm really happy with where I am right now."
Next up for the home favourite is a meeting with Robin Hasse.  Both players reached the semi-finals in Montreal a year ago. The two could also very well meet again in September as Canada will face the Netherlands in a Davis Cup World Group tie, also in Toronto.
Novak Djokovic Voted Greatest Men's Champion In Open Era
The world No.1 thrashed Federer in the final round of voting conducted by a top sports network.
Despite the world of tennis being halted due to the COVID-19 pandemic, Novak Djokovic is still being recognized for his contribution to the sport.
A public poll conducted by Eurosport has named the world No.1 the greatest men's champion in the Open Era (since 1969). The findings follow a series of polls conducted by the television network which ask their viewers to vote between two names in a knock-out format. In Djokovic's quarter he received more votes than both Rod Laver and Rafael Nadal.
Then in the final Djokovic took 'the lion's share' of votes when going head-to-head with Roger Federer. Eurosport said a total of 900,289 votes were cast and Djokovic's one-sided triumph over the Swiss in the final round equated to '6-0, 6-1' in tennis terms. However, the organisation hasn't provided a full breakdown of votes for every round.
Compared with his Big Three rivals, Djokovic still trails them in terms of Grand Slam and ATP titles won so far in their careers. However, he is the youngest of the trio and is the only member to have a winning head-to-head record against the other two. He leads Nadal 29-26 and Federer 27-23. During a recent interview with Ubitennis.net Pat Cash said he believes Djokovic is the best player out of the three based on his winning record.
"Who is the best player of the lot? It's Djokovic. It's clear. This guy is a freak. They had a big head start and he has caught up with them. It's just hard to go past the reality of head-to-head wins," Cash told ubitennis.net.
"I know everybody says Federer is the greatest player of all time, but he's not even the second greatest in his own era.
"That's hard to believe. If you are the best of all time, you should at least have a head-to-head record against your number one rival or number two rival.
"Surely, that would be the very first factor, I would say."
Djokovic started 2020 by winning 18 matches in a row before the Tour was suspended. He has already won titles at the ATP Cup, Australian Open and Dubai Tennis Championships. Earning more than $4 million in prize money for those triumphs alone.
The poll breakdown
QUARTER-FINALS
Nadal def McEnroe
Federer def Becker
Djokovic def Laver
Sampras def Borg
SEMI-FINALS
Federer def Sampras
Djokovic def Nadal
FINAL
Djokovic def Federer
REPORT: ATP To Hold Zoom Meeting With Players Concerning Future Of 2020 Season
Details of a confidential meeting concerning the governing body of men's tennis have been published by a leading Spanish newspaper.
In just over a week's time the likes of Roger Federer and Co will know for certain what the future of the 2020 season will look like.
Spain's top sporting newspaper Marca have confirmed that player's have been sent emails from the ATP Tour inviting them to attend a zoom meeting. It is set to be held on Wednesday June 10th at 16:00 CET where they will be discussing the future plans of the men's Tour. It is unclear how the WTA is addressing the situation or if they will take a similar approach.
All professional tennis tournaments have been either suspended or cancelled since March due to the COVID-19 pandemic. At present the Tour is suspended up until July 31st, but it is unclear as to what will occur beyond that date. Both the US Open and French Open are hoping to hold their tournaments later this season.
There has been no official word for the ATP to confirm the upcoming meeting, however it has emerged that it was meant to be kept confidential. Something that is no longer possible due to the Marca article.
The most significant aspect regarding the upcoming call will be surrounding the North American Tour and what events will or will not take place. For example the Rogers Cup in Canada has already cancelled their women's event, but they are still hoping to stage the Men's equivalent. There are also questions over the future of tournaments in Cincinnati, which is a Masters 1000 event, and the Citi Open in Washington.
"The chance of having 7,500 people a night at the beginning of August is extraordinarily low," Citi Open tournament director Mark Ein told Tennisnow.com last month. "We haven't ruled anything out at this point, but the chance of being able to pack a stadium, if you're being realistic, is extremely low.
"Really we're focused on scenarios where our hope would be that we can play it with some number of fans. We're really thinking of hundreds to a thousand [fans]."
The New York Times has reported that the United States Tennis Association is considering moving the Washington event to the same venue of the US Open. Minimising the amount of travel that player's would be required to do. It is understood that both the ATP and WTA are considering that proposal.

Another factor that will likely be discussed will be how different the Tour may look. There have been talks about potentially staging events behind closed doors, including the US Open, due to the ongoing pandemic. Furthermore, a more pressing matter will be travel requirements and if player's will be exempt from going through quarantine when entering a new country.
In regards to coaches, it has been reported that they have been invited to attend a separate zoom meeting on June 18th. Torben Beltz, who is the coach of women's player Donna Vekic, recently disclosed some of the approaches being considered by the WTA. Speaking to the Advantage Podcast, Beltz said the ideas include limiting players to only having one person travelling with them. It is still unconfirmed if this would occur or if the ATP would consider a similar approach.
ATP Tour chief Andrea Gaudenzi had previously said on May 11th that yesterday (June 1st) would be the deadline for making a decision regarding playing tournaments in August. However, they are yet to issue any statement concerning their plans.
Rafael Nadal Commits To The French Open On One Condition
The king of clay looks ahead to Roland Garros with both optimism and caution.
World No.2 Rafael Nadal has cautiously confirmed that he will head to the French open later this year to defend his title once again.
Nadal, who has won the clay-court major a record 12 times, will have to wait until September to play at Roland Garros due to the ongoing suspension of the Tour due to COVID-19. Officials originally planned to host the event between the end of May and June. Instead, it is currently scheduled to get underway on September 27th with final plans concerning the tournament yet to be finalized.
Speaking to French radio over the weekend Nadal has insisted that he will only play at the event as long as it is safe to do so and the conditions are the same for all players. It is still unclear as to how many fans will be able to attend the event with French Tennis Federation president Bernard Giudicelli saying he wanted 'as many as possible.' However, the final decision will be up to the government.
"I do not see the future from a professional point of view, but from a medical and health point of view," the Spaniard said.
"As for Roland Garros, if it is possible to play in optimal conditions and in total safety, if everyone can play, if we are all together, yes, I will be there. But today we have to take precautions and be responsible with the right decisions to guarantee the safety and health of everyone in tennis."
Nadal faces a potentially critical period later this year should the US Open get underway in September ahead of the French open as planned. As the defending champion at both of those events, he will be tasked with defending a total of 4000 points within five weeks. A far from ideal scenario for anybody.
Although it could be expected that if push comes to shove, Nadal would most likely favor the French Open over the other given his emphatic record. In Roland Garros, he has only ever been defeated twice. Losing to Sweden's Robin Soderling in 2009 and Novak Djokovic in 2015. Overall he has a win-loss record of 93-2 at the event.
It is currently unclear as to when the Tour will get going again with all professional tournaments either suspended or canceled until at least July 31st. When play resumes, one possibility is that the action could take place behind closed doors to follow suit to other sports. Although Nadal admits that the situation will be less than ideal for him.
"It is possible. Football is being played behind closed doors. But if you ask me if I like it, the answer is no. Nothing can replace the presence of the public and the energy it generates." He stated.
On the upside, Nadal is slowly returning to practice thanks to relaxation in lockdown rules in his native Spain. He aims to be fully ready for the resumption of the tour whenever that will occur.
"I feel good. Like the rest, I have not been able to leave the house in two months. Luckily, I had weight training machines at home to train and keep myself physically fit," Nadal commented on his current fitness routine.
"Little by little I have resumed training several days a week, but not all seven. It has been a gradual and very slow recovery that we have done with care and caution. The objective is to be ready for the day when we return to play tennis, but we still don't know that. "
Nadal started 2020 with a win-loss record of 13-3 before the Tour suspension.