Shapovalov Starting a New Run in Toronto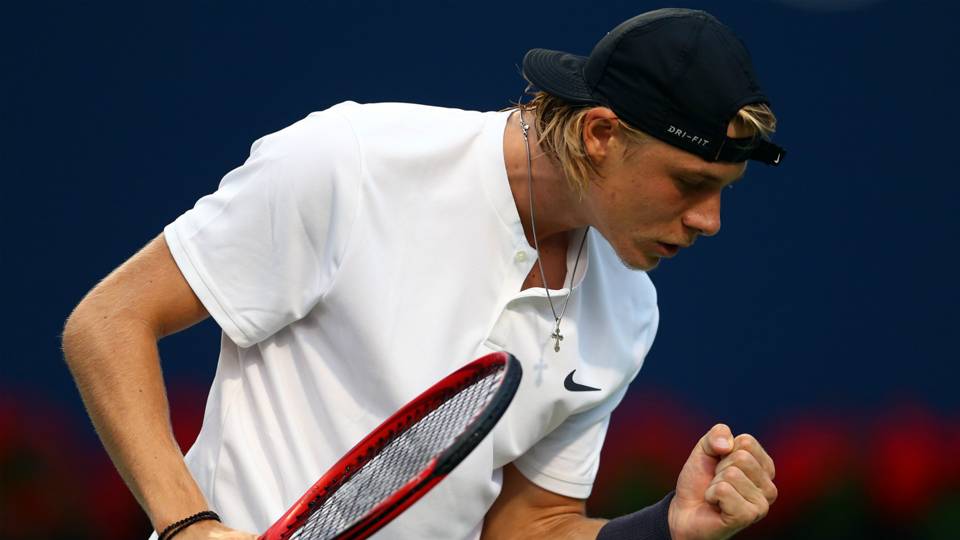 -Toronto, Canada
Denis Shapovalov had the best moment of his career on home soil at the Rogers Cup in Montreal last year. The way he is playing through his first two matches in Toronto this year, Canadian tennis fans could be in for another treat. The 19-year old Canadian needed 80 mins to dispatch Fabio Fognini 6-3, 7-5 in the second round on Wednesday night.
It was an impressive win for "Shapo" especially after going down 0-4 after being broken twice in the second set but then rallying to win 7 of the last 8 games of the match. Another moment early in his career where his poise and confidence helped him win another match.
The first break of the opening set came in the fourth game after Fognini decided to challenge a call mid-point which he thought went wide. He was wrong and it gave Shapovalov a pair of break points. The World No. 26 then hit an enormous backhand service return winner on the next point and he went up 3-1.
After an hour plus rain delay, Shapovalov won four straight points to give him the opening set in 34 minutes of playing time.
The start of the second was all Fognini. He broke Shapovalov in his opening two service games. The Canadian making a plethora of errors from both the forehand and backhand sides. Suddenly it was 4-0 for the World No. 14.
After a racquet change and a large boost from the hometown crowd, Shapovalov immediately broke Fognini after one of his 33 unforced errors in the match went into the net.
Two games later Fognini, coming of the title at Los Cabos last week, double faulted another break away and the set was back on serve.
In the eleventh game, a couple of mistakes off Fognini's racquet including a double fault and a forehand that went long on break point sent the crowd into an uproar and gave Shapovalov his third break of the set. The youngster motioning the crowd to get on their feet which didn't appear to sit well with the older Fognini. The Italian sent a few words in the direction of Shapovalov as they walked to their seats both players continuing to chirp each other during the sit-down. Fognini appeared to call his opponent "arrogant" at one point.
In the next game, Shapovalov hit a spectacular backhand crosscourt winner to go up 30-15 and on match point he hit a forehand deep into the corner to set up an easy put away volley and the match was his. For the second straight year, the youngster is thrilling crowds in Canada.
"The crowd on Grand Stand, I think it helped me a lot," said Shapovalov " because it was so ecstatic, so energetic because it's so compact, that it actually bothered Fognini quite a bit, especially toward the end. So it really worked in my favor, and I really enjoyed myself out there."
Shapovalov had 18 winners and 28 errors in the match along with 9 aces. Fognini had just 6 winners throughout and just one ace. So could the 19-year old duplicate his run in Canada from a year ago?
"Definitely. I think my game is at a very high level right now," Shapovalov said. "You know, last week, even though I lost to Kei, it was a really good match. And I was telling everyone, I'm playing well in practice. I'm feeling really good. And I think having my mom on the side has really helped me the last couple weeks. I've really picked up my game. We've really worked on a couple of aspects that have helped me in the last couple of weeks. So I'm playing really good tennis, and I'm really happy with where I am right now."
Next up for the home favourite is a meeting with Robin Hasse.  Both players reached the semi-finals in Montreal a year ago. The two could also very well meet again in September as Canada will face the Netherlands in a Davis Cup World Group tie, also in Toronto.
Nick Kyrgios sets up Round of 16 match against Borna Coric
Two-time Miami semifinalist and this year's Acapulco champion Nick Kyrgios cruised past Dusan Lajovic 6-3 6-1 after 57 minutes. Kyrgios will face Borna Coric in the Round of 16. 
The Australian player hit 12 aces and fended off six of the seven break points he faced. Lajovic, who upset Kei Nishikori in the previous round, wasted three break points at the start of the match and dropped his serve at 1-2 after a backhand error. Kyrgios hit a forehand down the line winner to break serve for 5-1. Lajovic got one break back to claw his back to 3-5, but Kyrgios hit four winners to seal the opening set 6-3. Kyrgios broke three times in a row and sealed the win in the seventh game 6-1 on his first match point to secure his spot in the fourth round, where he will face Borna Coric, who came back from one set down to beat Jeremy Chardy 6-7 (2-7) 6-2 6-3 after 2 hours and 36 minutes.
Kyrgios leads 2-1 in his three head-to-head matches against Coric. The Australian player beat his Croatian rival in the Estoril quarter final in 2016 and in Cincinnati 2018. Coric edged Kyrgios in three sets in Cincinnati 2016.
"Borna is an unbelievable competitor and one of the best players in the world. He knows how to win matches and is an unbelievable player. He moves incredibly well and I know he won't give me a single point. I am not going to think about it right now though. I have a day off tomorrow", said Kyrgios.
Chardy came back from 2-4 down in the first set before winning the tie-break 7-2. Coric broke serve at the start of the second set to open up a 3-0 lead and saved four break points. The Croatian player sealed the second set 6-2 with a break at 15 in the 8th game. Coric reeled off three games in a row including 12 of the final 14 points from 3-3 to close out the third set 6-3.
John Isner continues his title defence with straight-set win over Albert Ramos Vinolas
Defending champion John Isner battled past Albert Ramos Vinolas 7-5 7-6 (8-6) to reach the fourth round at the Miami Open.
Seventh seed John Isner was broken in the opening game but he saved the next four break points he faced in the match and hit 16 aces. The US player broke back on his second opportunity in the fourth game to draw level to 2-2. Isner got another break in the 12th game to clinch the first set 7-5.
Isner saved two break points in the fifth game of the second set to hold serve for 3-2. Both players held on their service games to set up a tie-break. Isner rallied from 5-6 down by winning three consecutive games to take the tie-break 8-6.
"I did a lot of things well today. I played a good first set, event though I did not start it off well. In the secondi t was not quite as clean. I will talk to my coach and try to iron things out, but I am into the Round of 16 of a big tournament and I am happy", said Isner.
Isner set up a fourth round match against Kyle Edmund, who beat Milos Raonic 6-4 6-4 after 1 hour and 34 minutes. The British player got a break in the fifth game of the first set and in the ninth game of the second set.
Roberto Bautista Agut beat Fabio Fognini 6-4 6-4. The Spanish player got an early break to build up a 3-0 lead. Fognini broke back in the ninth game to claw his way back to 4-5, but the Spaniard broke again in the 10th game to seal the opening set 6-4. Fognini earned an immediate break in the first game of the second set, but Bautista broke straight back. Fognini went un a break in the fifth game. The Italian player saved a break-back point chance in the sixth game to take a 4-2 lead, but Bautista Agut fought back by winning the the final four games to seal the second set 6-4.
'You're A F***ing Disgrace' – Nick Kyrgios Erupts At The Miami Open
Another tournament, another on-court controversy involving the former top 20 player.
Australia's Nick Kyrgios is in line for another hefty fine after blasting the umpire following his doubles match with partner Taylor Fritz.
Kyrgios, who is no stranger to either controversy or fines, completely lost his cool after being edged out of the doubles. Losing 6-7(4), 7-6(3), 8-10, to Guido Pella and Joao Sousa. Throughout the match there was a series of dubious line calls that infuriated the Kyrgios team. Something the racket-smashing 23-year-old complained to the umpire about seconds after the clash.
"What the f**k is wrong with you?" Kyrgios shouted at the umpire. "You're a f**king disgrace. F**king disgrace."
Continuing to unleash his rage on the court, Kyrgios interacted with the crowd. Asking them  'Do you think that's alright, yes or no?' The outburst was caught on camera by one fan, who uploaded in onto his Twitter account.
'Just give me the answer. He's a disgrace. 'I come out and give 100% and I have to deal with idiots like him. Does he get fined for his mistakes? It's rubbish, man.' Kyrgios said.
The adults win. The kids lose. Great match. NK gives a proper breakdown to keep his reputation intact. #MiamiOpen #Kyrios pic.twitter.com/tM1sNZibfw

— Ken C 🎾☀️🌴 (@tnns_ken) March 23, 2019
It is not the first time the world No.33 has raised eyebrows for his actions. He previously served a brief ban from the sport in 2016 for unsportsmanlike conduct during the Shanghai Masters. Meanwhile, last June he was fined more than $17,000 for making a lewd gesture during the Fever-Tree Championships in London.
The controversy is a stark contrast to Kyrgios' opening match in the singles. Taking on Alexander Bublik, he prevailed 7-5, 6-3, with the help of a fairly disciplined and mature performance. He is already a two-time semi-finalist in Miami and has won more matches (11) at the tournament than any other Masters 1000 event.
"I know he's a player who tries to keep things on his own terms… kind of reminds me of me a little bit," he said of Bublik. "He just needs to play those bigger points with a little more discipline. Strange me saying that…
"I thought he was going to put me on a couple of highlight reels. I knew he was trying to at some stage. I knew I had to be the disciplined one of the two today."
Kyrgios will return to the Miami Court's on Sunday when he play's Dusan Lajovic in the third round.