Shapovalov Starting a New Run in Toronto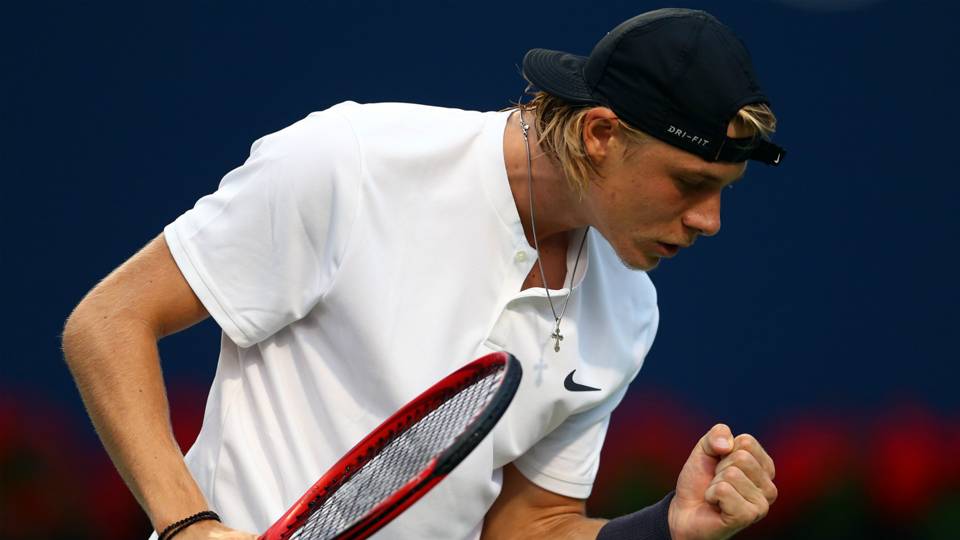 -Toronto, Canada
Denis Shapovalov had the best moment of his career on home soil at the Rogers Cup in Montreal last year. The way he is playing through his first two matches in Toronto this year, Canadian tennis fans could be in for another treat. The 19-year old Canadian needed 80 mins to dispatch Fabio Fognini 6-3, 7-5 in the second round on Wednesday night.
It was an impressive win for "Shapo" especially after going down 0-4 after being broken twice in the second set but then rallying to win 7 of the last 8 games of the match. Another moment early in his career where his poise and confidence helped him win another match.
The first break of the opening set came in the fourth game after Fognini decided to challenge a call mid-point which he thought went wide. He was wrong and it gave Shapovalov a pair of break points. The World No. 26 then hit an enormous backhand service return winner on the next point and he went up 3-1.
After an hour plus rain delay, Shapovalov won four straight points to give him the opening set in 34 minutes of playing time.
The start of the second was all Fognini. He broke Shapovalov in his opening two service games. The Canadian making a plethora of errors from both the forehand and backhand sides. Suddenly it was 4-0 for the World No. 14.
After a racquet change and a large boost from the hometown crowd, Shapovalov immediately broke Fognini after one of his 33 unforced errors in the match went into the net.
Two games later Fognini, coming of the title at Los Cabos last week, double faulted another break away and the set was back on serve.
In the eleventh game, a couple of mistakes off Fognini's racquet including a double fault and a forehand that went long on break point sent the crowd into an uproar and gave Shapovalov his third break of the set. The youngster motioning the crowd to get on their feet which didn't appear to sit well with the older Fognini. The Italian sent a few words in the direction of Shapovalov as they walked to their seats both players continuing to chirp each other during the sit-down. Fognini appeared to call his opponent "arrogant" at one point.
In the next game, Shapovalov hit a spectacular backhand crosscourt winner to go up 30-15 and on match point he hit a forehand deep into the corner to set up an easy put away volley and the match was his. For the second straight year, the youngster is thrilling crowds in Canada.
"The crowd on Grand Stand, I think it helped me a lot," said Shapovalov " because it was so ecstatic, so energetic because it's so compact, that it actually bothered Fognini quite a bit, especially toward the end. So it really worked in my favor, and I really enjoyed myself out there."
Shapovalov had 18 winners and 28 errors in the match along with 9 aces. Fognini had just 6 winners throughout and just one ace. So could the 19-year old duplicate his run in Canada from a year ago?
"Definitely. I think my game is at a very high level right now," Shapovalov said. "You know, last week, even though I lost to Kei, it was a really good match. And I was telling everyone, I'm playing well in practice. I'm feeling really good. And I think having my mom on the side has really helped me the last couple weeks. I've really picked up my game. We've really worked on a couple of aspects that have helped me in the last couple of weeks. So I'm playing really good tennis, and I'm really happy with where I am right now."
Next up for the home favourite is a meeting with Robin Hasse.  Both players reached the semi-finals in Montreal a year ago. The two could also very well meet again in September as Canada will face the Netherlands in a Davis Cup World Group tie, also in Toronto.
Rafael Nadal Apologizes To Opponent After Wimbledon Win
The Spaniard admits he made a mistake.
Rafael Nadal said he was 'wrong' to call his opponent to the net during the third set of their third round match at Wimbledon.

The 22-time Grand Slam champion booked his place in the last 16 of the tournament by defeating Lorenzo Sonego 6-1, 6-2, 6-4. Nadal, who hasn't won Wimbledon for more than a decade, was out in full flow as he raced to a two-set and 4-2 lead. At that point, Sonego managed to get the roof to be closed due to poor lighting.

After speaking to the umpire, Nadal called his opponent to the net for a discussion over what is believed to be about the noise he was making during the match. After losing his 4-2 advantage, Nadal battled back by breaking once again to secure victory.

"Well, first of all, I have to say that I was wrong. Probably I should not call him on the net. So I apologize for that. My mistake in that. No problem. I recognise that," said Nadal.
"Then after that, all the stuff during the match that I don't want to comment (on), because is something that I spoke with him in the locker room and it stays there. Only thing I can say is I saw him personally. I apologise for that.
"My intention was never to bother him at all. Just to tell one thing that was bothering me that I think he was doing in that moment, but that's it.
"I think there is some code between players. Yeah, we had some issues there. But that's it."

The two shared a lengthy exchange at the net after the conclusion of the match and there were no hard feelings between either player.

Controversy aside, Nadal has hailed what he believed is his best performance at The All England Club yet. Against Soego, he won 73% of his service points and hit 24 winners.

"It was my best match, without a doubt, since the tournament started," said Nadal. "I have made improvements and I'm very happy.'
"I've made I think a lot of things much better than the previous days, the determination, the way that I manage to play more aggressively and going to the net plenty of times."
Nadal will play Dutch world number 25 Botic van de Zandschulp in the last 16.
"Every Match Is A War" – Carlos Alcaraz Excels With Best Performance Yet At Wimbledon
The world No.7 reacts to his latest win ahead of a showdown with a fellow rising star of the sport.
Carlos Alcaraz believes he is quickly finding his footing on the grass after storming into the fourth round of Wimbledon on Friday.

Alcaraz, who is playing in only his second grass-court tournament as a pro player, blasted his way past Germany's Oscar Otte 6-3, 6-1, 6-2, in exactly 100 minutes. The Spaniard dropped only 14 points behind his serve as he hit a total of 37 winners against eight unforced errors.

"I played unbelievable. This was my best performance so far. So I'm really happy with the level, and I will try to keep this level into the next round." Alcaraz said afterwards.

The 19-year-old has been a revelation on the Tour this season which has already seen him crack the world's top 10 and win two Masters 1000 titles. He currently holds the record for the youngest player to ever win an ATP 500 event, as well as being the youngest to score back-to-back wins over Rafael Nadal and Novak Djokovic in the same tournament.

In one way Alcaraz's rapid rise in the sport is illustrated by his current campaign at Wimbledon. In the first round he found it tough going throughout his five-set win over Germany's Jan-Lennard Struff. Learning from that experience, his form improved in the second round against Tallon Griekspoor (who he defeated in straight sets) and even more so against Otte.

"Every match is a war. Every match you can play unbelievable or you can play your worst match," he explains. "Obviously Monday was my first match on grass (this year). It was really tough. Struff played unbelievable.'
"After four, five days the training, the matches, you learn how to play more on grass, how to move more on grass."
"Now I feel more comfortable playing on grass, and I feel better on grass right now."

Alcaraz's next 'war' will be another rising star of the Tour – Jannik Sinner. A player who is less than two years older than him. They locked horns last year at the Paris Masters where the Spaniard prevailed in two close sets. Alcaraz also won their meeting at a Challenger event in Alicante back in 2019.

With a place in a Grand Slam quarter-final at stake, it is expected to be a tough battle. Although a challenge is something Alcaraz thrives on.

"Playing against Jannik is always tough. I like to play these kinds of matches, these kinds of challenges." He said.
"On grass you have to play aggressive, you have to go to the net, you have to try to play more aggressively than the opponent. That's my idea that I try in every match, to not let the opponent dominate the match." He added.

The upcoming showdown will be Alcaraz's sixth Tour-level match on grass which is only two less than that of Sinner. 
Novak Djokovic Shrugs Off Threat Of Covid-19 Outbreak At Wimbledon
The world No.3 explains why he is not 'overconcenred' about COVID-19 at the Grand Slam.
Novak Djokovic says the possibility of a COVID-19 outbreak at Wimbledon is one that doesn't concern him too much after a trio of top-20 players withdrew.

Earlier this week Marin Cilic, Matteo Berrettini and Roberto Bautista Agut all withdrew from the tournament after testing positive for the virus. Unlike the strict protocols that were in place last year, The All England Club has based its policy on local health advice. Where it is recommended that a person takes action if they have symptoms of the virus but they are not required to do so.

With fewer testing measures in place at Wimbledon, there is a high possibility that there are people working on site carrying COVID-19 without realizing it. However, the threat to players is one that reigning champion Djokovic is not too concerned about.

"I did visit the city (London) a few times before the tournament started but I'm not overconcerned about anything. I'm just trying to stay healthy, focused and play the tournament." Djokovic said following his third round win.
"I'm not thinking about whether or not I'm going to catch COVID. But being cautious is something that is a necessity I think for everyone, and particularly because we have been through what we've been through in the last two years."
Djokovic is one of the few top players who didn't have a vaccination against covid. Resulting in him having a high-profile legal dispute with Australian authorities which resulted in his deportation and him missing the Australian Open. The tennis star later explained that he didn't want to be vaccinated as he is cautious about what will be injected into his body. Even though the vaccine has been approved by the World Health Organization.

However, nemesis Rafael Nadal said on Thursday that he is taking extra precautions due to the threat. To common knowledge, there is no rule in place preventing a player who tests positive for Covid from playing in the Grand Slam.

"I am not doing many things. Just staying here (at Wimbledon) and staying in the house, not going out at all anymore. That's part of this challenging world that we are facing in the last couple of years." Nadal said.
"I am not saying that we are not doing things the proper way because at some point we need to open everything again, we need to be free, have a normal life."
According to the National Office of Statistics (ONS) it is estimated that 1 in 30 people currently have the virus in the UK in the week ending June 24th.