Shapovalov Starting a New Run in Toronto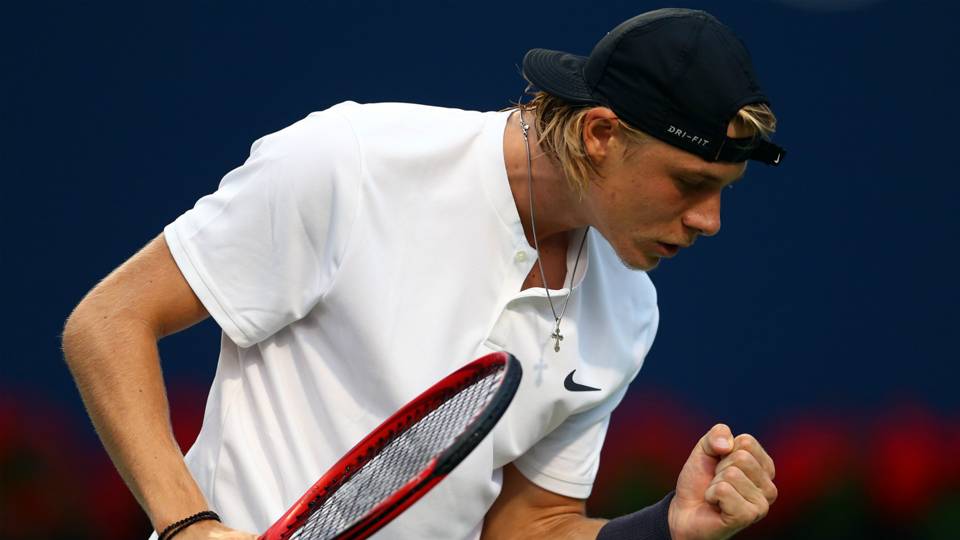 -Toronto, Canada
Denis Shapovalov had the best moment of his career on home soil at the Rogers Cup in Montreal last year. The way he is playing through his first two matches in Toronto this year, Canadian tennis fans could be in for another treat. The 19-year old Canadian needed 80 mins to dispatch Fabio Fognini 6-3, 7-5 in the second round on Wednesday night.
It was an impressive win for "Shapo" especially after going down 0-4 after being broken twice in the second set but then rallying to win 7 of the last 8 games of the match. Another moment early in his career where his poise and confidence helped him win another match.
The first break of the opening set came in the fourth game after Fognini decided to challenge a call mid-point which he thought went wide. He was wrong and it gave Shapovalov a pair of break points. The World No. 26 then hit an enormous backhand service return winner on the next point and he went up 3-1.
After an hour plus rain delay, Shapovalov won four straight points to give him the opening set in 34 minutes of playing time.
The start of the second was all Fognini. He broke Shapovalov in his opening two service games. The Canadian making a plethora of errors from both the forehand and backhand sides. Suddenly it was 4-0 for the World No. 14.
After a racquet change and a large boost from the hometown crowd, Shapovalov immediately broke Fognini after one of his 33 unforced errors in the match went into the net.
Two games later Fognini, coming of the title at Los Cabos last week, double faulted another break away and the set was back on serve.
In the eleventh game, a couple of mistakes off Fognini's racquet including a double fault and a forehand that went long on break point sent the crowd into an uproar and gave Shapovalov his third break of the set. The youngster motioning the crowd to get on their feet which didn't appear to sit well with the older Fognini. The Italian sent a few words in the direction of Shapovalov as they walked to their seats both players continuing to chirp each other during the sit-down. Fognini appeared to call his opponent "arrogant" at one point.
In the next game, Shapovalov hit a spectacular backhand crosscourt winner to go up 30-15 and on match point he hit a forehand deep into the corner to set up an easy put away volley and the match was his. For the second straight year, the youngster is thrilling crowds in Canada.
"The crowd on Grand Stand, I think it helped me a lot," said Shapovalov " because it was so ecstatic, so energetic because it's so compact, that it actually bothered Fognini quite a bit, especially toward the end. So it really worked in my favor, and I really enjoyed myself out there."
Shapovalov had 18 winners and 28 errors in the match along with 9 aces. Fognini had just 6 winners throughout and just one ace. So could the 19-year old duplicate his run in Canada from a year ago?
"Definitely. I think my game is at a very high level right now," Shapovalov said. "You know, last week, even though I lost to Kei, it was a really good match. And I was telling everyone, I'm playing well in practice. I'm feeling really good. And I think having my mom on the side has really helped me the last couple weeks. I've really picked up my game. We've really worked on a couple of aspects that have helped me in the last couple of weeks. So I'm playing really good tennis, and I'm really happy with where I am right now."
Next up for the home favourite is a meeting with Robin Hasse.  Both players reached the semi-finals in Montreal a year ago. The two could also very well meet again in September as Canada will face the Netherlands in a Davis Cup World Group tie, also in Toronto.
Kei Nishikori completes his third came-back win to reach the quarter final at the Australian Open
Kei Nishikori won his third five-set match at this year's edition of the Australian Open by completing his third come-back from two sets down with a 6-7 (8-10) 4-6 7-6 (7-4) 6-4 7-6 (10-8) win over Pablo Carreno Busta after a 5-hour and 5-minute battle.
Kei Nishikori lived up to his reputation as a marathon man, when he completed his third come-from-behind win at the 2019 Australian Open following up his previous two five-set wins over Kamil Majchrzak and Ivo Karlovic.
Carreno Busta went down a break twice in the early stages of the opening set, but he managed to pull back both breaks in the fourth and sixth games to draw level to 3-3. Nishikori got an early mini-break to take a 2-0 lead, but Carreno Busta won three consecutive points for 3-2 after three errors from Nishikori. The Spaniard did not convert three set points at 6-5, 7-6 and 8-7, but he converted his fourth chance for 10-8 with a forehand winner.
Carreno Busta went up a set and a break with two forehand winners in the third game before saving two break points at 2-1. The Spanish player did not convert two set points at 5-3, when he made two forehand errors as Nishikori was serving at 15-40, but he closed out the second set at love in the 10th game.
Nishikori went down a break in the fifth game of the third set, but he broke straight back in the sixth game to draw level to 3-3. Nishikori won the tie-break 7-4 to keep his hopes alive Nishikori broke serve in the first game of the fourth set at 30, but Carreno Busta broke straight back to draw level to 2-2. Nishikori broke for the second time in the fifth game to take a 3-2 lead and earned three break points for 5-2 in the seventh game, but Carreno Busta held his serve. Nishikori held his next three service games at love to seal the fourth set 6-4.
Nishikori converted his third break point chance in the third game of the fifth set to take a 2-1 lead. The Japanese player came back from 15-40 down in the sixth game to hold his serve at deuce for 4-2, but he dropped his serve while he was serving for the match in the 10th game at 5-4. Carreno Busta built up a 8-5 lead in the decisive super tie-break, but Nishikori reeled off the final five points to seal a thrilling five-set match.
"I don't know what to say. That was the toughest match. I have no idea how I broke back and I fough my way through. It was a great match. I feel like I have not played enough. It hasn't been easy of course, especially not today. It was hard against Karlovic with a super tie-break, but today had longer rallies", said Nishikori.
The Japanese star will face Novak Djokovic, who beat Danil Medvedev 6-4 6-7 6-3 6-2 in his fourth round match. Djokovic leads 15-2 in his 17 head-to-head matches against Nishikori.
Lucas Pouille beats Borna Coric in four sets to set up a quarter final against Milos Raonic in Melbourne
Lucas Pouille upset Borna Coric in four sets by the scoreline of 6-7 (4-7) 6-4 7-5 7-6 (7-2) after 3 hours and 15 minutes to reach the quarter final at the Australian Open in Melbourne.
Pouille set up a quarter final against Canadian player Milos Raonic, who beat Alexander Zverev 6-1 6-1 7-6 (7-5). The Frenchman has not won a single set in his three head-to-head matches against Raonic.
Coric broke serve in the first game of the opening set, but Pouille pulled back the break in the fourth game to draw level to 2-2. Both players held serve in the next games to set up a tie-break. Coric converted the first of his two set points at 6-4 in the tie-break with his ninth ace to close out the first set.
Pouille got the only break in the seventh game of the second set to draw level to 1 set apiece after Coric made his fourth double fault the match and a forehand error.
Both players held their serve in the first ten games of the third set. Coric went down 0-40 on serve in the 11th game, but he managed to saved the first two break points. Pouille converted his third opportunity with a forehand winner to seal the third set 7-5.
Pouille got an immediate break in the first game of the fourth set. Coric converted his fourth break-back point chance at deuce to draw level to 4-4 setting up a second tie-break. Pouille sealed the win on his first match point, when Coric made his 55th unforced error of the match.
Pouille fired 57 winners and won 66 % of his second serve points.
Lucas Pouille has become the 13th French player to reach the quarter final at the Australian Open and the first since Jo-Wilfried Tsonga in 2017. The Frenchman reached the third quarter final at Grand Slam level in his career after Wimbledon and the US Open in 2016.
Pouille lost in the first round for the fifth consecutive year at the 2018 edition of the Australian Open and won his fifth title in Montpellier against his compatriot Richard Gasquet after saving two match points in the semifinal against Jo-Wilfried Tsonga. Pouille reached a career-high of world number 10 after advancing to his third ATP Tour level final in Dubai, where he lost against Roberto Bautista Agut. After a difficult second half of the season Pouille hired Amelie Mauresmo as his new coach.
"It feels great. It has been a tough match against Borna. He is one of the best players in the world. The last time we played I lost 6-4 in the third set, so I knew what to expect. A few points here and there. In the first tie-break I had 5-4 and made two lets and the ball went out. It was just a few details that made the difference. I am now very happy to be in the quarter final. The atmosphere is great here. In the previous round I played against Popyrin, an Australian guy, and the atmosphere was just electric",said Pouille.
Pouille has not won a set in his three head-to-head matches against his next rival Milos Raonic and lost in straight sets against the Canadian player in their previous head-to-head match at the 2016 Australian Open.
"He is playing well. I watched the match against Alexander Zverev. I am going to be ready for it and try to reach my first semifinal",said Pouille.
Racket-Smashing Alexander Zverev Unfazed By Shock Australian Open Exit
The world No.4 reacts to his disappointing loss at Melbourne Park.
'I'm not happy, but I'm not depressed' was Alexander Zverev's response to his surprise defeat to Milos Raonic at the Australian Open.
The German fourth seed produced an erratic performance during his 6-1, 6-1, 7-6(5), loss to the world No.17 as he failed to hold serve in six out of his first seven service games. Zverev's lacklustre performance saw him make more unforced errors than winners (23-21) and produced 10 double faults. At one stage of the match, Zverev let his own emotions get the better of him. Trailing 1-6, 1-4, he decided to destroy one of his rackets on the court. An act that unsurprisingly earned him a code violation.
"It made me feel better. I was very angry, so I let my anger out." Zverev said during his press conference.
"I played bad. The first two sets, especially, I played horrible. I mean, it's just tough to name one thing. I didn't serve well, didn't play well from the baseline. Against a quality player like him, it's tough to come back from that."
https://twitter.com/espn/status/1087214145957752833
Monday's loss continues Zverev's patchy record in grand slam tournaments. Tipped by many as a future world No.1 in the sport, he has only managed to reach the quarter-finals of a major in one out of 15 attempts. His sole success was at the French Open last year. On the other hand, his run to the last 16 in Melbourne was his best run yet at the tournament.
"I'm not happy, but I'm not depressed, either. It's fine. It's a tennis match." He reflected.
"I have learned to take tennis matches as tennis matches and not the end of the world. If I would think it's the end of the world every time I lose a tennis match, I would be very depressed about 15 to 20 times a year. So I'm not going to do that."
Heading into the Australian Open, there were concerns about Zverev's fitness. The week prior he was dealing with issues concerning his hamstring and foot. However, the 21-year-old ruled out that any kind of injury had an impact of his match against Raonic.
Trying to pinpoint the cause of his display, the world No.4 admitted that he would have liked a longer off-season. Zverev ended 2018 by winning the ATP Finals on November 19th and returned to action on December 30th to play in the Hopman Cup alongside Angelique Kerber.
"For sure, I didn't have a very long off-season, didn't have a lot of rest. But, you know, this is us as tennis players. I'm happy how the season ended. I wouldn't want it the other way." Zverev stated.
"It's always a give and take. If the season is 11 months long, it's always that kind of give and take in what you do, how you rest, and how much work you put in. That's just how it is for us tennis players." He added.
Zverev's conqueror Raonic will play either Lucas Pouille or Borna Coric in the next round.
Zverev's grand slam record
Tournament
2014
2015
2016
2017
2018
2019
W–L
Win %
Australian Open
A
Q1
1R
3R
3R
4R
7–4
64%
French Open
A
Q2
3R
1R
QF
6–3
67%
Wimbledon
A
2R
3R
4R
3R
8–4
67%
US Open
Q2
1R
2R
2R
3R
4–4
50%
Win–Loss
0–0
1–2
5–4
6–4
10–4
3–1
25–15
62%