Wrap of the first round matches and preview of the WTA China Open in Beijung
The Asian Swing continues with the Premier Mandatory China Open in Beijing after Guangzhou, Seoul, Tokyo and Wuhan. The China Open is one of the four Premier Mandatory tournaments after Indan Wells, Miami and Madrid.
Despite the absence of Serena Williams, Maria Sharapova and Viktoria Azarenka, the star-studded field is impressive as it features world number 2 Simona Halep, last year's finalist Petra Kvitova, this year's US Open champion Flavia Pennetta, who is making her eagerly awaited return after her historic win at Flushing Meadows over her compatriot Roberta Vinci
Number six-seeded Ana Ivanovic cruised to a 6-4 6-0 win over Casey Dellacqua to get through to the second round of the China Open in Beijing. Ivanovic dropped her serve twice in the first three service games of the first set to trail 2-4 but she reeled off 10 consecutive games. Ivanovic broke serve in the 8th game to 15 en route to winning 8 of the next nine points to clinch the first set with 6-4. Ivanovic converted on her third break point chance for 2-0 as Dellacqua made a double fault and cruised to 6-0 in the second set.
Timea Bacsinszky fought back from a set down to beat Camila Giorgi 1-6 6-4 6-3. The Swiss player, number 12-seeded, has won her first match since Wimbledon last July. The Lausanne player lost in straight sets in the first round in her previous four tournaments. Giorgi raced out to 5-0 en route to winning the first set with 6-1 before going up a set and a break at the start of the second set. The Italian player led 4-2 in the second set but she did not convert a chance for 5-3 and dropped her serve for the first time in the match. Bacsinszky fired an ace to take the 5-4 lead and closed out the first set in the next game after a double fault and an unforced error from Giorgi. From 2-4 in the second set the Swiss player reeled off five consecutive games to win the second set 6-4 and build up a 1-0 lead in the third set when she saved two consecutive break points with her serve. Giorgi dropped her serve in the sixth game. She saved the first match point at 2-5 but Bacsinszky closed out the match in the next game.
Madison Keys broke Kristina Mladenovic five times to take a 7-5 6-2 win. The two players traded breaks until 5-5 before Keys got the decisive break in the 12th game for 7-5. This year's Australian Open semifinalist converted on two break point chances to win the second set with 6-2
Chinese wild card Wang Quiang, World Number 110, overcame a second-set loss to edge Varvara Lepchenko 6-2 3-6 6-2. Wang broke at the start of the match but she dropped her serve in the next game. The Chinese player broke twice in the fifth and in the seventh games. After a trade of breaks in the second set Lepchenko broke in the ninth game to win the second set with 6-3 forcing the match to the third set. Wang broke serve in the second game before saving a break point. Wang held her net service games before earning two match points at 15-40 after a double fault from Lepchenko. Wang converted on the first opportunity to take the third set,
In the final qualifying round match Spain's Lara Aruabarrena won an epic tie-break over Christina McHale with 13-11 in the third set after a battle of over three hours.
China Open preview:
Simona Halep won three titles in Shenzhen, Doha and Indian Wells and finished runner-up in Toronto and Cincinnati but she has not won a title since March. In the Asian Swing she was beaten by Denisa Allertova in Guangzhou and by Johanna Konta in Wuhan. She will face a tough draw as she could meet Alzé Cornet in teh second round, US Open finalist and Wuhan semifinalist Roberta Vinci. Halep is projected to face a potential quarter final in the first quarter against Wimbledon and Wuhan finalist Garbine Muguruza who was forced to withdraw from the final against Venus Williams in the Chinese tournament. Muguruza could face Daria Gavrilova in the second round and last week's Tokyo finalist Belinda Bencic.
Last week's Tokyo champion Agnieszka Radwanska could face Caroline Wozniacki in a potential quarter final between two former China Open finalists in the second quarter which also features Wuhan semifinalist Angelique Kerber. All the three stars involved in this section of the draw are top contenders for a spot for Singapore and this could add extra interest.
Radwanska could meet Mona Barthel and Madison Keys en route to the quarter finals. Wozniacki's possible rivals are Wang Quiang in the second round and either Kerber or the winner of the match between Jelena Jankovic or Dominika Cibulkova
Flavia Pennetta will make her come-back to court after the post-US Open celebrations. The Italian will be searching points to qualify for the WTA Finals in Singapore in her farewell season. Pennetta could face Alexandra Dulgheru in the second round and Elina Svitolina in the third round. Possible rival in the quarter final could be Wuhan champion Venus Williams or Tokyo semifinalist Ana Ivanovic. The Serbian player could face  a tough third round match against Karolina Pliskova.
In the fourth quarter Petra Kvitova could meet Carla Suarez Navarro in a potential quarter final. The Spanish player, who won her first match in Tokyo breaking a eight-match losing streak during the grass and the hard-court seasons, could face Timea Bacsinszky in the third round round
Kvitova will start her China Open campaign against Sara Errani but her section also features other tough rivals like Samantha Stosur and Andrea Petkovic
Beyond Match Fixing: Tennis Gambling Scam Comes to Light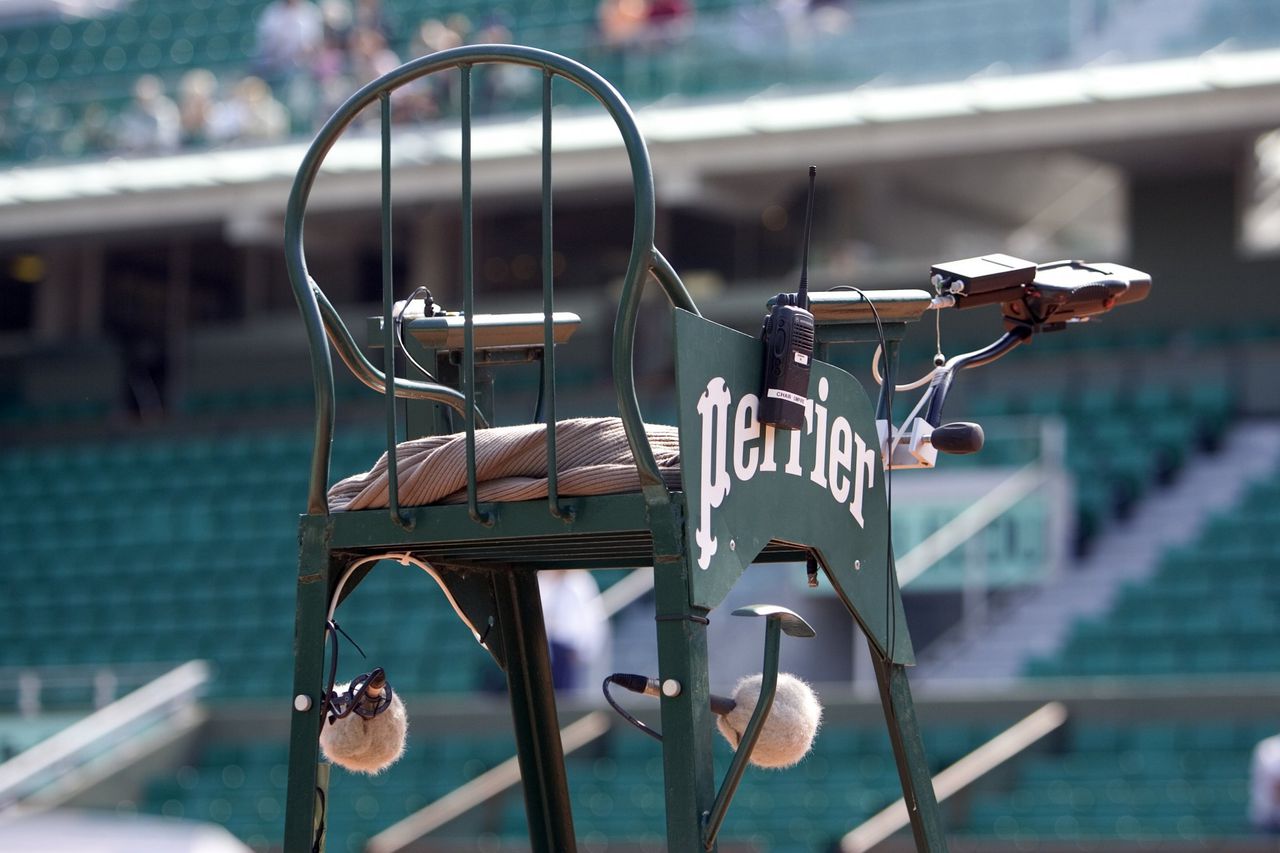 Just not long ago Ubitennis featured an article about the latest on match fixing in the professional tennis arena, now it has come to light that the tennis umpires themselves are in on the corruption as well! Numerous umpires from various countries have now been exposed to have been involved in match betting outcomes. Perhaps most interesting, the umpires involved were banned in secrecy.
The bans apply to umpires from Kazakhstan, Turkey and Ukraine. In some cases, the umpire has received a lifetime ban. One such ban is for Kirill Parfenov, who actually contacted a fellow colleague via Facebook to carry out the scam. On the other hand, Crotia's Denis Pitner was found to be logging on to a betting account involving tennis matches. He's only serving a suspension ending this August it seems.
So how does this exactly work? Since 2012 ITF partnered with Sportradar to provide live updated match scores as a tennis match unfolded. As it turns out, the umpires were intentionally waiting before entering in the live scores on their tablet provided for this purpose, thus allowing the gambling community to take advantage of this delay to make 'informed' bets. In the gambling world this is known as 'courtsiding'. In some cases apparently, the umpire was even texting the scores to the gamblers directly!
What's more troubling to this author however, is the fact that the ITF, and ATP at large have been carrying out these bans mostly in secrecy. It's almost as if they had known about this for quite some time now, and are now no longer able to maintain the cover up as news have leaked out. Furthermore, this latest revelation shows that the ITF is not as transparent as it claims to be. On behalf of all tennis fans around the globe, I would like to echo Andy Murray's statement that "as a player, you just want to be made aware of everything that's going on. I think we deserve to know everything that's out there". The same applies to us watching at home or courtside, where we deserve fair play and honest outcomes.
Thank you to Sean Ingle at The Guardian newspaper for the source of this article.
Greek Player Alexandros Jakupovic Banned For Life
The Tennis Integrity Unit (TIU) has announced that former top 500 player Alexandros Jakupovic has been handed a lifetime suspension for corruption offences.
The little-known Greek player has never played in a Grand Slam event with his best ranking position being 464th in the singles (2009) and 267th in the doubles (2008). Since 2003 he has won 35 titles on the Futures circuit, 32 in doubles and three titles in singles. In the Davis Cup he has played 49 matches for Greece, winning 21 of them. His best result in the Davis Cup was a straight sets win over Ukraine's Alexandr Dolgopolov in 2007.
The TIU have found Jakupovic guilty of five offences. The ban means that the 34-year-old is not allowed to participate or attend any tennis tournament organised by the sports governing body. The five charges against Jakupovic are listed as the following:-
Charge one:Section D.1.d: No Covered Person shall, directly or indirectly, contrive or attempt to contrive the outcome or any other aspect of any Event
Charge two: Section D.1.e: No Covered Person shall, directly or indirectly, solicit or facilitate any Player to not use his or her best efforts in any Event
Charge three: Section D.1.g: No Covered Person shall, directly or indirectly, offer or provide any money, benefit or Consideration to any other Covered Person with the intention of negatively influencing a Player's best efforts in any Event
Charges four and five: breaches of Section D.2.a.i: In the event any Player is approached by any person who offers or provides any type of money, benefit or Consideration to a Player to (i) influence the outcome or any other aspect of any Event, or (ii) provide Inside Information, it shall be the Player's obligation to report such incident to the TIU as soon as possible.
The case is still far from over. Shortly after the charges were announced in November, Jakupovic released a statement criticising the TIU, calling them 'incompetent' and protesting his innocence.
"Those who know me and know my love for tennis know well that I have been a model of fair play throughout my 20-year sporting career, during which I was never punished for anything" He said in a statement to tennisnet.gr last month.
"I do not allow anyone to undermine the honour and my reputation. I will appeal directly to the Supreme Sports Tribunal for the annulment of the incorrect decision and I will practice lawsuits for slander discredit to those implicated in this affair. "
This year Jakupovic has played in two Italian Challenger tournaments in Padova and Todi, losing in the first round at both of them.
Two low-ranked Polish players fined for match-fixing
During the last US Open Championships the saga of match-fixing in tennis has been enriched with two new protagonists, and they are again low-ranked players: the Polish Piotr Gadomski, ranked ATP 1064 and his fellow compatriot Arkadiusz Kocyla, number 764 ATP.
The charge against them is to have sold some doubles matches in exchange for money in an ITF tournament held in Bytom, Poland, six years ago. Gadmoski professes his innocence, stating that he did not accept the money and claiming that his only fault lies in not having informed the competent authorities, ITF (International Tennis Federation) and TIU (Tennis Integrity Unity), of the fixing proposal. TIU, however, has already promulgated the fine, and the two players were therefore considered guilty.
The news brings about two questions. First, whether it is appropriate to be able to bet on ITF matches, where the prize money is often poor, and therefore the thought of selling games becomes economically attractive to players that with their earnings can hardly manage to pay for training and travel. The second issue regards the importance of the phenomenon. How realistic is it that until now only low-ranked players have been found guilty and only in semi-professional tournaments?
The first question would have an easy solution: stopping the bets on tournaments with a low prize money. The latter leads to speculations that are probably not appropriate to make, at least not until it will be ascertained that the phenomenon is present also on important stages.