Miami: Djokovic Tames Nadal
TENNIS – Novak Djokovic beat Rafael Nadal 6-3, 6-3 in the final of the Miami Master 1000 event. The Serb wins for the fourth time in Miami and completes the double with Indian Wells for the second time. The world numbers 1 & 2 now hold all the Master 1000 titles. Cordell Hackshaw
It was not that many people that did not predict that Rafael Nadal (1) and Novak Djokovic (2) would meet in the final of the 2014 Sony Open Masters 1000 event. It was just that no one expected the circumstances that brought them to this point. Neither player faced an opponent in the semifinals as both their adversaries forfeited with injuries. Kei Nishikori (20) who was set to face Djokovic pulled out first with a groin injury and then later on Tomas Berdych (7) withdrew with gastroenteritis against Nadal. Whether this was a conspiracy or mere coincidence, most fans knew that very little was going to stop Nadal and Djokovic from their 40th meeting being in Miami. Nadal has a slight edge in the head-to-head 22-17 but Djokovic has proven to be the better man on hardcourts with a 13-7 record. Nadal has never won this title and the three times he has made it to the finals, he has lost to Roger Federer (2005), Nikolay Davydenko (2008) and Djokovic (2011). Thus the Spaniard was hoping that the 4th time would be the charm as he attempted to stop the Serbian from taking his 4th Miami title. However, on this day, Djokovic showed signs that he is back to his 2011 self as he thoroughly dispatched Nadal in straight sets 6-3 6-3.
Nadal won the toss and elected to have Djokovic serve first. This seemed like an excellent strategy as Nadal was able to earn the first break point on Djokovic's opening service game. However, Djokovic was able to save it and hold serve. This would prove to the key decisive moment of the entire match as Nadal would never see another break point opportunity for the rest of the match. Djokovic was serving that well! Nadal seemed to be quite passive on court as he stood "miles" behind the baseline unable to make any inroads on the Djokovic's game plan. Serving down 2-3, Nadal found himself facing double break points as Djokovic's measured returns were inch perfect on the lines. The Spaniard was able to save one but Djokovic converted and held comfortably to be ahead 5-2. At this point in the set, one expected a Nadal charge but Djokovic was just too strong. Nadal was able to hold but Djokovic remained solid on serve as he took the set 6-3. Djokovic had 64% 1st serve in, won 89% of those points and garnered 50% on his 2nd serve. Nadal on the other hand could only win 77% of his 1st serves and 43% on 2nd serves.
Between sets, Djokovic sat in his chair in a Zen-like state as he knew that in order to beat Nadal, he must remain resilient and absolutely focused. It was unclear what Nadal's game plan at this point was going to be but his efforts were soon dismissed as Djokovic got the early break in the 2nd set and was up 2-0. Everything Nadal threw at Djokovic was to no avail. He was unbalanced and seemingly predictable and Djokovic was showing his supreme defensive skills on court. The usually fiery tempered Nadal was very tepid and lackadaisical on court. As each game went by, Nadal began to realize that his winning the match was impossible. Djokovic did show signs of a lack of focus when he failed to convert a break chance for a double break at 3-1. However, any thought of a Djokovic's collapse was quickly dissipated with another strong service hold. Djokovic continued to display excellent serving as he improved in the 2nd set to an impressive 81% 1st serves in and won 82% of them. This in turn gave Djokovic the confidence to go after Nadal's serve and be rewarded with winning 50% of the Spaniard's 1st serves when he was able to get them in (75%). At 3-5, whilst serving to stay in the match, Nadal's dejected face suggested that he knew that the end was very near at hand. Djokovic earned double match points with careless errors from the Nadal racquet. The Spaniard saved one. However, on the 2nd match point, words cannot describe how outstanding the point was as the two players furiously fought for it at net. Djokovic eventually took it with a magnificent clutch volley into the open court; Djokovic 6-3 6-3 over Nadal. The Serbian earned his 43rd career ATP title and 18th Master Series 1000 title placing him firmly in the 3rd slot of All-Time winners.
Nadal quickly left the court after the loss but in his on court interview, he commended Djokovic for a job well done to win the Indian Wells/Miami Master Series double acknowledging the tremendous effort to win both titles. The last time Djokovic won these two titles back to back in 2011, he went on to an unbeaten streak all the way to the French Open semifinals where he lost to Federer. Djokovic will be looking to repeat history again but only this time, he takes the French title; the only major title not in his trophy case. Djokovic, unabashed with the win stated, "I played a great match, from the start to the end everything was working really well." He noted that he had to be aggressive and serve well in order to beat Nadal. When later asked whether he "broke the spirit" of Nadal on court, he without hesitation responded, "Of course I did!"
Interestingly enough, between Djokovic and Nadal, they are currently holding all the Master Series trophies including the Year-Ending-Championships title. However, at this point in their rivalry, winning for either player is less about the money or title and more about bragging rights and setting the tone for the upcoming clay court season where they will inevitably meet again. They are both scheduled to play Monte Carlo in two weeks' time where Djokovic is the defending champion having won the title last year over Nadal who has 8 consecutive titles at the event.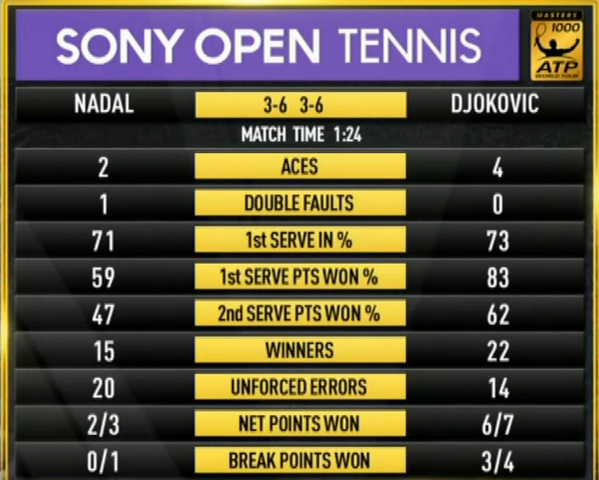 Nadal survives three-set marathon with Shapovalov in Rome
Rafael Nadal saved match points to edge out Denis Shapovalov in Rome.
The King of Clay needed three sets and over three hours to claim the win and avoid an upset.
Rafael Nadal needed three hours and 27 minutes to beat the Canadian Denis Shapovalov 3-6, 6-4, 7-6 at the Italian Open in Rome hitting 29 winners while his counterpart hit 46 unforced errors in the loss.
To everyone's surprise it was the world number 14 who came out with the faster start earning two breakpoints in the first service game of the match with a stunning forehand winner.
He would break to take an early 1-0 lead and continued to have momentum earning another break and the Spaniard found himself staring at 3-0 defecit.
At 4-1 the world number three would get one of the breaks back but it wasn't enough as the Toronto native would break one more time at 5-3 on his fourth breakpoint of the game to take the first set.
Once again we saw some really strong play from the Canadian in the beginning of the second set we saw history repeat itself when the world number 14 held serve and get the early break this time with his powerful forehand.
Nadal was fighting to stay in the set and the match and managed to earn a breakpoint but it was quickly saved with a big ace from Shapovalov. The very next game the Canadian had a chance to get another break but this time the Spaniard would deny him the opportunity.
After the world number three held serve he went on the attack looking to go back on serve and after three chances would get the break back. He would end up winning five games in a row and would take the second set to send it to a decider.
The third set remained on serve until 2-1 when the Canadian had a chance to break and he would take to jump out to a 3-1 lead. The break didn't hold as Nadal came storming back the very next game breaking the world number 14 to love and equaling the set at 3-3.
The set and the match would ultimately be decided by a tiebreaker and in that breaker is when the Spaniard would take over winning it 7-3 to book his spot in the quarterfinals.
He will next face either Alexander Zverev or Kei Nishikori on Friday for a spot in the semifinals.
Novak Djokovic Moving Into A 'Good Trajectory' After Reaching Rome Quarter-Finals
Novak Djokovic admitted that he is on a good trajectory after reaching the last eight in Rome.
Novak Djokovic has said that he is on a 'good trajectory' after moving into the Rome Quarter-Finals.
The world number one moved into the last eight in the Italian capital with a comfortable 6-2 6-1 victory over Alejandro Davidovich Fokina.
Despite being broken in the first game, Djokovic rallied back to break on five occasions as he cruised past the Erratic Spaniard.
After 1 hour and 11 minutes, Djokovic's overall game was too much for Davidovich Fokina as the Serb progressed to his 15th quarter-final in Rome.
After the match in his on-court interview the top seed admitted he is on a good trajectory as he builds momentum towards Roland Garros, "I thought I played well," Djokovic told the ATP website.
"He started well and broke my serve in the first game. I made some errors, but I managed to break back right away and establish the control and consistency on the court. I think from the back of the court I was just a bit more solid than him.
"He made some unforced errors and double faults in key moments, which obviously helped me get that necessary break forward. I thought I played better, at least 20 or 30 per cent better, than I did against Fritz a few days ago. I am on a good trajectory and hopefully tomorrow will be even better."
The real test for Djokovic will come tomorrow when he faces top 10 opposition in the last eight.
It will either be Monte-Carlo champion Stefanos Tsitsipas or Madrid finalist and home favourite Matteo Berrettini next up for the world number one.
Djokovic was well aware of the form either of his possible opponents are in heading into tomorrow's showdown, "My next match will be against a Top 10 player, so it is going to be a battle," Djokovic explained.
"Both of these guys are in great form. Tsitsipas won Monte-Carlo and Berrettini is just coming off the final in Madrid. I am obviously going to do my best to win that match, whoever I play against."
In the other result in Rome today, Reilly Opelka reached the quarter-finals with a 7-6(6) 6-4 win over Aslan Karatsev.
The American hit 18 aces as he will now face Felix Auger-Aliassime or Federico Delbonis on Friday.
Stefanos Tsitsipas sets up blockbuster third round match against Matteo Berrettini in Rome
Stefanos Tsitsipas edged past Marin Cilic 7-5 6-2 to advance to third round at the Internazionali BNL d'Italia in Rome.
Tsitsipas has improved his win-loss record to 28-7 this season, equalling Andrey Rublev for most match wins after Rublev beat Jan-Lennard Struff 6-7 (7-9) 6-1 6-4 earlier today.
Tsitsipas had to save two break points in the ninth game to hold serve after four deuces. The 2021 Monte-Carlo Rolex Masters winner earned his crucial break in the 12th game to win a hard-fought first set 7-5.
Tsitsipas was in control of the match and cruised to a 6-2 win in the second set with two breaks in the second and eighth games.
"Sometimes I need to adjust my game and Marin is someone I respect a lot. I knew he was going to come out here and play his best tennis. He made move a lot. It was quite tricky to adjust to that at the beginning, but towards the very end of the first set I stayed calm and stayed calm and resilient. I had to play deep on the returns and find solutions from the baseline rallies. That worked well for me from 6-5", said Tsitsipas.
Tsitsipas set up a blockbuster third round match against last week's Madrid Mutua Open finalist Matteo Berrettini, who beat John Millman 6-4 6-2 in front of fans, who will return on Thursday. Tsitsipas enjoyed the atmosphere on the Pietrangeli Stadium.
"The Pietrangeli Stadium is very beautiful. It's one of the best courts on tour. I feel like the Pietrangeli here is great. We are surrounded by trees in the city and it's very quiet which is very important for tennis. Honestly, I can't wait for the fans to come and fill in the stadium", said Tsitsipas.
Berrettini missed three consecutive break points in the third game of the opening set and earned his first break in the ninth game to take a 5-4 lead. The Rome-native star served out the first set at 15. Berrettini earned two consecutive breaks to race out to 4-0 lead. Millman saved a break point to hold serve in the fifth game, but Berrettini never looked back in his next two service games to claim the second set 6-2.
Berrettini has improved with his each appearance in the Rome tournament, reaching the second round in 2018, the third round in 2019 and the quarter final in 2020.
Tsitsipas beat Berrettini in their only head-to-head match at the 2019 Australian Open.