Miami: Djokovic Tames Nadal
TENNIS – Novak Djokovic beat Rafael Nadal 6-3, 6-3 in the final of the Miami Master 1000 event. The Serb wins for the fourth time in Miami and completes the double with Indian Wells for the second time. The world numbers 1 & 2 now hold all the Master 1000 titles. Cordell Hackshaw
It was not that many people that did not predict that Rafael Nadal (1) and Novak Djokovic (2) would meet in the final of the 2014 Sony Open Masters 1000 event. It was just that no one expected the circumstances that brought them to this point. Neither player faced an opponent in the semifinals as both their adversaries forfeited with injuries. Kei Nishikori (20) who was set to face Djokovic pulled out first with a groin injury and then later on Tomas Berdych (7) withdrew with gastroenteritis against Nadal. Whether this was a conspiracy or mere coincidence, most fans knew that very little was going to stop Nadal and Djokovic from their 40th meeting being in Miami. Nadal has a slight edge in the head-to-head 22-17 but Djokovic has proven to be the better man on hardcourts with a 13-7 record. Nadal has never won this title and the three times he has made it to the finals, he has lost to Roger Federer (2005), Nikolay Davydenko (2008) and Djokovic (2011). Thus the Spaniard was hoping that the 4th time would be the charm as he attempted to stop the Serbian from taking his 4th Miami title. However, on this day, Djokovic showed signs that he is back to his 2011 self as he thoroughly dispatched Nadal in straight sets 6-3 6-3.
Nadal won the toss and elected to have Djokovic serve first. This seemed like an excellent strategy as Nadal was able to earn the first break point on Djokovic's opening service game. However, Djokovic was able to save it and hold serve. This would prove to the key decisive moment of the entire match as Nadal would never see another break point opportunity for the rest of the match. Djokovic was serving that well! Nadal seemed to be quite passive on court as he stood "miles" behind the baseline unable to make any inroads on the Djokovic's game plan. Serving down 2-3, Nadal found himself facing double break points as Djokovic's measured returns were inch perfect on the lines. The Spaniard was able to save one but Djokovic converted and held comfortably to be ahead 5-2. At this point in the set, one expected a Nadal charge but Djokovic was just too strong. Nadal was able to hold but Djokovic remained solid on serve as he took the set 6-3. Djokovic had 64% 1st serve in, won 89% of those points and garnered 50% on his 2nd serve. Nadal on the other hand could only win 77% of his 1st serves and 43% on 2nd serves.
Between sets, Djokovic sat in his chair in a Zen-like state as he knew that in order to beat Nadal, he must remain resilient and absolutely focused. It was unclear what Nadal's game plan at this point was going to be but his efforts were soon dismissed as Djokovic got the early break in the 2nd set and was up 2-0. Everything Nadal threw at Djokovic was to no avail. He was unbalanced and seemingly predictable and Djokovic was showing his supreme defensive skills on court. The usually fiery tempered Nadal was very tepid and lackadaisical on court. As each game went by, Nadal began to realize that his winning the match was impossible. Djokovic did show signs of a lack of focus when he failed to convert a break chance for a double break at 3-1. However, any thought of a Djokovic's collapse was quickly dissipated with another strong service hold. Djokovic continued to display excellent serving as he improved in the 2nd set to an impressive 81% 1st serves in and won 82% of them. This in turn gave Djokovic the confidence to go after Nadal's serve and be rewarded with winning 50% of the Spaniard's 1st serves when he was able to get them in (75%). At 3-5, whilst serving to stay in the match, Nadal's dejected face suggested that he knew that the end was very near at hand. Djokovic earned double match points with careless errors from the Nadal racquet. The Spaniard saved one. However, on the 2nd match point, words cannot describe how outstanding the point was as the two players furiously fought for it at net. Djokovic eventually took it with a magnificent clutch volley into the open court; Djokovic 6-3 6-3 over Nadal. The Serbian earned his 43rd career ATP title and 18th Master Series 1000 title placing him firmly in the 3rd slot of All-Time winners.
Nadal quickly left the court after the loss but in his on court interview, he commended Djokovic for a job well done to win the Indian Wells/Miami Master Series double acknowledging the tremendous effort to win both titles. The last time Djokovic won these two titles back to back in 2011, he went on to an unbeaten streak all the way to the French Open semifinals where he lost to Federer. Djokovic will be looking to repeat history again but only this time, he takes the French title; the only major title not in his trophy case. Djokovic, unabashed with the win stated, "I played a great match, from the start to the end everything was working really well." He noted that he had to be aggressive and serve well in order to beat Nadal. When later asked whether he "broke the spirit" of Nadal on court, he without hesitation responded, "Of course I did!"
Interestingly enough, between Djokovic and Nadal, they are currently holding all the Master Series trophies including the Year-Ending-Championships title. However, at this point in their rivalry, winning for either player is less about the money or title and more about bragging rights and setting the tone for the upcoming clay court season where they will inevitably meet again. They are both scheduled to play Monte Carlo in two weeks' time where Djokovic is the defending champion having won the title last year over Nadal who has 8 consecutive titles at the event.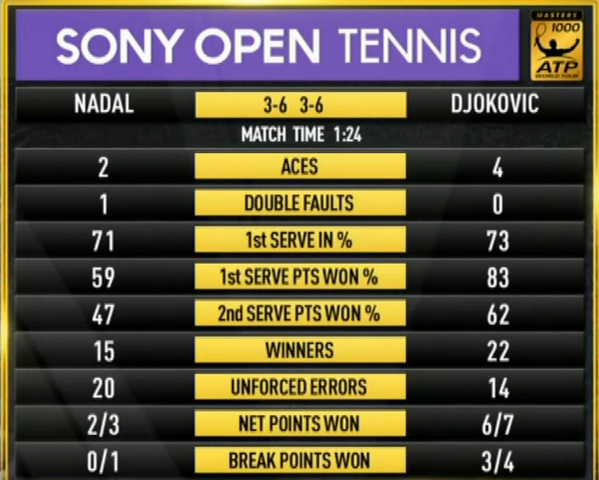 Dominic Thiem Downplays US Open Chances
The world No.4 has given a frank assessment about his hopes at the New York major shortly after the draw was made on Thursday.
Dominic Thiem may be a top four seed in next week's US Open, but the Austrian has played down the prospect of him winning his first grand slam title at the event.
The 25-year-old has experienced a setback in his build up to the tournament. Since winning the Kitzbuhel Open on clay, Thiem has only managed to play three matches on a hard court. Reaching the quarter-finals of the Rogers Cup in what what was his best-ever run at the tournament. However, more recently Thiem has been sidelined from action due to a virus and pulled out of the Cincinnati Masters.
Thiem's first round opponent at the US Open will be Italy's Thomas Fabbiano, who has suffered two consecutive first round losses on the tour. Fabbiano reached the third round in New York back in 2017, but has missed the two most recent editions.
"Without a doubt, there are much tougher rivals than Thomas Fabbiano in a first round, although I must say that, after overcoming this viral disease, I do not expect miracles." Thiem told Sky Sport Austria on Thursday.
Heading into the event, Thiem has said he has set out no goal. He will be defending 360 ranking points after reaching the quarter-finals 12 months ago before losing in a five-set thriller to Rafael Nadal. Overall, Thiem's win-loss at the US Open is 15-5 heading into this year.
"Right now I do not consider reaching a quarterfinals or a semifinal. I want to go round to round, looking beyond would be presumptuous." He said.
"In the next few days I will keep my training to a minimum, the goal is to be in perfect shape on Monday."
https://twitter.com/ZahrerLukas/status/1164574948528132097
Despite his recent setbacks, 2019 has been a season of success for the world No.4. In March he won the biggest title of his career at the BNP Paribas Open in Indian Wells. He would then go on to win trophies in Barcelona and Kitzhbuel. However, in the grand slams he has been less consistent. At the French Open Thiem reached the final, but has failed to win back-to-back matches at both the Australian Open (second round) and Wimbledon (first round). Although at the Australian Open he was forced to withdraw from the tournament due to illness.
The US Open will get underway on Monday.
Dominic Thiem at the US Open
| Round | Rank | Opponent | W-L | Score |
| --- | --- | --- | --- | --- |
| Quarter-Finals | 1 | Rafael Nadal ESP | L | 60 46 57 764 675 |
| Round of 16 | 5 | Kevin Anderson RSA | W | 75 62 762 |
| Round of 32 | 74 | Taylor Fritz USA | W | 36 63 765 64 |
| Round of 64 | 31 | Steve Johnson USA | W | 675 63 57 64 61 |
| Round of 128 | 81 | Mirza Basic BIH | W | 63 61 64 |
| Round | Rank | Opponent | W-L | Score |
| --- | --- | --- | --- | --- |
| Round of 16 | 28 | Juan Martin del Potro ARG | L | 61 62 16 671 46 |
| Round of 32 | 34 | Adrian Mannarino FRA | W | 75 63 64 |
| Round of 64 | 108 | Taylor Fritz USA | W | 64 64 46 75 |
| Round of 128 | 186 | Alex de Minaur AUS | W | 64 61 61 |
| Round | Rank | Opponent | W-L | Score |
| --- | --- | --- | --- | --- |
| Round of 16 | 142 | Juan Martin del Potro ARG | L | 36 23 (RET) |
| Round of 32 | 39 | Pablo Carreno Busta ESP | W | 16 64 64 75 |
| Round of 64 | 89 | Ricardas Berankis LTU | W | 64 63 62 |
| Round of 128 | 66 | John Millman AUS | W | 63 26 57 64 63 |
| Round | Rank | Opponent | W-L | Score |
| --- | --- | --- | --- | --- |
| Round of 32 | 14 | Kevin Anderson RSA | L | 36 673 673 |
| Round of 64 | 70 | Denis Istomin UZB | W | 64 64 10 (RET) |
| Round of 128 | 76 | Daniel Gimeno-Traver ESP | W | 75 63 75 |
| Round | Rank | Opponent | W-L | Score |
| --- | --- | --- | --- | --- |
| Round of 16 | 7 | Tomas Berdych CZE | L | 16 26 46 |
| Round of 32 | 21 | Feliciano Lopez ESP | W | 64 62 63 |
| Round of 64 | 12 | Ernests Gulbis LTA | W | 46 36 64 63 63 |
| Round of 128 | 84 | Lukas Lacko SLO | W | 63 63 62 |
Denis Shapovalov wins Next Gen clash against Miomir Kecmanovic to reach the quarter final in Winston Salem
Denis Shapovalov beat Serbian Next Gen Miomir Kecmanovic 6-2 6-3 after 1 hour and 16 minutes in Winston Salem winning two consecutive matches for the first time since he reached the Miami Open semifinal last March.
Shapovalov won 80 % of his service points and fended off four of the six break points he faced.
The Canadian Next Gen player earned six break points in the second game of the first set, but Kecmanovic saved them. Shapovalov earned the break in the fourth game at 15 to build up a 3-1 lead.
Shapovalov went up a double break in the next game after a forehand error from Kecmanovic. The Canadian player wrapped up wrapped up the first set 6-2 with two winners and two double faults from Kecmanovic after 37 minutes.
Shapovalov went up a 3-0 lead with a break, but he wasted three break points in the fourth game. Kecmanovic broke back to draw level to 3-3 and earned two break points in the seventh game, but Shapovalov saved them with two winners. The North American star broke serve in the next game to open up a 5-3 lead. Shapovalov hit four winners in the ninth game to close out the match.
Shapovalov is currently working with Mikhail Youzhny, who returned in St. Petersburg last September and is sitting in his coaching box in Winston Salem.
"Miomir is a very tough opponent. I have played him a lot in the past. We have had some crazy battles. I am really happy with the way I am playing",said Shapovalov.
Shapovalov set up a match against Andrey Rublev, who battled past Sam Querrey 7-4 (7-4) 7-6 (12-10). In the tie-break of the second set Rublev saved three set points and Querrey fended off two match points. Rublev hit a forehand winner at 10-11 on Querrey's serve to seal the win after 1 hour and 54 minutes. Rublev took a re-match against Querrey, who beat the young Russian player at Wimbledon in straight sets.
"It's a special win for me. He just destroyed me, and now we had a great fight, and we were so close and I was a little more lucky", said Rublev.
 Frances Tiafoe advanced to his fourth quarter final and his first since May when Filip Krajinovic had to withdraw from the match after losing the first set 6-2. Tiafoe went up a double break to race out to a 5-0 lead.
Hubert Hurkacz got three breaks to build up a 6-3 3-1 lead, when Feliciano Lopez was forced to retire from the match after 55 minutes.
Pablo Carreno Busta cruised past Lorenzo Sonego 7-6 6-0 after 1 hour and 40 minutes to reach his fourth quarter final of the season. Sonego got an early break to open up a 4-1 lead in the first set. Carreno Busta broke back in the sixth game before converting his sixth set point in the tie-break. The Spaniard broke three times to cruise to a bagel win in the second set after 25 minutes.
Benoit Paire came back from losing the first set to beat French Next Gen player Ugo Humbert 3-6 7-6 (7-2) 6-3. Paire broke serve, when Humbert was serving for the match at 6-5 in the second set. Paire went up a double break to a 4-1 lead. Humbert converted his third break-back point in the eighth point, but Paire broke for the third time to seal the win.
John Millman cruised past Robin Haase 6-3 6-4 setting up a quarter final match against Steve Johnson, who beat Casper Ruud 6-2 7-6 (7-5).
Andy Murray To Play Rafa Nadal Open
The former world No.1 has announced where he will play next as his comeback from injury continues.
Three-time grand slam champion Andy Murray is returning back to the Challenger tour for the first time since the year he turned professional back in 2005.
The Brit is set to take to the court in Manacor next week to play in a hard court tournament named after his rival Rafael Nadal. Murray is currently in the process of stepping up his comeback from a second hip operation earlier this year. The Rafa Nadal Open will be only his third singles tournament since January. Murray has previously lost in the first rounds at Cincinnati and Winston-Salem to Richard Gasquet and Tennys Sandgren.
Murray, who is currently ranked 329th in the world, had previously hinted that he may return back to the lower levels of competition in order to help regain his form. It will be the first time he has played a Challenger tournament since the 2005 Mons Open.
"I'm quite aware of sort of where I'm at just now and what my level is. It's competitive at this level but it needs to be better," Murray told atptour.com last week.
"Maybe I need to play a level down to get some matches and build my game up a little bit before I start playing on the Tour again."
The 32-year-old had declined a wild card invitation to play at next week's US Open due to concerns that he wouldn't be fit enough to contest best-of-five set matches. He reached the second round of the tournament last year before losing to Fernando Vertdasco.
Murray's return to the Challenger Tour is expected to be short lived. He has already confirmed his intention to play a duo of ATP Tournaments in Zhuhai and Shanghai. On Wednesday he added the European Open in Antwerp to his schedule, where a maximum of 250 ranking points will be on offer.
"With Andy Murray on our tournament poster, we are now reaching absolute world class and taking the European Open to an unprecedented level in Belgium." Said tournament director Dick Norman.
Since his comeback in June, Murray has won one title on the ATP Tour. Doing so alongside Feliciano Lopez in the men's doubles at The Fever-tree Championships.