Miami: Djokovic Tames Nadal
TENNIS – Novak Djokovic beat Rafael Nadal 6-3, 6-3 in the final of the Miami Master 1000 event. The Serb wins for the fourth time in Miami and completes the double with Indian Wells for the second time. The world numbers 1 & 2 now hold all the Master 1000 titles. Cordell Hackshaw
It was not that many people that did not predict that Rafael Nadal (1) and Novak Djokovic (2) would meet in the final of the 2014 Sony Open Masters 1000 event. It was just that no one expected the circumstances that brought them to this point. Neither player faced an opponent in the semifinals as both their adversaries forfeited with injuries. Kei Nishikori (20) who was set to face Djokovic pulled out first with a groin injury and then later on Tomas Berdych (7) withdrew with gastroenteritis against Nadal. Whether this was a conspiracy or mere coincidence, most fans knew that very little was going to stop Nadal and Djokovic from their 40th meeting being in Miami. Nadal has a slight edge in the head-to-head 22-17 but Djokovic has proven to be the better man on hardcourts with a 13-7 record. Nadal has never won this title and the three times he has made it to the finals, he has lost to Roger Federer (2005), Nikolay Davydenko (2008) and Djokovic (2011). Thus the Spaniard was hoping that the 4th time would be the charm as he attempted to stop the Serbian from taking his 4th Miami title. However, on this day, Djokovic showed signs that he is back to his 2011 self as he thoroughly dispatched Nadal in straight sets 6-3 6-3.
Nadal won the toss and elected to have Djokovic serve first. This seemed like an excellent strategy as Nadal was able to earn the first break point on Djokovic's opening service game. However, Djokovic was able to save it and hold serve. This would prove to the key decisive moment of the entire match as Nadal would never see another break point opportunity for the rest of the match. Djokovic was serving that well! Nadal seemed to be quite passive on court as he stood "miles" behind the baseline unable to make any inroads on the Djokovic's game plan. Serving down 2-3, Nadal found himself facing double break points as Djokovic's measured returns were inch perfect on the lines. The Spaniard was able to save one but Djokovic converted and held comfortably to be ahead 5-2. At this point in the set, one expected a Nadal charge but Djokovic was just too strong. Nadal was able to hold but Djokovic remained solid on serve as he took the set 6-3. Djokovic had 64% 1st serve in, won 89% of those points and garnered 50% on his 2nd serve. Nadal on the other hand could only win 77% of his 1st serves and 43% on 2nd serves.
Between sets, Djokovic sat in his chair in a Zen-like state as he knew that in order to beat Nadal, he must remain resilient and absolutely focused. It was unclear what Nadal's game plan at this point was going to be but his efforts were soon dismissed as Djokovic got the early break in the 2nd set and was up 2-0. Everything Nadal threw at Djokovic was to no avail. He was unbalanced and seemingly predictable and Djokovic was showing his supreme defensive skills on court. The usually fiery tempered Nadal was very tepid and lackadaisical on court. As each game went by, Nadal began to realize that his winning the match was impossible. Djokovic did show signs of a lack of focus when he failed to convert a break chance for a double break at 3-1. However, any thought of a Djokovic's collapse was quickly dissipated with another strong service hold. Djokovic continued to display excellent serving as he improved in the 2nd set to an impressive 81% 1st serves in and won 82% of them. This in turn gave Djokovic the confidence to go after Nadal's serve and be rewarded with winning 50% of the Spaniard's 1st serves when he was able to get them in (75%). At 3-5, whilst serving to stay in the match, Nadal's dejected face suggested that he knew that the end was very near at hand. Djokovic earned double match points with careless errors from the Nadal racquet. The Spaniard saved one. However, on the 2nd match point, words cannot describe how outstanding the point was as the two players furiously fought for it at net. Djokovic eventually took it with a magnificent clutch volley into the open court; Djokovic 6-3 6-3 over Nadal. The Serbian earned his 43rd career ATP title and 18th Master Series 1000 title placing him firmly in the 3rd slot of All-Time winners.
Nadal quickly left the court after the loss but in his on court interview, he commended Djokovic for a job well done to win the Indian Wells/Miami Master Series double acknowledging the tremendous effort to win both titles. The last time Djokovic won these two titles back to back in 2011, he went on to an unbeaten streak all the way to the French Open semifinals where he lost to Federer. Djokovic will be looking to repeat history again but only this time, he takes the French title; the only major title not in his trophy case. Djokovic, unabashed with the win stated, "I played a great match, from the start to the end everything was working really well." He noted that he had to be aggressive and serve well in order to beat Nadal. When later asked whether he "broke the spirit" of Nadal on court, he without hesitation responded, "Of course I did!"
Interestingly enough, between Djokovic and Nadal, they are currently holding all the Master Series trophies including the Year-Ending-Championships title. However, at this point in their rivalry, winning for either player is less about the money or title and more about bragging rights and setting the tone for the upcoming clay court season where they will inevitably meet again. They are both scheduled to play Monte Carlo in two weeks' time where Djokovic is the defending champion having won the title last year over Nadal who has 8 consecutive titles at the event.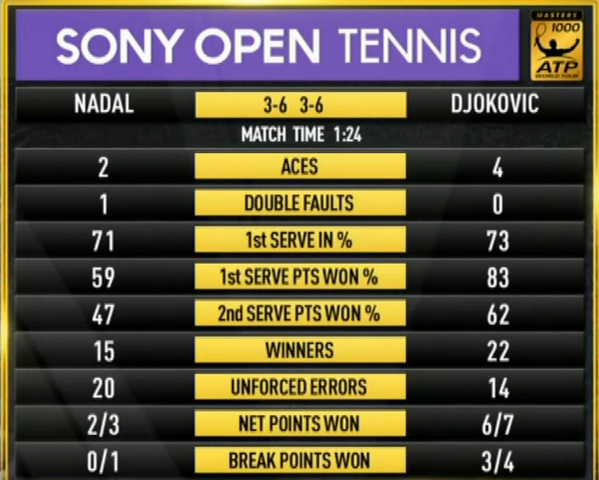 Alexander Zverev Secures Place In ATP Finals With Indian Wells Win
Zverev will be seeking to win the season-ending extravaganza for the second time in his career.
Germany's Alexander Zverev has become the fourth player to officially qualify for the ATP Finals after reaching the third round of the BNP Paribas Open in Indian Wells.
The world No.4 defeated America's Jenson Brooksby 6-4, 3-6, 6-1, in his second round match on Sunday which pushed him over the points threshold to secure his spot in the end-of-season event. It is the fifth year in a row he has qualified for the ATP Finals which he won back in 2018. He is one of only three German players to ever win the title after Boris Becker and Michael Stich.
This year's tournament will take place in Turin, Italy for the first time in history after being held at The O2 Arena in London for more than a decade. Only the eight highest ranked players are eligible to play in the round-robin tournament which has on offer up to 1500 rankings points for an undefeated champion.
"My first time in Turin. I've been to London four times before. London is obviously very special to me because I won there, as well. I think the stadium is incredible, one of the most special events that we had," Zverev told reporters on Sunday.
"But I also love playing in Italy. I had great success in Italy. I won my first Masters in Rome. I'm looking forward to being there. I'm looking forward to playing in front of the Italian fans. It's going to be a great week."
The 24-year-old approaches the final quarter of this season with four titles already won this year. He has won two Masters 1000 trophies, an ATP 500 event in Mexico and a gold medal in singles at the Tokyo Olympic Games. Zverev, who has recorded seven wins over top 10 players, also reached the semi-finals at both the French Open and US Open.
Zverev joins Novak Djokovic, Daniil Medvedev and Stefanos Tsitsipas as the players who have qualified for the ATP Finals so far. It is the third straight season the quartet has qualified for the event.
This year's ATP Finals will get underway on November 14th. Medvedev is the defending champion.
Denis Shapovalov Advances After Pospisil Retires In Indian Wells
The battle of the two Canadians didn't go as planned…
Vasek Pospisil faced off against his fellow Canadian Denis Shapovalov in the second round of the BNP Paribas Open in Indian Wells and it was the world number 13 who got the win after the Vernon native pulled out due to an injury whilst trailing 0-3.
It was a rough start for Pospisil who seemed to struggle with his serve in the opening game of the match and double-faulted twice in a row to give the early break and Shapovalov had no issues consolidating the break.
Shapovalov continued to apply pressure on the Pospisil serve and after saving two breakpoints the world number 68 pulled up after a serve and stopped play, calling for the trainer. He ended up taking a medical timeout off the court and a couple of minutes later returned to court. Pospisil was broken once again and the following game after a couple of returns decided to call it quits.
" It was pretty awful…and if I'm being honest I am shaking a bit…It really sucks I hope it's nothing serious…He's a great guy he's a real warrior he's fought back from some injuries surgeries to such a great level." Shapovalov said of his compatriot.
Shapovalov will face 19th seed Aslan Karatsev in the next round after the Russian thrashed Salvatore Caruso 6-2, 6-0.
In the other results of the day sixth seeed Casper Ruud dominated Roberto Carballes Baena 6-1, 6-2, Roberto Bautista Agut beat the Argentine Guido Pella 7-5, 6-3 and Sebastien Korda won an all American battle with Frances Tiafoe 6-0, 6-4.
Finally, Diego Schwartzman needed three sets to beat another American in Maxime Cressy winning 6-2, 3-6, 7-5.
Stefanos Tsitsipas Sidesteps Question Over Vaccination Status
The Greek also jokes that he will be having less bathroom breaks in Indian Wells due to one particular reason.
Stefanos Tsitsipas has declined to confirm if he has received a COVID-19 vaccination despite previously saying he planned to do so later this year.
The world No.3 was questioned about the vaccination during his pre-tournament press conference at Indian Wells on Wednesday. Earlier this year Tsitsipas came under fire after saying he doesn't see a reason why somebody his age needs to be vaccinated and expressed concerns over the potential side effects. He also added that young people catching COVID-19 is a good thing as it helps build up their immunity. Prompting criticism from various people, including a spokesperson for the Greek government.
However, in recent weeks Tsitsipas has changed his stance on the issue and recently told Antenna TV that he will have his first dose by the end of this year. When asked by a reporter in Indian Wells if he has had it yet, the French Open finalist declined to answer.
"I'm sorry but I'm not able to provide any of my medical records," he said.
Player vaccination rates in tennis are becoming a growing issue amid reports that the Australian Open may only allow fully vaccinated players to participate due to a health mandate which has been implemented by the local government. There is yet to be a formal announcement by Tennis Australia regarding their entry requirements. However, The Age newspaper reports that there is a 'strong likelihood' that only vaccinated players will be allowed entry by Chief Health Officer Brett Sutton.
Tsitsipas' immediate focus is on this week's BNP Paribas Open where he is the second seed behind Daniil Medvedev. Speaking about the conditions, the 23-year-old joked it was 'very dry' and therefore he will be having less bathroom breaks during matches. Referring to the recent criticism he has received from some of his peers over the timing of breaks he takes.
"It's very dry here," Tsitsipas said.
"That is good for me because I sweat less, which makes for less bathroom breaks, which makes for less complaints. So a very good sign so far," he added with a smile.
The hope for Tsitsipas is that he will be able to build on his recent experience at the Laver Cup where he helped Europe secure their fourth consecutive title. The event provides players with the opportunity to work alongside each other in a team format. Something Tsitsipas relished but he is ready to get back to singles duty.
"I think team competitions are necessary for our sport and we don't get to be united a lot," he said. "We always kind of focus on ourselves and our things and environment and that is what you usually see on Tour. Players doing their own thing. Not much socialising.
"At the Laver Cup, we all get to have dinners together and all get to hang out with each other. Of course, though, we all have our competitiveness and if we get stuck around we might share too much with one another, that is the mentality behind it."
Tsitsipas is yet to win a main draw match in Indian Wells. He will start his 2021 bid against either qualifier Roberto Marcora or Spain's Pedro Martinez.