Miami: Djokovic Tames Nadal
TENNIS – Novak Djokovic beat Rafael Nadal 6-3, 6-3 in the final of the Miami Master 1000 event. The Serb wins for the fourth time in Miami and completes the double with Indian Wells for the second time. The world numbers 1 & 2 now hold all the Master 1000 titles. Cordell Hackshaw
It was not that many people that did not predict that Rafael Nadal (1) and Novak Djokovic (2) would meet in the final of the 2014 Sony Open Masters 1000 event. It was just that no one expected the circumstances that brought them to this point. Neither player faced an opponent in the semifinals as both their adversaries forfeited with injuries. Kei Nishikori (20) who was set to face Djokovic pulled out first with a groin injury and then later on Tomas Berdych (7) withdrew with gastroenteritis against Nadal. Whether this was a conspiracy or mere coincidence, most fans knew that very little was going to stop Nadal and Djokovic from their 40th meeting being in Miami. Nadal has a slight edge in the head-to-head 22-17 but Djokovic has proven to be the better man on hardcourts with a 13-7 record. Nadal has never won this title and the three times he has made it to the finals, he has lost to Roger Federer (2005), Nikolay Davydenko (2008) and Djokovic (2011). Thus the Spaniard was hoping that the 4th time would be the charm as he attempted to stop the Serbian from taking his 4th Miami title. However, on this day, Djokovic showed signs that he is back to his 2011 self as he thoroughly dispatched Nadal in straight sets 6-3 6-3.
Nadal won the toss and elected to have Djokovic serve first. This seemed like an excellent strategy as Nadal was able to earn the first break point on Djokovic's opening service game. However, Djokovic was able to save it and hold serve. This would prove to the key decisive moment of the entire match as Nadal would never see another break point opportunity for the rest of the match. Djokovic was serving that well! Nadal seemed to be quite passive on court as he stood "miles" behind the baseline unable to make any inroads on the Djokovic's game plan. Serving down 2-3, Nadal found himself facing double break points as Djokovic's measured returns were inch perfect on the lines. The Spaniard was able to save one but Djokovic converted and held comfortably to be ahead 5-2. At this point in the set, one expected a Nadal charge but Djokovic was just too strong. Nadal was able to hold but Djokovic remained solid on serve as he took the set 6-3. Djokovic had 64% 1st serve in, won 89% of those points and garnered 50% on his 2nd serve. Nadal on the other hand could only win 77% of his 1st serves and 43% on 2nd serves.
Between sets, Djokovic sat in his chair in a Zen-like state as he knew that in order to beat Nadal, he must remain resilient and absolutely focused. It was unclear what Nadal's game plan at this point was going to be but his efforts were soon dismissed as Djokovic got the early break in the 2nd set and was up 2-0. Everything Nadal threw at Djokovic was to no avail. He was unbalanced and seemingly predictable and Djokovic was showing his supreme defensive skills on court. The usually fiery tempered Nadal was very tepid and lackadaisical on court. As each game went by, Nadal began to realize that his winning the match was impossible. Djokovic did show signs of a lack of focus when he failed to convert a break chance for a double break at 3-1. However, any thought of a Djokovic's collapse was quickly dissipated with another strong service hold. Djokovic continued to display excellent serving as he improved in the 2nd set to an impressive 81% 1st serves in and won 82% of them. This in turn gave Djokovic the confidence to go after Nadal's serve and be rewarded with winning 50% of the Spaniard's 1st serves when he was able to get them in (75%). At 3-5, whilst serving to stay in the match, Nadal's dejected face suggested that he knew that the end was very near at hand. Djokovic earned double match points with careless errors from the Nadal racquet. The Spaniard saved one. However, on the 2nd match point, words cannot describe how outstanding the point was as the two players furiously fought for it at net. Djokovic eventually took it with a magnificent clutch volley into the open court; Djokovic 6-3 6-3 over Nadal. The Serbian earned his 43rd career ATP title and 18th Master Series 1000 title placing him firmly in the 3rd slot of All-Time winners.
Nadal quickly left the court after the loss but in his on court interview, he commended Djokovic for a job well done to win the Indian Wells/Miami Master Series double acknowledging the tremendous effort to win both titles. The last time Djokovic won these two titles back to back in 2011, he went on to an unbeaten streak all the way to the French Open semifinals where he lost to Federer. Djokovic will be looking to repeat history again but only this time, he takes the French title; the only major title not in his trophy case. Djokovic, unabashed with the win stated, "I played a great match, from the start to the end everything was working really well." He noted that he had to be aggressive and serve well in order to beat Nadal. When later asked whether he "broke the spirit" of Nadal on court, he without hesitation responded, "Of course I did!"
Interestingly enough, between Djokovic and Nadal, they are currently holding all the Master Series trophies including the Year-Ending-Championships title. However, at this point in their rivalry, winning for either player is less about the money or title and more about bragging rights and setting the tone for the upcoming clay court season where they will inevitably meet again. They are both scheduled to play Monte Carlo in two weeks' time where Djokovic is the defending champion having won the title last year over Nadal who has 8 consecutive titles at the event.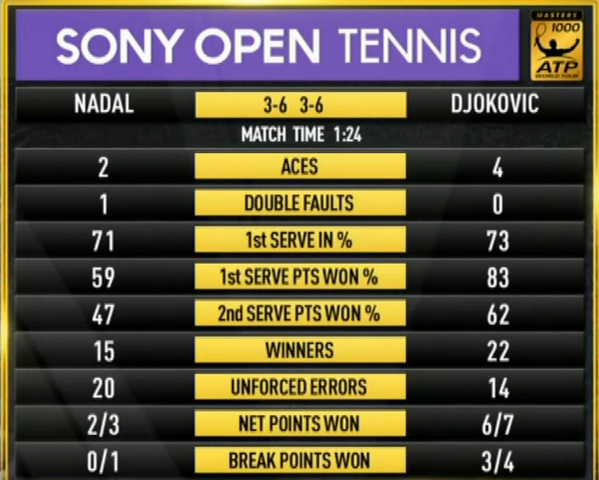 (VIDEO) Novak Djokovic Makes Tearful Tribute To Mentor Kobe Bryant After Australian Open Win
The world No.2 pays his respect to 'one of the greatest athletes of all time' on the Rod Laver Arena.
World No.2 Novak Djokovic shed tears following his quarter-final win over Milos Raonic after paying tribute to NBA legend Kobe Bryant.
The 16-time grand slam champion took to the Rod Laver Arena wearing a green zip-up top. On the top right of his jacket with Bryant's initial along with the numbers 8 and 24. The jersey numbers Bryant worn throughout his 20-year NBA career with the LA Lakers. A love heart was also placed under the numbers on Djokovic's top.
"'I don't know what we could say. It really caught us by surprise." An emotional Djokovic said during his on-court interview with John McEnroe on Tuesday.
'He was one of the greatest athletes of all time, he inspired myself and many other people around the world. I had that fortune to have a personal relationship with him over the last 10 years.'
'When I needed some advice and support, he was there for me. He was my mentor, my friend, it's just heartbreaking to see what has happened to him and his daughter. It's unbelievable.'
Bryant was killed on Sunday in a helicopter crash that also claimed the life of his 13-year-old daughter Gianna and seven others. As an athlete, he achieved numerous milestones. Including being named the 2008 NBA Most Valuable Player and two-time NBA Finals MVP. He was also a two-time Olympic gold medallist and played in 18 All Star Games.
Just days before Bryant's death, Djokovic spoke about their friendship during an interview with ESPN. Praising him for the support he received during his elbow injury and fall in the rankings during 2017 and the start of 2018. Reflecting on the conversations the two have had, he said he received some 'valuable guidance.'
"Kobe has been one of my mentors," Djokovic told ESPN. "I've had several phone conversations with him and also of course when we see each other live in the past couple of years. When I was going through the injury with my elbow and struggling to mentally and emotionally handle all of these different things that were happening to me and dropping in the Rankings and then having to work my way up, he was one of the people who was really there for me to give me some very valuable advice and guidelines to kind of believe and trust in myself, trust the process that I'll be back."
Djokovic will play Roger Federer in the semi-finals of the Australian Open.
The tribute can be watched below (from 00:30 to 01:40)
Dominic Thiem reaches his first quarter final at the Australian Open
Dominic Thiem eased past Gael Monfils 6-2 6-4 6-4 after 1 hour and 50 minutes on the Rod Laver Arena in Melbourne to reach the quarter final at the Australian Open. Thiem has extended his winning streak to 6-0 in his head-to-head matches against Monfils.
He fought back from two sets to one down to beat Australia's Alex Bolt in the second round, but he won eight of his past nine sets to advance to the quarter finals.
Thiem got two breaks in the first set and never faced a single break point in the entire match. The Austrian player converted his fourth break point after three deuces, as Monfils missed a backhand volley wide. Thiem started the third set with an early break in the first game, as Monfils hit an inside-out forehand wide from the middle of the court wide. Thiem won his next service games and held his final game at love.
Thiem will face Rafael Nadal in a re-match of last year's Roland Garros final.
"I think that I played my best match so far at this year's Australian Open. It's a very good feeling. The score looks way easier than the match was. I think I was lucky to make an early break in each set and I was managing to hold my serve well. I am so happy because I am in the quarter final here for the first time", said Thiem.
Alexander Zverev tops Andrey Rublev to set Australian Open quarter final against Stan Wawrinka
Alexander Zverev beat his friend Andrey Rublev 6-4 6-4 6-4 in one hour and 37 minutes to reach the quarter final at the Australian Open for the first time in his career and his third at Grand Slam level.
Zverev broke serve once in each set. The German player has not dropped a set at this year's edition of the Australian Open.
Zverev ended Rublev's 15-match winning streak. Rublev had not lost a match since October, winning four matches at the Davis Cup last November and back-to-back titles in Doha and Adelaide.
In the opening set Zverev earned his first break at 3-3, as Rublev hit a forehand into the net. He held his serve to consolidate the break and wrapped up the first set after 29 minutes, when Rublev hit a crosscourt backhand wide.
Zverev started the second set with an immediate break in the first game of the second set and closed it out with a hold at love with an ace after 29 minutes.
Zverev broke serve for the third time in the match in the ninth game of the third set to take a 5-4, when Rublev made a groundstroke error, and sealed the win with a forehand volley.
"It feels amazing. I played some great matches against some great opponents. This is Andrey's first loss of the season, having won two tournaments and getting through to the fourth round with unbelievable tennis. I have known Andrey since we were ten years old. I think he will be top 15, top 10 very soon. I am just happy and I hope I can continue",said Zverev.
Zverev will face Stan Wawrinka in the quarter final. The German star beat Wawrinka twice in their previous two head-to-head matches in St. Petersburg 2016 and Miami 2017.