Miami: Djokovic Tames Nadal
TENNIS – Novak Djokovic beat Rafael Nadal 6-3, 6-3 in the final of the Miami Master 1000 event. The Serb wins for the fourth time in Miami and completes the double with Indian Wells for the second time. The world numbers 1 & 2 now hold all the Master 1000 titles. Cordell Hackshaw
It was not that many people that did not predict that Rafael Nadal (1) and Novak Djokovic (2) would meet in the final of the 2014 Sony Open Masters 1000 event. It was just that no one expected the circumstances that brought them to this point. Neither player faced an opponent in the semifinals as both their adversaries forfeited with injuries. Kei Nishikori (20) who was set to face Djokovic pulled out first with a groin injury and then later on Tomas Berdych (7) withdrew with gastroenteritis against Nadal. Whether this was a conspiracy or mere coincidence, most fans knew that very little was going to stop Nadal and Djokovic from their 40th meeting being in Miami. Nadal has a slight edge in the head-to-head 22-17 but Djokovic has proven to be the better man on hardcourts with a 13-7 record. Nadal has never won this title and the three times he has made it to the finals, he has lost to Roger Federer (2005), Nikolay Davydenko (2008) and Djokovic (2011). Thus the Spaniard was hoping that the 4th time would be the charm as he attempted to stop the Serbian from taking his 4th Miami title. However, on this day, Djokovic showed signs that he is back to his 2011 self as he thoroughly dispatched Nadal in straight sets 6-3 6-3.
Nadal won the toss and elected to have Djokovic serve first. This seemed like an excellent strategy as Nadal was able to earn the first break point on Djokovic's opening service game. However, Djokovic was able to save it and hold serve. This would prove to the key decisive moment of the entire match as Nadal would never see another break point opportunity for the rest of the match. Djokovic was serving that well! Nadal seemed to be quite passive on court as he stood "miles" behind the baseline unable to make any inroads on the Djokovic's game plan. Serving down 2-3, Nadal found himself facing double break points as Djokovic's measured returns were inch perfect on the lines. The Spaniard was able to save one but Djokovic converted and held comfortably to be ahead 5-2. At this point in the set, one expected a Nadal charge but Djokovic was just too strong. Nadal was able to hold but Djokovic remained solid on serve as he took the set 6-3. Djokovic had 64% 1st serve in, won 89% of those points and garnered 50% on his 2nd serve. Nadal on the other hand could only win 77% of his 1st serves and 43% on 2nd serves.
Between sets, Djokovic sat in his chair in a Zen-like state as he knew that in order to beat Nadal, he must remain resilient and absolutely focused. It was unclear what Nadal's game plan at this point was going to be but his efforts were soon dismissed as Djokovic got the early break in the 2nd set and was up 2-0. Everything Nadal threw at Djokovic was to no avail. He was unbalanced and seemingly predictable and Djokovic was showing his supreme defensive skills on court. The usually fiery tempered Nadal was very tepid and lackadaisical on court. As each game went by, Nadal began to realize that his winning the match was impossible. Djokovic did show signs of a lack of focus when he failed to convert a break chance for a double break at 3-1. However, any thought of a Djokovic's collapse was quickly dissipated with another strong service hold. Djokovic continued to display excellent serving as he improved in the 2nd set to an impressive 81% 1st serves in and won 82% of them. This in turn gave Djokovic the confidence to go after Nadal's serve and be rewarded with winning 50% of the Spaniard's 1st serves when he was able to get them in (75%). At 3-5, whilst serving to stay in the match, Nadal's dejected face suggested that he knew that the end was very near at hand. Djokovic earned double match points with careless errors from the Nadal racquet. The Spaniard saved one. However, on the 2nd match point, words cannot describe how outstanding the point was as the two players furiously fought for it at net. Djokovic eventually took it with a magnificent clutch volley into the open court; Djokovic 6-3 6-3 over Nadal. The Serbian earned his 43rd career ATP title and 18th Master Series 1000 title placing him firmly in the 3rd slot of All-Time winners.
Nadal quickly left the court after the loss but in his on court interview, he commended Djokovic for a job well done to win the Indian Wells/Miami Master Series double acknowledging the tremendous effort to win both titles. The last time Djokovic won these two titles back to back in 2011, he went on to an unbeaten streak all the way to the French Open semifinals where he lost to Federer. Djokovic will be looking to repeat history again but only this time, he takes the French title; the only major title not in his trophy case. Djokovic, unabashed with the win stated, "I played a great match, from the start to the end everything was working really well." He noted that he had to be aggressive and serve well in order to beat Nadal. When later asked whether he "broke the spirit" of Nadal on court, he without hesitation responded, "Of course I did!"
Interestingly enough, between Djokovic and Nadal, they are currently holding all the Master Series trophies including the Year-Ending-Championships title. However, at this point in their rivalry, winning for either player is less about the money or title and more about bragging rights and setting the tone for the upcoming clay court season where they will inevitably meet again. They are both scheduled to play Monte Carlo in two weeks' time where Djokovic is the defending champion having won the title last year over Nadal who has 8 consecutive titles at the event.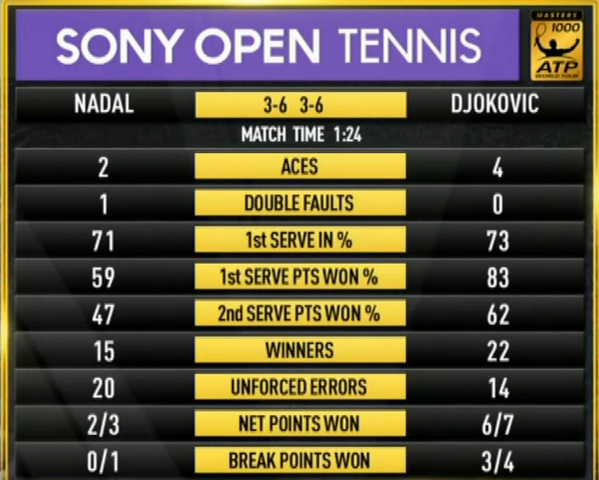 Novak Djokovic Opens Up About Wimbledon Points Removal
The world No.1 states that he will always support the views of his peers.
By Kingsley Elliot Kaye
In his press conference following his win over Yoshihito Nishioka at the French Open, Novak Djokovic expressed his views about the ATP decision to remove points from Wimbledon.
Negatively affected by such a decision – he will drop 2000 points – the world No.1 praised the ATP's stance and called for players' unity.
"I think collectively I'm glad that players got together with ATP, the governing body of the men's tennis, and showed to the Grand Slam that when there is a mistake happening, and there was from the Wimbledon side, then we have to show that there are going to be some consequences. So I support the players, unification always. I have always done that. I will always do that." He said.
Djokovic criticized the lack of communication between the parties involved, in particular with regard to a document of recommendation by the English Government which contained diverse options. Had it been discussed by the All England Club with ATP and players, a compromise may have been reached.
"I think it was a wrong decision. I don't support that at all. But, you know, during these times, it's a super sensitive subject, and anything that you decide, it's unfortunately going to create a lot of conflict, a lot of separation instead of unification." He continued.
Djokovic also mentioned other suggestions coming from WTA and ATP, that possibly men's and women's players from Belarus, Ukraine, and Russia could play together at some exhibition event during the slam or something like this and prize money could go to the victims in Ukraine. There were different ideas, but there was never really a strong communication coming from Wimbledon.
He stressed that removing the points from Wimbledon, therefore not allowing players to earn or to defend points, is a decision that affects everyone, a lose-lose situation for everyone, as he called it.
Nonetheless, the charm and prestige of Wimbledon shall rest unaltered and its meaningfulness extends far beyond: "A Grand Slam is still a Grand Slam. Wimbledon for me was always my dream tournament when I was a child. You know, I don't look at it through the lens of points or prize money. For me, it's something else."
Injury-Hit Borna Coric Reacts To First Grand Slam Win In 16 Months
The Croat admits he was unsure how his shoulder would hold up in his opening match at Roland Garros.
Borna Coric said he is relieved that his body managed to hold up during his opening win at the French Open on Sunday.
The former world No.12 spent almost three hours on the court before defeating Spain's Carlos Taberner 3-6, 6-2, 6-3, 6-1, in what was his first Grand Slam match of any kind since the 2021 Australian Open. Paris is only the seventh tournament Coric has played in since returning to the Tour following a year-long absence due to shoulder surgery. The 25-year-old is yet to win back-to-back matches this season.
"It does feel great. I didn't know what to expect in terms of my shoulder because I've never been in the fourth set, fifth set (of a match) for one-and-a-half years," said Coric.
"So it was also kind of worrying for me, I didn't know what to expect, I didn't know how I'm going to feel and how my whole body is going to behave in those later sets. Obviously I've been practicing it, but it's really never the same."
Impressively the Croat produced a total of 54 winners against 39 unforced errors in his latest match in the French capital. Furthermore, he won 76% of his first service points and 53% of his second.
"The last few weeks haven't been very easy, I lost many tight matches. I mean, I was also quite happy with my tennis, but I was just losing," he reflected.
Coric was once tipped to be the future of men's tennis after rising quickly up the ranks at a young age. In 2014 he was the youngest player to end the season in the top 100 and a year last he was the youngest to do so in the top 50. He has recorded a total of nine wins over top five players, including Roger Federer, as well as winning two Tour titles.
In the second round at Roland Garros Coric will take on the formidable Grigor Dimitrov who has been ranked as high as third in the world. He will enter the clash as the underdog given his ongoing comeback from injury. At present Coric's principal focus is on his body but that will change in the coming weeks.
"Until Wimbledon my health needs to come first and after Wimbledon I can kind of try to switch in my mind so I can start playing more and more tournaments. I can train more and I can focus more on the tennis rather than on my shoulder," he explains.
Coric has reached the third round of the French Open on four previous occasions.
Felix Auger Aliassime Wins First Ever Roland Garros Match In Five Sets
Felix Auger-Aliassime earned his first ever victory at Roland Garros.
The Canadian found himself down two sets to none but fought back to pull off the comeback in a thrilling five set victory.
Felix Auger Aliassime is into the second round of the French Open for the first time in his career after battling back to beat the Peruvian qualifier Juan Pablo Varillas in five sets 2-6, 2-6, 6-1, 6-3, 6-3 in three hours and 14 minutes.
The Montreal native finished the match serving 14 aces and hitting 52 winners in a match that featured a lot of long rallies from behind the baseline.
"It was a dream for me to play here, it was an honor and my first time on Phillipe Chatrier and my first win at Roland Garros and I had to work hard to get it and credit my opponent he played very well today."
The Peruvian started the match by breaking the number nine seed right out of the gate and at 3-1 managed to turn that break into a double break as he served out the first set with ease.
The first two games of the second went on serve but again the world number 122 seemed to play better as the Canadian looked stunned, searching for answers.
The Lima native once again took an early lead to take a 3-1 lead and again that seemed like enough for the Peruvian as he served out the second set and was one set away from an improbable upset.
The third set is where the Canadian started to turn things around and his groundstrokes seemed to have more precision. At 2-1 it was the Montreal native who got the first break of serve.
After consolidating the break the world number nine was hungry for more and turned that break into a double break and it looked like the match was turning in his favour.
The Canadian served out the third set to send it to a fourth looking to send it to a decider.
The Montreal native rode the momentum from winning the third into the fourth set where after holding the opening service game got the early break once again taking a 2-0 lead.
At 5-3 with the Peruvian looking to stay in the set, Auger Aliassime managed to get another break to win the set and send the match to a fifth set.
The fifth set stayed on serve until 4-3 when the Canadian had four chances to break and at the fourth time of asking he was able to break and serve out the match to complete the comeback.
After the match in his on court interview he was asked about the adjustments he made in the third set to turn the match around and pull off the win.
"I tried to give myself some more space and a little more time, my opponent at the beginning was playing very quick, aggressive, and flat so I tried a couple things and I also served better and after that it was easier."
The Canadian will next face either Aslan Karatsev or Camilo Ugo Carabelli in the next round.