Rafael Nadal Outlasts David Ferrer In London Epic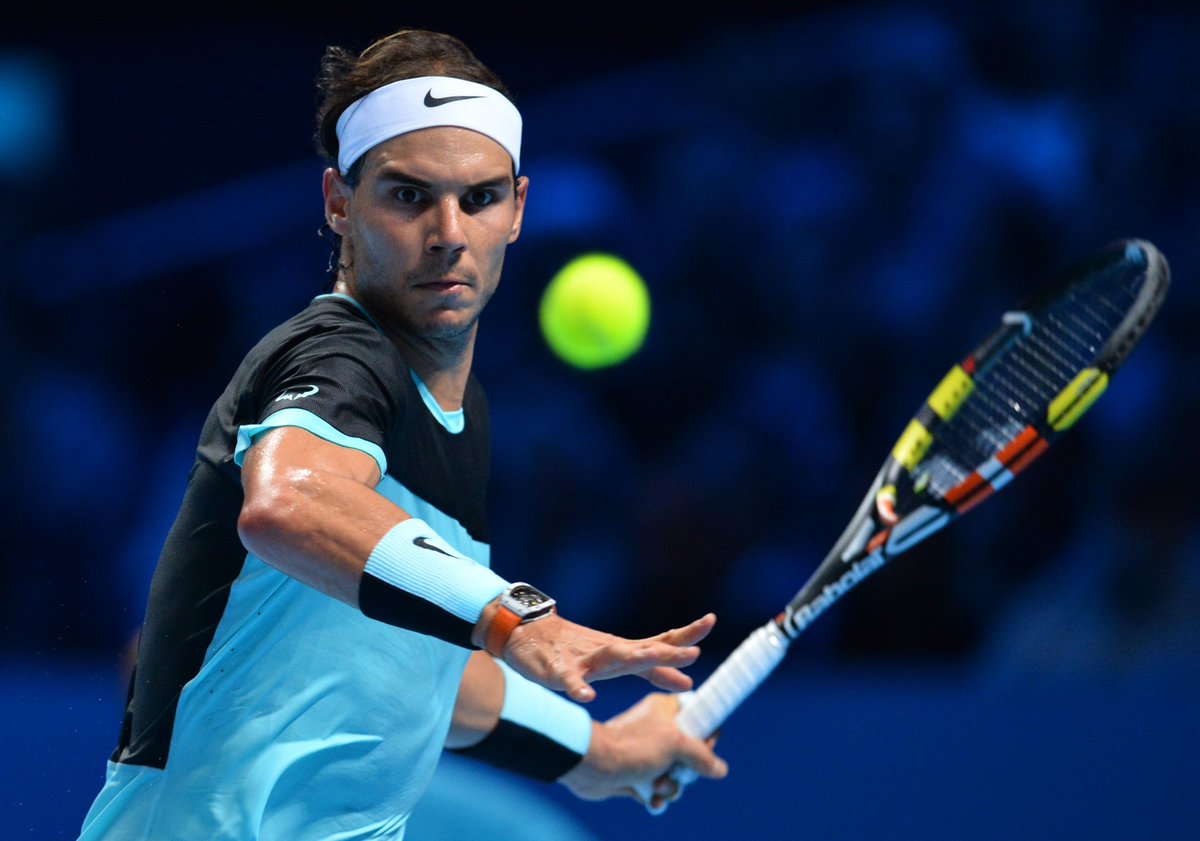 Rafael Nadal continued his winning record at the ATP Finals with a marathon 6-7(2), 6-3, 6-4, win over David Ferrer at the O2 Arena.
Nadal has already secured his place in the last four after defeating Stan Wawrinka and Andy Murray in straight sets. Murray was the highest ranked player that the world No.5 has beaten since the 2014 French Open. The upturn in his form is a relief for Nadal after his troublesome season. Currently the 14-time Grand Slam champion has 19 losses this season, which is the most in his 14-year career.
The encounter was the 30th meeting between the two Spanish tennis greats. It was the recently rejuvenated Nadal, who started the match the most impressive by producing a cross court backhand to earn two break points in the first game of the match. He was awarded the immediate break after a shot from Ferrer went directly into the net. The electrifying start by Nadal appeared too much for his 33-year-old opponent to contend with. A masterful drop shot at the next allowed the 9-time French Open champion to swiftly extend his early lead to 3-0, placing Ferrer in a tough dilemma.
Despite the impressive start by Nadal, it was abruptly eroded by an epic comeback by his older rival. Nadal was only able to get two points in two of his service games as he was moved around the court by some aggressive play coming from Ferrer's racket. The epic comeback resulted in the world No.7 moving to a game away from taking the opening set but it wasn't to be. After losing his two previous service games, Nadal ended his game drought with the help of a Ferrer unforced error to move to level at 5-5. The hard work invested by Ferrer into the set was then squandered after back-to-back unforced errors allowed Nadal to break for the chance to serve for the set. Faced with the chance to lead the match with his first set point, the world No.5 was unable to convert as Ferrer nudged his way back by converting his 5th break-point in the game to force a tiebreaker.
The tiebreaker was an error-stricken performance from Nadal against an increasingly confident Ferrer. Two consecutive unforced errors from Nadal gave the 33-year-old four set points in which he only required one to take the tiebreaker, leading to a mighty cheer from Ferrer's camp and well as his fans.
After the roller-coaster opening set which consisted of six breaks of service, proceedings settled down going into the second set with each player holding their serve. Ferrer continued applying the pressure, but it was Nadal who struck first. The Spanish No.1 had a golden opportunity to lead 4-2 after battling to a breakpoint before it was saved with a stunning shot from Ferrer. There was better fortune for Nadal in the eighth game when he produced a blistering return to break for a 5-3 lead, reviving his chances of finishing the Ilie Nastase Group undefeated. The task of serving the set out was easy for the 5th seed as he took it to love.
Nadal has recovered from a set down to defeat Ferrer on three previous occasions with the most recent occurring at the 2013 Madrid Masters. It was the tenth time that a match between the two players have gone to three sets (excluding grand slam events). The decider got underway with a marathon service game that consisted of seven deuces. Nadal had five chances to break for the early lead, but he was unable to see it off as Ferrer battled to successfully hold his serve after 14 minutes. After two hours on the court both men were still moving around freely without any issue, demonstrating how physically fit tennis players are.
Savour this exquisite lob from the racquet of @DavidFerrer87 #finalshowdown https://t.co/kRsZ9udpkC https://t.co/dmh5t2dK3B

— TennisTV (@TennisTV) November 20, 2015
As the marathon clash approached the final stages, neither player could still grab a crucial break to edge nearer to the win. At 4-4 every point counted and both players knew it. The elevation of pressure was significantly intensified when a shot into the net from Ferrer resulted in Nadal having a double chance to break and serve for the match. Despite Ferrer's best efforts, a signature shot down the line from the world No.5 confirmed the break and gave him the chance to serve the match out. Surging to 40-15, Nadal finally took the match with a backhand slice at the net, prompting a massive smile from the 5th seed.
The win is the 24th time that Nadal has beaten his Davis Cup team mate since 2005. The 29-year-old will now go into the semifinals with a 100% winning record after his trio of victories this week. Meanwhile Ferrer will exit the tournament with no wins. The last time he won a match at the tournament was in 2012 against Janko Tipsarevic.
Awaiting Nadal in the semifinals will be world No.1 Novak Djokovic. The world No.5 currently leads the head-to-head 23-22.
The 2019 WTA Season Review: A Memorable Year For Barty, Andreescu And Others
What a year it has been in the world of women's tennis.
Ubitennis.net reviews a great 2019 WTA season highlighted by the first Grand Slam title won by Ashleigh Barty at Roland Garros, the emergence of Canadian teenager Bianca Andreescu, the triumph of Simona Halep at Wimbledon and the second consecutive Grand Slam win by Naomi Osaka at the Australian Open.
WTA Best player of the year: Ashleigh Barty
Ashleigh Barty moved up to the top of the WTA Ranking for the first time in her career last June after her maiden Grand Slam singles title at Roland Garros and ended the season as the year-end world number 1. The 23-year-old from Ipswich became the first Australian player to win a singles Grand Slam title since Sam Stosur at the 2011 US Open and the first player from her country to win the Roland Garros singles title since Margaret Court in 1973.
Barty scored a tour-leading 56 victories and lifted the 2019 WTA Finals Trophy in Shenzhen on her debut after beating defending champion Elina Svitolina in the title match. Barty also won her first WTA Premier Mandatory title in Miami on hard court and the Birmingham Open title on grass. She reached another semifinal in Wuhan and finished runner-up at the China Open in Beijing.
The Aussie player also enjoyed a remarkable season in doubles by reaching the semifinals at the Miami Open with her teammate Victoria Azarenka. They lifted their first title as a team in Rome (a Premier 5 tournament). Barty and Azarenka reached another Premier 5 semifinal at the Canadian Open. They beat Timea Babos and Kiki Mladenovic in the quarter finals of the US Open en route to reaching the final, before losing to Elise Mertens and Aryna Sabalenka.
WTA Surprise of the Year: Bianca Andreescu
Canadian teenager Bianca Andreescu enjoyed a very successful season, in which she claimed her maiden Grand Slam title at the US Open and her first Premier Mandatory title at Indian Wells. The Canadian player of Romanian origin improved her ranking from world number 152 at the start of the year to number 107 after reaching the final in Auckland. The player from Mississauga (Ontario) continued her breakthrough season with a semifinal in Acapulco. She became the first wild-card to win the Indian Wells title and the first 18-year-old player to win this tournament since Serena Williams in 1999.
At the US Open Andreescu beat Serena Williams in straight sets to become the first Canadian player to win a Grand Slam title and the first teenager to win a Grand Slam singles title since Maria Sharapova won the 2006 US title.
Grand Slam queens: Simona Halep and Naomi Osaka
The 2019 season will be remembered by tennis fans for the achievements of Naomi Osaka and Simona Halep, who won their second Grand Slam titles respectively at the Australian Open and at Wimbledon.
Osaka lifted her second consecutive Grand Slam trophy after winning the Australian Open final against Petra Kvitova. The triumph at Melbourne Park followed up her win over Serena Williams in the US Open final in September 2018. Last January Osaka became the first Asian player to be ranked number 1 in the world in singles. Osaka also won two more titles at the Pan Pacific Open in her hometown of Osaka and at the China Open in Beijing.
Simona Halep won her second Grand Slam title at Wimbledon after beating Serena Williams in the final. The Romanian star had already won a Major trophy at the 2018 French Open. Halep reached the Wimbledon final as the seventh seeded player, but dropped only one set in the second round against her compatriot Michaela Buzarnescu. She beat Elina Svitolina to reach her fifth Grand Slam final. Halep had previously won just once in her ten head-to-head matches against Serena Williams, but the Romanian player won the Wimbledon final in under an hour dropping just two games in each set. Becoming the first Romanian player to win a Wimbledon singles title. During the 2019 WTA season Halep lost the Madrid Mutua Open final to Kiki Bertens and reached two semifinals in Doha and Miami.
Caroline Wozniacki's Fitting Farewell To Tennis
The 29-year-old tennis star might not have been praised by everybody, but her upcoming departure will leave a noticeable gap on the WTA Tour.
It was news that many expected in recent weeks, but when it was announced there was still a sense of shock.
In less than two months time Caroline Wozniacki will end a career that has made her the most decorated Danish Tennis player of all time. In a lengthy Instagram post, she confirmed the upcoming Australian Open will be her last tournament. She states that her decision is not health-related and instead wants to embark upon other activities. Including starting a family with her husband David Lee. A former NBA player who retired in 2017 at the age of 34.
"I've always told myself, when the time comes, that there are things away from tennis that I want to do more, then it's time to be done," Wozniacki wrote. "In recent months, I've realized that there is a lot more in life that I'd like to accomplish off the court."
Wozniacki's rise in the sport started almost 15 years ago on the junior circuit where she eventually peaked at a high of number two. She claimed a series of prestigious titles, including the 2006 Wimbledon Girls title and was runner-up at the Australian Open that same year. Due to her results, she stopped playing junior events at the age of 16.
"I am only 16 years old, but if I train hard, have some luck and avoid injuries, then I think it is possible to get to the top. And then I get the opportunity to take part in the victory party at Wimbledon," she told Kristeligt Dagblad back in 2006.
Whilst never managing to get her name on the Wimbledon trophy, the 29-year-old still managed to excel on the court. Guided on the tour by her father, Piotr, she quickly emerged as one of the rising stars of the sport by cracking the world's top 20 at the age of 18. Aided by her first trio of WTA titles won during the second half of 2008. Generating rapidly rising interest in her back in her home country.
Establishing herself as a top player, it was just a matter of time before she would clinch the No.1 spot. She achieved the milestone in October 2010 when she reached the quarter-finals of the China Open, which she went on to win. Wozniacki would go on to hold the No.1 position for 71 weeks during three separate periods throughout her career. The ninth longest span in the Open Era on the WTA Tour.
The grand slam struggles
During the majority of her time at the top, Wozniacki's struggle to claim a grand slam title placed her in line for numerous criticism. Some of which at times were unfair. The high expectation stemmed from the 2009 US Open where she reached the final at the age of 19. One of the most (if not the most) critical articles to come out was from Bleacher Report, who blasted Wozniacki when she was just 20!
"Wozniacki has struggled her whole career to triumph over top players on the biggest stages, and it's not just a coincidence that she has failed." the article reads.
"Caroline Wozniacki may be the women's No. 1 player according to the ranking system, but she doesn't deserve to be."
At one stage it did appear that the window for Wozniacki to clinch a major trophy had closed, but she never gave up and finally achieved her goal. Nine years after her first appearance in a grand slam final, she won the 2018 Australian Open. Taking on Simona Halep in a dramatic final, she prevailed 7-6(2), 3-6, 6-4, after almost three hours of play.
"It's really nice not to have to answer the 'no Grand Slam' question ever again and now finally I have the world No 1 and a Grand Slam title. It's very special."
So far Wozniacki has played in 50 grand slam tournaments. Winning 117 out of 187 matches played.
The off-court challenges
Injuries and burnouts had blighted the Dane throughout her career, but just months after lifting the Australian Open trophy Wozniacki faced a whole new challenge. After suffering from bouts of illness, she was eventually diagnosed with rheumatoid arthritis. A long-term autoimmune disorder that affects the joints. There is no cure for the condition which can cause swelling, stiffness and pain in numerous parts of the body. Symptoms can also include tiredness and a fever.
Despite the diagnosis, Wozniacki never blamed the condition on any of her performances on the court. Even when she announced her retirement, the Dane stressed that it wasn't health related.
"It makes some things more challenging, but I feel great in the day-to-day. I feel like I can do anything, and I've won some of my biggest titles of my career with this illness," she told people.com earlier this month. "I never wanted to use RA as an excuse for anything."
In In her retirement plans, Wozniacki has already outlined her goal to want to promote her condition. Hoping to inspire others.
"We're launching a new health education campaign centred around rheumatoid arthritis," she said. "I felt that it was important that I use my platform to share my story and show that anything is possible, regardless of RA."
Why retire now?
Currently ranked 37th in the world and yet to turn 30, it could be argued that Wozniacki should carry on playing for a couple more years. However, she has never wanted to do that. When asked during the 2015 Dubai Tennis Championships if she wanted to emulate the Williams sisters and play into her 30s, she replied 'no, I don't think so.'
Wozniacki has the luxury of being able to retire on her own terms. Now approaching the end of her tennis career, she has won 30 WTA titles. She has won just over $35.2 million in prize money, which is the fourth highest of all-time for a female tennis player (as of this week). To put into perspective how popular she has become in Denmark, newspaper Ekstra Bladet devoted 12 pages to her following the announcement.
"She's the greatest athlete we've ever had here," former Danish player Peter Bastiansen wrote in an editorial for bt.dk.
"In the field of individual sports, she has achieved the greatest ever by a Dane, considering that she has been number one on the world rankings on several occasions and won a grand slam."
Whilst Wozniacki is likely to end her career without multiple grand slam titles, her determination enabled her to stay among the top of the women's game for almost a decade. Something even her critics have to admire her for. It is only fitting that she should end her career at the venue where she achieved her grand slam dream.
Women's tennis will lose a big figure in the sport, but her legacy will stay forever.
Wozniacki's career in numbers
30 – number of WTA titles
71 – weeks spent as world No.1
432– Wozniacki has won more matches on a hard court than any other non-American player on the women's tour
630 – number of matches won
$35,218,415 – prize money earned so far
Kiki Bertens Believes In Stability And Trust Ahead Of 2020 Season
Kiki Bertens looks for stability in hope of grand slam success in 2020.
Kiki Bertens believes stability and trust is the key to success ahead of the 2020 season despite a time of change for the Dutchwoman. 
A time of change is approaching for Kiki Bertens as she recently just got married to her physical trainer Remko De Rijke.
https://www.instagram.com/p/B5iU5w9hTgf/
It's not only off the court, change is approaching for the former Wimbledon quarter-finalist as her and coach Raemon Sluiter parted ways during the off-season.
After the split it would have been easy for Bertens to make a radical change to her coaching team but that is not her style as she has promoted Elise Tamaela to a main coaching role.
Even through a time of change, Bertens believes stability is crucial to success, "It takes me a while to be able to trust someone," she admitted to Dutch website De Telegraaf. 
"And I don't want to spend that time on something like that. We're going to continue in the same way for next year. The results were not as expected in the Grand Slams but I had other good weeks. It's really not that I felt different playing in the Slams than in other weeks in which I could win titles."
Although the formula to winning a grand slam has yet to be solved, the world number nine has achieved great consistency having won 55 matches in 2019, which also included the biggest title of her career in Madrid.
A new era await for Bertens with her new coach and plenty of praise was given to Elise Tamaela ahead of the new season, "For me the most important thing is that that person knows a lot about tennis. I have to be able to fully trust her," Bertens said.
"To be able to laugh with that person, eat with her. I prefer to keep the equipment to the minimum possible and be able to feel comfortable in terms of confidence. Sometimes more people in the team only bring more opinions. And that style is not mine."
This simplistic formula has worked for Bertens in the past and as the 2020 season approaches, she's not looking to change it.
However will inexperience lead to the same results at grand slams, with the level of the Women's game rising, Bertens may find that breaking the boundaries of stability is needed.
The former world number four will start her march towards more glory in Brisbane on the 6th of January.