Rafael Nadal Outlasts David Ferrer In London Epic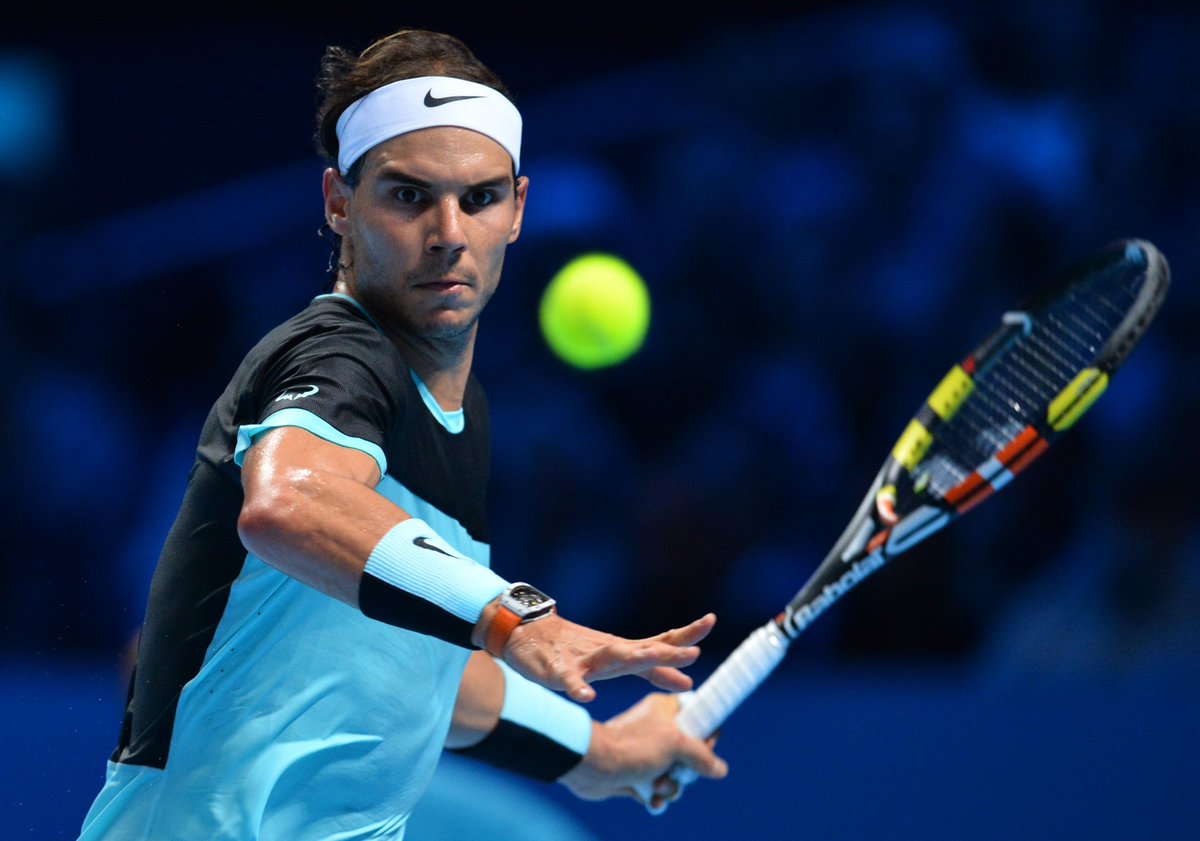 Rafael Nadal continued his winning record at the ATP Finals with a marathon 6-7(2), 6-3, 6-4, win over David Ferrer at the O2 Arena.
Nadal has already secured his place in the last four after defeating Stan Wawrinka and Andy Murray in straight sets. Murray was the highest ranked player that the world No.5 has beaten since the 2014 French Open. The upturn in his form is a relief for Nadal after his troublesome season. Currently the 14-time Grand Slam champion has 19 losses this season, which is the most in his 14-year career.
The encounter was the 30th meeting between the two Spanish tennis greats. It was the recently rejuvenated Nadal, who started the match the most impressive by producing a cross court backhand to earn two break points in the first game of the match. He was awarded the immediate break after a shot from Ferrer went directly into the net. The electrifying start by Nadal appeared too much for his 33-year-old opponent to contend with. A masterful drop shot at the next allowed the 9-time French Open champion to swiftly extend his early lead to 3-0, placing Ferrer in a tough dilemma.
Despite the impressive start by Nadal, it was abruptly eroded by an epic comeback by his older rival. Nadal was only able to get two points in two of his service games as he was moved around the court by some aggressive play coming from Ferrer's racket. The epic comeback resulted in the world No.7 moving to a game away from taking the opening set but it wasn't to be. After losing his two previous service games, Nadal ended his game drought with the help of a Ferrer unforced error to move to level at 5-5. The hard work invested by Ferrer into the set was then squandered after back-to-back unforced errors allowed Nadal to break for the chance to serve for the set. Faced with the chance to lead the match with his first set point, the world No.5 was unable to convert as Ferrer nudged his way back by converting his 5th break-point in the game to force a tiebreaker.
The tiebreaker was an error-stricken performance from Nadal against an increasingly confident Ferrer. Two consecutive unforced errors from Nadal gave the 33-year-old four set points in which he only required one to take the tiebreaker, leading to a mighty cheer from Ferrer's camp and well as his fans.
After the roller-coaster opening set which consisted of six breaks of service, proceedings settled down going into the second set with each player holding their serve. Ferrer continued applying the pressure, but it was Nadal who struck first. The Spanish No.1 had a golden opportunity to lead 4-2 after battling to a breakpoint before it was saved with a stunning shot from Ferrer. There was better fortune for Nadal in the eighth game when he produced a blistering return to break for a 5-3 lead, reviving his chances of finishing the Ilie Nastase Group undefeated. The task of serving the set out was easy for the 5th seed as he took it to love.
Nadal has recovered from a set down to defeat Ferrer on three previous occasions with the most recent occurring at the 2013 Madrid Masters. It was the tenth time that a match between the two players have gone to three sets (excluding grand slam events). The decider got underway with a marathon service game that consisted of seven deuces. Nadal had five chances to break for the early lead, but he was unable to see it off as Ferrer battled to successfully hold his serve after 14 minutes. After two hours on the court both men were still moving around freely without any issue, demonstrating how physically fit tennis players are.
Savour this exquisite lob from the racquet of @DavidFerrer87 #finalshowdown https://t.co/kRsZ9udpkC https://t.co/dmh5t2dK3B

— TennisTV (@TennisTV) November 20, 2015
As the marathon clash approached the final stages, neither player could still grab a crucial break to edge nearer to the win. At 4-4 every point counted and both players knew it. The elevation of pressure was significantly intensified when a shot into the net from Ferrer resulted in Nadal having a double chance to break and serve for the match. Despite Ferrer's best efforts, a signature shot down the line from the world No.5 confirmed the break and gave him the chance to serve the match out. Surging to 40-15, Nadal finally took the match with a backhand slice at the net, prompting a massive smile from the 5th seed.
The win is the 24th time that Nadal has beaten his Davis Cup team mate since 2005. The 29-year-old will now go into the semifinals with a 100% winning record after his trio of victories this week. Meanwhile Ferrer will exit the tournament with no wins. The last time he won a match at the tournament was in 2012 against Janko Tipsarevic.
Awaiting Nadal in the semifinals will be world No.1 Novak Djokovic. The world No.5 currently leads the head-to-head 23-22.
Toni Nadal Hopeful Inactivity Won't Hinder Rafael Nadal's French Open Bid
In a column for Spanish newspaper El Pais, uncle Toni also speaks out about one rule at this year's US Open that he is finding hard to get use to.
The former coach of world No.2 Rafael Nadal has said there is no right or wrong answer when it comes to taking part in this year's US Open following the high-profile withdrawal of the Spaniard.
Toni Nadal has jumped to the defence of his nephew and others who have pulled out of New York amid concerns related to the COVID-19 pandemic. Nadal is the only member of the top 10 on the ATP Tour set to miss the event due to these concerns. However, three top 10 players on the WTA Tour have already pulled out.
"The US Open dispute by Djokovic, Tsitsipas or Thiem seems to me as understandable as the resignation of Nadal, Federer or Wawrinka," Toni wrote in his column for El Pais. "We must understand the apprehension about taking different flights and leaving home when things continue to be so uncertain."
This year's US Open is taking place under strict protocols with players being limited to where they can travel in the city and subjected to regular tests for COVID-19. Players have also been asked to sign a waiver which states that they cannot sue the US Open or related parties if they contract the virus whilst there. Even if there is a degree of negligence by the tournament. Those wishing to stay in private accommodation are also expected to pay for 24-hour security to monitor their movement and ensure they are sticking to tournament rules.
Whilst supporting Nadal's decision not to play the event, uncle Toni has expressed concern that a lack of match play could have a negative effect on his French Open campaign. Nadal last played a tournament back in February at the Acapulco Open in Mexico, which he won. The only top clay-court event set to take place in the build up to Roland Garros will be in Italy after the Madrid Open got cancelled.
"I just hope that, in Rafa's case, his results at Roland Garros are not compromised by an inactivity of so many months," Toni commented.
This year, Nadal could achieve a duo of milestones should he win once again in Paris. Victory would place him on level ground with Roger Federer for the most Grand Slam titles ever won by a male player. He would also become the first player, male or female, to have won the same Grand Slam for a 13th time.
Besides his nephew, uncle Toni admits there is one thing he can't get used to at this year's US Open which is the loss of a crowd. A decision that was taken due to the risk posed by the pandemic.
"I find it difficult to accept and imagine the presence of the public in the stands. There are many occasions in which I have heard my nephew, like other tennis players, personally address the spectators to thank their support and the important role they have played," he said.
"In order to lift a trophy. I can assure you that these are not empty words or set phrases. The shouts of the public after a great exchange, the emotion they show in the face of a victory and the disappointment in a defeat: that, to a large extent, it is what gives meaning to this sport and feeds the adrenaline of the tennis player."
The US Open will get underway on August 31st.
Pain-Free Petra Kvitova Ready For US Open Challenge
After having doubts over travelling, the former world No.1 provides a fitness update as she looks ahead to the resumption of her season.
Two-time Wimbledon champion Petra Kvitova says she is unfazed by the new set of protocols that will be introduced at the US Open as she commits to playing in the event.
The world No.12 has lent her full backing behind the New York major amid a series of high-profile withdrawals in recent days due to concerns related to the COVID-19 pandemic. Three top 10 players on the women's Tour have pulled out (Ask Barty, Kiki Bertens and Elina Svitoliva), as well as reigning men's champion Rafael Nadal. The US Open is set to take place behind closed doors for the first time in history will players being essentially kept in what is being described as a 'bubble.' They will be restricted as to where they will be able to go in the city and subjected to regular testing.
Nevertheless, Kvitova still intends to depart for America next Wednesday. She is also set to play in the Western and Southern Open which has been relocated from Cincinnati to New York due to the pandemic. The Western and Southern Open will be her first WTA event since winning the Qatar Open on March 1st.
"They've allowed us a two-member escort, so we'll fly in three with a coach and a physiotherapist," Kvitova told reporters on Monday about travelling to New York.
"I'm not the type of player who needs a lot of people around me. It's enough for me, it will probably be worse for men," she added.
The 30-year-old admits that she did contemplate not attending the Grand Slam before later having a change in heart. Deciding that she didn't want to have any regrets later on in her career.
"I'll try my best and have a clear conscience, let it turn out as it turns out. I'm really looking forward to the matches, adrenaline and everything around. It's a long time and tennis after all. I miss it. It will be nice," she stated.
During the Tour break Kvitova has managed to maintain her competitive thirst by participating in a series of exhibition events. In her home country, she won a hardcourt event in Prague before losing her opening match at the clay equivalent a week later. More recently, she took part in the Bett1 Aces events in Berlin where she recorded three wins and two losses. Scoring two victories over Andre Petkovic, as well as Bertens.
Besides the occasional niggle that is associated with a professional tennis player, Kvitova says she is fully fit at present with no pain in her left hand. Which was badly injured during a run in she had with an intruder in her apartment back in 2016 that subsequently required surgery.
"Everything is fine, fortunately the hand is painless. It is taken care of so that it lasts. I played one match on clay, then it hurt. Since then, I've been playing more on hard surfaces. It's better," she said.
The absence of a crowd at upcoming tennis events have led to some wondering how it would affect players. Serena Williams told reporters on Sunday that she is unsure what impact it will have on her. As for Kvitova, she described her experience of playing exhibitions in silence as 'strange.'
"It was very strange. We played beautiful exchanges and no one applauded us. This is the time, but it is harder to deal with it on the court," she recalled.
"We have reports that they will put virtual fans there (at the US Open), so hopefully it will be a little more enjoyable."
Kvitova started the year by winning 12 out of 15 matches played before the sport was halted for five months due to COVID-19.
Fiona Ferro Stuns Kontaveit To Win Palermo Open
The unseeded Frenchwoman has become the first player to win a title on the Tour following its five-month suspension due to COVID-19.
France's Fiona Ferro will rocket up the world rankings to a career best of 44 on Monday after claiming her second WTA title at the Palermo Open.
The 23-year-old unseeded player roared her way to a 6-2, 7-5, win over Estonian fourth seed Anett Kontaveit who is currently ranked 31 places above her on the Tour. Producing a series of blistering shots from both the forehand and backhand side, Ferro was relentless throughout the at times roller-coaster 103-minute encounter. Hitting a total of 51 winners to 24 unforced errors and converting five out of her seven break points.
"It was a very tough match, very close. Anett is a very consistent player and I had to fight for every point," Ferro said during the trophy ceremony.
"At 3-5 in the second set I just had to keep fighting for every point." She added.
Playing in only her second WTA Final and first since July 2019, Ferro got off to the perfect start by breaking Kontaveit in the very first game of the match. Continuing to weather the storm, the Frenchwoman had all the answers to the questions her opponent asked of her during the opener. Breaking once again en route to clinching the opening set after 42 minutes of play.
Ferro didn't have it all her own way with the second set seeing her being forced to come back from behind twice. At one stage it looked as if proceedings would be heading into a decider as she trailed 3-5, 30-30. Nevertheless, Ferro managed to battle back with the use of some more heavy hitting. Finishing the match off with a four-game winning streak, she triumphed on her first championship point after a Kontaveit return drifted beyond the baseline.
"Congratulations to Anett on a great week and congratulations to your coach as well. I wish you the best of luck in the next tournament and in the future," the new champion said in tribute to her rival.
Prior to this week Ferro hadn't won back-to-back matches on the Tour since the US Open last year. However, she has managed to regain her form during the five-month break by participating in a series of exhibitions organised by her federation. Where she won 10 matches in a row. Although it is her latest victory that is the most notable against Kontaveit, who last lost to a player outside of the top 50 at the 2019 Wimbledon Championships.
"It's been so exciting that all of our people came to watch and I'm so thankful. I was really excited to play today," said Kontaveit.
"I would also like to thank my coach for being with me always and supporting me. Not the result we wanted today but we will make it next time."
After a mixed start to 2020 that saw Ferro win just four out of nine matches played over four tournaments, she is hoping Palermo will elevate her to more success in the future. She is currently entered to play at the Prague Open, which will start on Monday. In the first round she has been drawn against Spain's Aliona Bolsova with a potential clash with Dayana Yastremska lurking in the second.
"I don't want to speak so much about the rankings. My goal is to keep working as hard as I always do and bring home more trophies," she stated.
Ferro exits Palermo with 280 ranking points and €20,161 in prize money.