EXCLUSIVE: Todd Martin To UbiTennis: "Ubaldo, Come Work For Me!"
A former world N.4 and a two-time Slam finalist, the American was known as "Marathon Man" due to his tally of nine wins from two sets down. Now the CEO of the Hall of Fame Open in Newport, he joined Ubaldo and Steve Flink to talk about his career, Pete Sampras in Davis Cup and the prospects of the game in the wake of the Coronavirus outbreak.
UbiTennis brings you the latest instalment in a series of exclusive interviews with many relevant figures in the world of tennis. This time the guest was Todd Martin, while Steve Fink (who was inducted into the Hall of Fame when Todd was already in charge) completed the usual line-up.
Martin recorded 411 wins on the ATP Tour, won 8 titles over the course of his career (out of 20 finals), and enjoyed two stints as president of the Player Council between 1995 and 1999. Despite Wimbledon statistically being his strongest Slam, his best runs came at the 1994 Australian Open and at the 1999 US Open, where he finished runner-up to Pete Sampras and Andre Agassi, respectively.
The chat happened at a momentous time, coming on the heels of the cancellation of all tournaments up to July 31, including his own grass event in Rhode Island – a double blow for the event, since the celebration for the 2020 Hall of Fame inductees, Conchita Martinez and Goran Ivanisevic, was also called off. However, he didn't shy away from these unfortunate, albeit expected, news, using instead the opportunity to talk about the situation of the tennis tours as a whole.
Video schedule
00: Introduction and career achievements
2:42: Todd reminisces about the two Slam finals he lost, outlining his growth as a player: "Pete let you outplay him for a while, but then…"
8:52: Comments on Sampras's retirement and which one his best season was: "I'm not sorry about his retirement, he killed me every time!" Is the peak of a player defined by ranking or by performance?
12:16: Ubaldo and Steve Flink's relationship with notepads and a very timely scoop at Flushing Meadows…
15:16: The victorious doubles match in the 1995 Davis Cup final with Sampras. Would he rather play at home or away?
22:23: The Marathon Man, finishing at 1:22 in the morning and high-fiving the crowd in the Arthur Ashe stadium at the US Open after two comebacks a year apart from each other: "Physically, I'm here. Would you like to know where I am metaphysically?"
26:05: That Wimbledon semifinal against Washington in '96. Could he have won the final against Krajicek? "Tennis is like business: speculation is bad, and it was a distraction then as it is now. Put it this way: I'd have played Krajicek or Washington in a Slam final rather than Sampras!" Also, why he didn't win more titles.
30:42: The Davis Cup tie against Rafter: "If somebody can come back against me, why on Earth wouldn't I be able to come back against them?"
36:26: More Davis Cup, this time against Italy in Milwaukee, as Ubaldo chuckles chauvinistically. Remember Davide Sanguinetti?
38:58: To be the boss in Newport where he debuted as a professional, and the sacred trinity of US tournaments that were hallmarks of his career: "Why would you ever let Steve Flink get into the Hall of Fame?" Ubaldo typically jokes, smiling, about  his beloved American friend who of course is a much deserved Hall of Famer pushing Todd Martin to laugh.  "Hey Steve isn't Ubaldo attacking you too much? Fight him back!"
42:44: How the cancellation of Newport happened and the vulnerability of the game's business.
47:36: Should we try to play with no fans in the stands or should we wait for next year? "Sports weren't meant to be public events, but they've grown to become so central in our lives. I'd like to see tennis active, but not at the risk of health or of challenging businesses to survive even more than now."
49:50: Congratulations to the swiftness with which Newport is moving to refund tickets, especially as others are not letting go of the cash as quickly…
53:30: The logistics of tennis behind closed doors. "Travelling restrictions are the first of many challenges we are facing."
56:51: "Having a tournament and then nothing for four weeks isn't what we need, we have to accept that some decisions will be made that won't be good for us from a business standpoint, but might be good for the sport as a whole. We need to remember that this is a tour."
1:00:40: Todd for commissioner? "Not a good idea! However, I believe that having a commissioner for the sport would be a good experiment. Necessity could force us to finally unite." How the power has shifted towards the Player Council since his days as President.
1:05:45: Are you in touch with new ATP Chairman, Andrea Gaudenzi? "I really like his vision, if we can approach the idea of unifying the stakeholders from a commercial point of view, then we will be able to do so in terms of governance as well."
1:07:46: The situation in Rhode Island. Trivia: who is his British pal who also excels as a golf player?
1:12:06: How do so many players still do well in their 30s? Sports science and…
————————————————————————————–
Make sure you check out Ubitennis' other interviews big names from the world of tennis:-
–Emilio Sanchez: One Loss That Destroyed His 'Winning Will' And The Match That Could Have Changed Roger Federer's career
–Raymond Moore On Playing During The Apartheid Era And Why Indian Wells Shouldn't Be Played In 2020
–Why Rod Laver Wanted To Kill Martin Mulligan at Wimbledon
–Tennis Like "The Godfather": Seven Families Fighting For Power (Video-Interview With Mary Carillo)
–Patrick McEnroe: "Had I beaten John, he would have stopped talking to me!"
Article text written by Tommaso Villa
Luigi Serra: A Tribute To A Great Friend In 50 Snapshot
Our unforgettable friend, who passed away on December 9, gifted us with hundreds of pictures – here is a selection of his best work.
All of us at Ubitennis send our love to Luigi Serra's family, including his wife Bonnie, his sons Alessandro and Gianluca, as well as the tribe of grandchildren (Isabella, Gabriella, Daniela, Lexi and Vincent) of whom he was incredibly proud and whom he loved dearly – they reciprocated their affection for a grandfather who was often as genuine as they are, always mirthful, funny, unique. Here is Ubaldo Scanagatta's tribute to the late Luigi, and here are his best shots: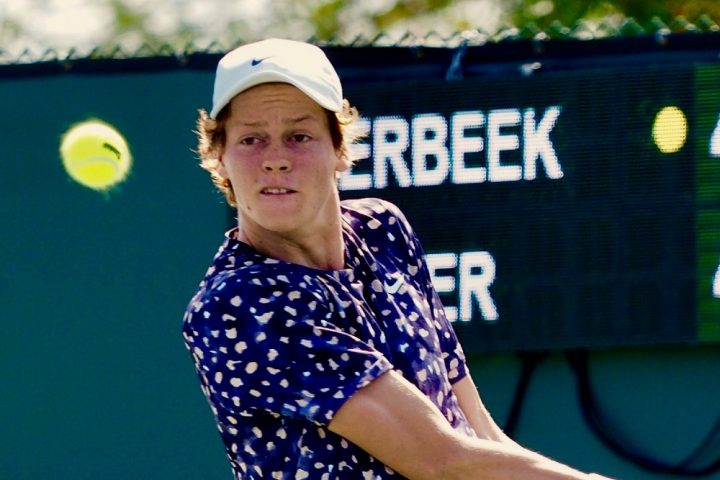 Steve Flink: "Medvedev Deserved To Win, But Is This Really The Onset Of A New Era?"
A commentary of the last edition of the ATP Finals to take place in London. The Russian isn't graceful but can do it all, whereas Thiem used the sliced backhand far too much. Were Djokovic and Zverev distracted by their off court problems?
The 2020 season ended with Daniil Medvedev's win at the ATP Finals, the sixth different winner in the last six editions of the event, emerging victorious at the end of three tightly contested knockout matches. The Russian dominated the last few weeks of the season, winning in Bercy as well, but was his victory in London somewhat predictable?

UbiTennis CEO Ubaldo Scanagatta and Mr Flink met up (remotely) to discuss the tournament and the omens for tennis in 2021. Here's their chat:
VIDEO SCHEDULE
0:58 – Medvedev swept through the ATP Finals – an expected triumph? "He beat the three best players in the world, that's hardly predictable…"
3:51 – "The Russian showed his mental strength, coming back to beat both Nadal and Thiem…"
5:27 – "Djokovic had won 24 of the last 26 tie-breaks he had played, and 16 of the last 17 – how did he relinquish that 4-0 lead at 6-6 in the decider?"
7:40 – A few words on the final: "Thiem wasted a few big chances in the second set, missing a fairly easy forehand touch near the net." Did he employ the right strategy?
11:46 – "The Austrian said that he would make the same choices, and we should remember that he had a tougher semifinal match…"
14:34 – "Medvedev isn't beautiful to watch, but that doesn't seem to bother him…"
16:54 – Is this the beginning of a new era? "We said the same thing when Zverev won the Finals in 2018 and when Tsitsipas did it last year…" Will the Australian Open take place in 2021?
20:51 – Djokovic is in the midst of a political struggle – was he distracted during the week he spent in London?
27:24 – What about Sascha Zverev and the accusations that his former girlfriend moved against him – did those play a role in his early exit?
29:14 – The first winner of the Finals was Stan Smith, the current president of the International Tennis Hall of Fame: "You and I have a job with the Hall of Fame now, don't we?"
32:08 – A final word on Daniil Medvedev – will he win a Major in 2021? "He's definitely not winning the French Open, and I think that grass isn't his best surface either, but he definitely has his chances on hardcourts."
Transcript by Lorenzo Andorlini; translated and edited by Tommaso Villa
Steve Flink On The Decline Of American Men's Tennis: "We Need To Start Attracting The Best Athletes Again"
UbiTennis CEO Ubaldo Scanagatta is back with a new video to talk about the crisis hitting the country that used to dominate the game until less than 20 years ago.
After Mark Winters' contribution, here is a new entry in our website's enquiry into US tennis. This time another American, the Hall-of-Famer Steve Flink, tries to answer some recurring questions? Why are there no US players left at the top of the ATP Rankings? Could the trend be bucked? This and more in the following video:
00:00 – "The best American player is 35 and outside the Top 20, and the only up-and-coming standout appears to be 19-year-old Brandon Nakashima." Is this the lowest point for US tennis?

02:30 – "In 1973, there were 23 Americans in the world Top 100, six in the Top 20 and three in the Top 10." What happened? Flink: "We had perhaps our greatest decade in the 1990s, and that is probably when things went awry…"
06:10 – Could this be a financial stability issue? "There aren't many tennis players with a huge income, while in basketball, football, ice hockey or baseball the situation is different."

07:40 – "The road to success and wealth in individual sports is certainly tougher, but Europe has the same issue vis-à-vis football, so what could be another factor in the decline?" The role of private investments: "The USTA federal programme was created in the late 1980s, but I do not think that an emphasis on public spending is the problem." Could this be just a cyclical fluke?
14:00 – What if the issue was commitment? "You need to really want to succeed in tennis."

18:42 – Mark Winters' theory revolves around this last theme, that there is no drive to reach the top of the game: "I'm not sure I agree, but he is an insider and certainly knows what he's talking about."
20:40 – "Tennis players now start to make real money between 23 and 25 years of age, how many can afford to wait that long while relying almost exclusively on prize money?"

24:15 – "There might be a continuity issue, because the USTA changes its president every four years, and that doesn't allow the creation of a stable system." The role of deputy chiefs.

27:45 – How much money is devoted to the development of youths in the US?

30:27 – "Over the years, I've noticed that coaches who are on a federal payroll tend to lack a little bit of that hunger…" Can a national movement rely on the investments of young players' parents?

35:15 – Why is women's tennis doing so much better in the US than the male counterpart? "Nobody really believed in Sampras, Agassi and their generation, so there is still hope for a sudden comeback…"
39:10 – The changing role of the college game in the US: "Does it still work as a preparation for high-level tennis, and do the players have the patience to wait before they start making money by turning pro?" Flink: "I think that the shifting towards success at an older age might help in this sense."

42: 20 – The raging debate of American sports – should university athlete receive financial support besides scholarship money?
44:15 – "Could we interview Stacey Allaster, the USTA's president, on these issues?"
47:00 – Is it be important for the game to have a successful player from a country hosting a Major?
48:15 – "It's a shame that American and Australian tennis are lagging this far behind, but we need to recognise that the game wasn't as global and globalised when they used to dominate…"
Transcript by Filippo Ambrosi; translation and editing by Tommaso Villa