Shapovalov Continues to Roll…Upsets Tsonga in 2nd Round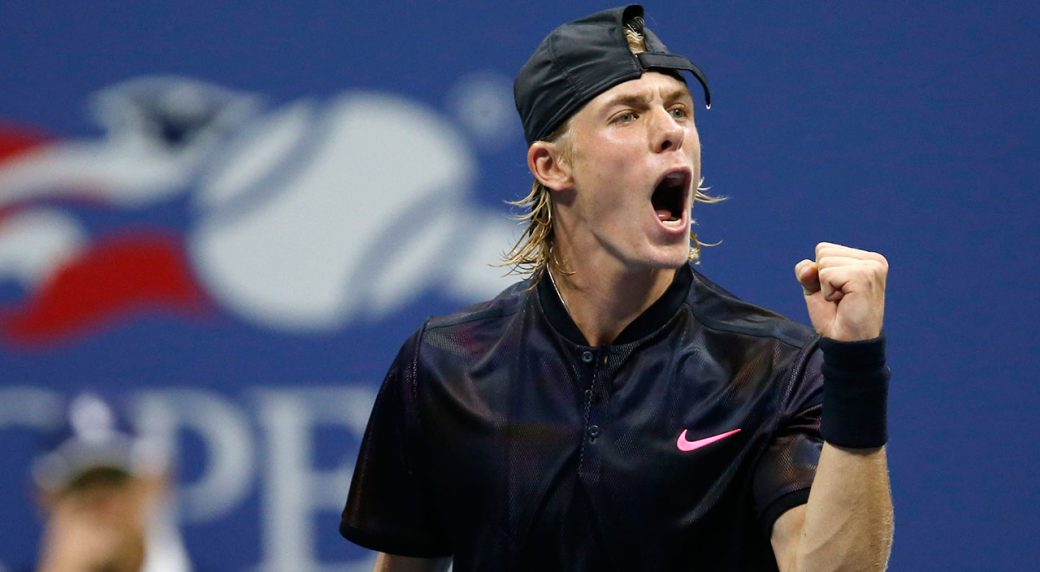 @Sportshorn
Nick Kyrgios, Juan Martin Del Potro, Rafael Nadal and now Jo-Wilfred Tsonga. That's the list of players who have all fallen at the hands of teenager Denis Shapovalov. Tsonga, the No. 8 seed was dominated for the most part by the 18-year old falling 6-4, 6-4, 7-6 in the second round at the US Open on Wednesday night.
The victory was impressive on a number of fronts for Shapovalov. He was playing in the largest stadium in the world (Arthur Ashe) for the first time, he was played in the second round of a main draw Grand Slam for the first time and he was playing someone who had won 75 percent of matches in his career when facing left handed players.
Shapovalov looked calm cool and collected from the first point onwards. He started the match by breaking Tsonga at Love in the opening game. He went on to win eight of the first ten points. That was the only break of the set as Shapovalov peppered his opponent with some solid baseline play as well as some nice touch at the net. He won nine of the 11 points he played at the net in the first set.
In the second set Tsonga had his first break chance in the fourth game but Shapovalov hit a big forehand winner to get out of it. A big serve two points later evened things at 2-2. In the seventh game Tsonga's serve gave him some trouble. He double faulted on break point giving Shapovalov a 4-3 lead. He then went on to hold serve twice, the final game at Love to take a commanding two set lead.
Tsonga, who had won just one hard court match since Wimbledon, began to show his frustration in the third set. After a pair of missed service returns he yelled out in anger. The Frenchman unable to come up with any answers for the future tennis star.
Shapovalov appeared to be on his way to victory after he broke Tsonga at Love to go up 5-4 but Tsonga was able to create break points of his own in the following game and broke Shapovalov for the first time.
They needed a tiebreak to decide the third set and it belonged to the Canadian right from the start. Tsonga double faulted on the first point and Shapovalov built up a comfortable 5-2 lead. After a backhand error sailed long Shapovalov was victorious.
The numbers that stood out the most for Shapovalov was his play at the net. After struggling with his volleys at the Rogers Cup in Montreal, he won an impressive 23 of 32 points at the net on Wednesday night. He also had just 19 unforced errors something which had plagued him of late. He had 28 winners as well.
"I played unbelievable today, very high level," said Shapovalov. "Yeah, I don't know why, but I just managed to stay loose and go for my shots the whole match, except a little bit at 5-3 or 5-4, serving for the third set. I stayed loose from the beginning. I mean, I broke him first game. I mean, obviously it's intimidating, it's so big, there's so much going on… I was going in with nothing to lose."
Shapovalov needed to win three rounds in qualifying just to get into the main draw. He has won 12 of the last 13 sets he's played and he's certainly enjoying his first main draw US Open experience.
"I was having fun on the court. There were a couple times during the match I was just smiling, having a good time. I was enjoying the atmosphere. It's a dream come true for me to play a night match on Arthur Ashe. I mean, I grew up wanting to do this."
Shapovalov will now face Kyle Edmund who won his second round match in straight sets. Despite the youngster's limited top level tennis experience, Shapovalov has played Edmund twice in 2017. He beat the World No 42 on his home soil on the grass at Queen's Club this summer. They also played in Davis Cup in Ottawa in February. That was the match in which Shapovalov accidentally hit a ball in the direction of chair umpire Arnaud Gabas striking him in the eye.
He's an unbelievable player. He goes for his shots," Shapovalov said of Edmund. "He's not afraid to take it to the guy. There's no easy matches here…For a guy like me, every match is tough and I'm going to have to battle it out."
Note:
Shapovalov has seen his world ranking jump from 256th in February to his current No 69 just six months later.His win on Wednesday night puts him currently insider the Top 60 for now.
Ons Jabeur upsets Karolina Pliskova to reach the quarter final in Doha
Tunisia's Ons Jabeur knocked out Karolina Pliskova 6-4 3-6 6-3 after 1 hour and 47 minutes to reach the quarter final at the Qatar Total Open in Doha. Jabeur scored the biggest win of her career by ranking.
Jabeur reached her first Grand Slam quarter final at the Australian Open last January before losing to eventual champion Sofia Kenin. Last week Jabeur lost to Simona Halep in Dubai. She reached the third round in Doha without dropping a set.
Jabeur had not beaten a top 10 player since 2018, when she defeated Sloane Stephens en route to reaching the final at the Kremlin Cup in Moscow.
Jabeur broke Pliskova in the opening game of the match and did not face a break point on her serve before serving out the first set at love.
Pliskova earned her only break in the fourth game of the second set to take a 3-1 lead and held on her serve to win the second set 6-3 forcing the match to the third set.
Jabeur got her first break after six deuces in a marathon sixth game to take a 4-2 lead in the decisive set. Pliskova broke straight back for 3-4. Jabeur broke for the second time at 15 to take a 5-3 lead and sealed the win on her second match point.
Muguruza beats Yastremska
This year's Australian Open Garbine Muguruza beat Ukrainian teenager Dayana Yastremska 6-2 6-4 in 70 metres. Muguruza has reached teh quarter finals or better at all five tournaments she has played in 2020 under the guidance of her new coach Conchita Martinez.
Muguruza earned two breaks in the fifth and seventh games and served out the first set 6-2 on her first opportunity. Muguruza broke serve in the fourth game of the second set to take a 3-1 lead. Yastremska broke back in the sixth game to take a 3-3 lead. Both players traded four consecutive breaks. Muguruza served out the win on her first match point, as Yastremska hit her backhand past the baseline.
The two-time Grand Slam champion will face 2019 Roland Garros champion Ashleigh Barty, who advanced to the quarter finals after Elena Rybakina was forced to withdraw from the match due to an abductor injury.
Bencic reaches the quarter finals after straight-set win over Putintseva
Belinda Bencic beat Yulia Putintseva 6-4 6-3 after 1 to advance to her third quarter final of the year after Adelaide and St. Petersburg. The Swiss player earned an early break to take a 2-0 lead. Putintseva broke straight back in the third game. Bencic got her second break to open up a 4-1 lead. Putintseva broke back for the second time in the ninth game at 30 to claw her way back to 4-5. Bencic closed out the first set with a break on her second opportunity in the 10th game on the fourth deuce.
Bencic converted her second break point at deuce to open up a 3-0 lead. Putintseva saved two double break points to hold her serve at deuce.
Putintseva earned two break-back points but Bencic held on her serve after five deuces. Bencic served out the win on her first match point in the ninth game.
Stefanos Tsitsipas moves through to the quarter final with straight set win over Alexander Bublik in Dubai
Stefanos Tsitsipas defeated Alexander Bublik 7-6 (7-1) 6-4 in 1 hour and 36 minutes to reach the quarter finals at the Dubai Duty Free Tennis Championships. Tsitsipas beat Bublik for the second time this month one week after scoring a win against the Kazakh player in the semifinal in Marseille.
Bublik saved two set points at 5-6 15-40 with a serve and volley and an unreturned serve. Tsitsipas cruised through to a 7-1 win in the first set after 54 minutes.
Tsitsipas saved four break points at 3-4 in the second set and earned a break at love in the ninth game to take a 5-4 lead. The Greek player sealed the win with a backhand slice winner.
Tsitsipas will face Jan Lennard Struff, who eased past Nikoloz Basilashvili 6-1 6-0 in just 39 minutes.
Andrey Rublev edged past Filip Krajinovic 7-6 (7-3) 6-0 after 1 hour and 41 minutes. Rublev came back from 1-4 down by breaking back in the eighth game at 3-4. The young Russian player saved a set point with a forehand passing shot, as Krajinovic was serving at 5-3 40-30. Both players traded breaks in the 11th and 12th games to set up a tie-break. Rublev sealed the tie-break with his fifth ace and and cruised through to a 6-0 lead with three consecutive breaks, as Krajinovic won just 10 points. Rublev took a re-match against Krajnovic, who won their previous head-to-head match in Rotterdam two weeks ago.
"He had so many chances, two breaks and serving with one set point. There was no key. I was just lucky and broke back. It was not in these conditions. I knew it wasn't going to be easy as i lost to him two weeks ago in Rotterdam", said Rublev.
Rublev set up a quarter final match against Daniel Evans, who fended off three match points in the tie-break of the third set to beat Pierre Hugues Herbert 7-5 3-6 7-6 (9-7) in 2 hours and 47 minutes.
Gael Monfils cruised past Yasutaka Uchiyama 6-1 6-2. Monfils earned a double break in the second and fourth games to win the first set 6-1. After a trade of breaks in the third and fourth games Monfils won four consecutive games with two breaks in the fifth and seventh games.
Novak Djokovic sets up quarter final against Karen Khachanov in Dubai
Novak Djokovic cruised past Phillip Kohlschreiber 6-3 6-1 in just 59 minutes to advance to the quarter final at the Dubai Duty Free Tennis Tournament. Djokovic beat Kohlschreiber for the 12th time in their 14 head-to-head matches.
Kohlschreiber, who beat Djokovic in straight sets one year ago in Indian Wells, won 11 points in 8 service games and never created a break point.
Djokovic converted four of his seven break points to reach the quarter final in Dubai for the 11th time in his career. He hit 23 winners to 10 unforced errors.
Djokovic earned his only break on his second opportunity with a forehand winner to take a 3-2 lead. He backed up the break with a hold of love with another forehand winner and closed out the first set 6-3 with a hold in the ninth game after 30 minutes, as Kohlschreiber hit a backhand crosscourt wide. The Serb reeled off five consecutive games from 5-3 in the first set.
Djokovic held serve with a backhand down the line winner at the start of the second set and held with a service winner. The 2020 Australian Open champion went up a double break with his backhand to build up a 3-0 lead and sealed the win with a return winner, as he was returning at 5-1. Djokovic has extended his unbeaten streak to 15 consecutive matches this year.
"It was a great performance. I enjoyed the way I played, coming out with the right focus and tactics. Knowing Phillip beat me 12 months ago in Indian Wells, I needed to approach this match very seriously regardless of his raning number 80. He is one of the most experienced players on the tour and likes to play on the big stage, so he doesn't like falter too much", said Djokovic.
Djokovic set up a quarter final against Karen Khachanov, who beat Dennis Novak 6-3 6-4 in 74 minutes. Djokovic leads 2-1 in his three head-to-head matches against Khachanov.
"I have had some interesting battles with him. He is a great guy, a very powerful player. He is one of the guys who is a pretender to be a top 5 player. He is very dedicated, so I will be as sharp as I have been in the past two matches and start well", said Djokovic.