Verdasco Stuns No 9 Zverev in First Round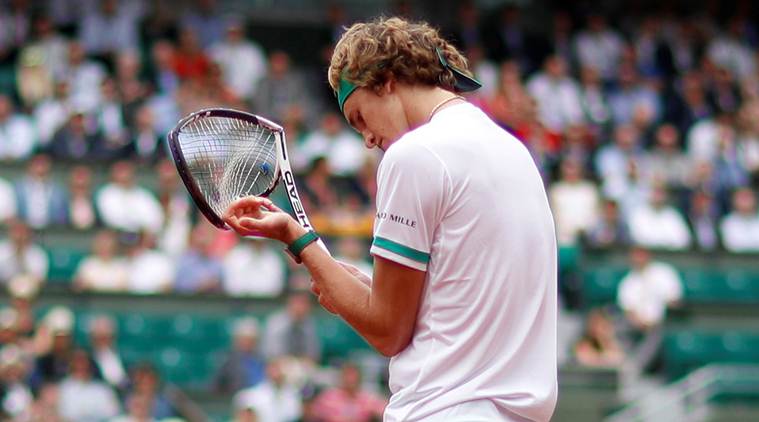 @Sportshorn
It took two sets on two separate days but it didn't matter for Fernando Verdasco. The veteran Spaniard and former Top 10 player pulled off the biggest upset so far on the Men's side at the French Open stunning the No. 9 seed Alexander Zverev 6-4, 3-6, 6-4, 6-2.
After the match was postponed on Monday due to concerns about rain and darkness, the level of play didn't change much less than 24 hours later. It was a match filled with missed opportunities and mistakes. If you looked at Verdasco's stat line, you would have thought he had lost the match not won it. 49 errors and just 23 winners. He was broken five times and had five double faults. Luckily for him, Zverev's numbers were just as poor. 50 errors, more than half coming off his backhand and just 27 winners. He was broken eight times and also had five double faults. The difference; Verdasco managed to win the bigger points when needed and kept the younger Zverev as far back in the court as possible.
"I mean, I was, of course, trying to keep him back because he's a player that when he's inside the court, he's very dangerous," said Verdasco." His shots are very powerful, serve, forehand, backhand, it doesn't matter. When you play short, he normally kills you both sides. 

So I was just trying to play as deep as possible and trying to keep him as far from the baseline as possible also. But it was a tough battle. Very close. Very close third set."
Frustration began to settle in after Zverev was broken for the seventh time early in the fourth set. Never one to shy away from racquet abuse, he snapped his racquet in half in disgust. Two games later the 20 year old German threw another racquet to the ground narrowly escaping a point penalty. It was a stark contrast to the player who won his first Masters 1000 title in Rome two weeks ago and hoisted the trophy on the clay in Munich back in April.
"I played absolute sh$&", Zverev said after the match. "Made the difference. Quite simple. He played very well. He played very smart as well. Tried to push me back a lot, which he did. And I didn't feel the ball on my racquet very well, so I played very short and very defensive all the time, which with my game and with my body, it's not easy to do."
Verdasco at 33, has won many big matches in his career including an upset of Rafael Nadal in the first round at the Australian Open in 2016 but he has never been past the fourth round at Roland-Garros. He lost to Zverev in the opening round in Madrid just three weeks ago.
"I'm very happy of the way that I played," said the Dubai resident, "and being able to beat a player like Alexander that is one of the players with, you know, in such a great form, not because only winning Rome, also the weeks before and almost the last year already.

 So it was a great victory for me, but, you know, this has to be not only like a point just to stay and to enjoy, of course, I have to enjoy, but not just to enjoy, also to keep going."
Verdasco will now face doubles specialist Pierre-Hugues Herbert in the next round. Hebert won his first round match in straight sets and will have the hometown crowd on his side.
Novak Djokovic Survives Almighty Sinner Scare to Reach Wimbledon Semis
The dramatic encounter featured a fight back, multiple breaks of serve and even an injury scare.

Reigning champion Novak Djokovic staged an epic comeback to keep his hopes of winning a seventh Wimbledon title alive after ousting Jannik Sinner in a five-set thriller.

Djokovic, who only dropped six games against Sinner in their previous Tour meeting, was forced to battle back from two sets down to prevail 5-7, 2-6, 6-3, 6-2, 6-2, in a roller-coaster encounter on Center Court. The triumph marks Djokovic's 84th win at the tournament which is the joint-second highest tally in history alongside Jimmy Connors. Only Roger Federer has won more.
"Huge congratulations to Jannik today for a big fight. I'm sure that there are going to be a lot of opportunities for him on the big stage. He's mature for his age and is already an established top 15 player over the last few years," said Djokovic.
"He was unfortunate today but he has plenty of time."
Taking on one of the most promising future prospects of men's tennis, Djokovic's latest encounter was a match of two halves. Initially, he appeared as if he would suffer a shock loss to world No.13 before he managed to conjure up an emphatic comeback. Breaking Sinner's spirit who was bidding to become only the third Italian man to reach a Wimbledon semi-final in history.
"We had two different matches. He was the better player for two sets. (Then) I went out for a toilet break, had a little pep talk (with myself) in the mirror," the 20-time major winner revealed.
"Sometimes in these circumstances where not much is happening positively for you on the court in terms of tennis. These things are necessary – a little break and pep talk to try to recuperate.'
"I was fortunate to start well in the third set by breaking his serve and that gave me the confidence boost. I saw a bit of doubt in his game and my experience of these kinds of matches helped me."
The first set was a roller-coaster encounter between the two tennis titans on Center Court. Reigning champion Djokovic started out guns blazing by winning seven points in a row before Sinner got onto the scoreboard after prevailing in a 17-shot rally. The top seed looked to be in full control until a double fault on break point enabled his rival to bounce back. Continuing to play some inspired tennis with blistering shot-making, a cross-court winner enabled the Italian to break once again and this time had the chance to serve the opener out. A task he passed with flying colors.
Continuing to take his game to Djokovic, Sinner appeared unfazed about trying to become the youngest men's semi-finalist at SW19 since 2007. Producing powerful hitting from the baseline, the 20-year-old extended his lead two games into the second frame. A stunning backhand volley followed by a Djokovic error elevated him to a 2-1 advantage. Spurred on by the crowd, the unprecedented onslaught continued with the help of some costly errors from the Serbian. He sealed the double break with the help of a successful Hawk-Eye challenge before securing a two-set lead in his favor with the help of a 122mph service.

Facing a swift exit, Djokovic once again illustrated the fighting spirit that he is renowned for. Capitalizing on a blip in form from Sinner, he cruised through the third set to resurrect his chances. 
Steaming rolling his way into a decider, Djokovic continued his dominance during the fourth frame by winning four straight games. However, closing that set out was full of drama. First, Sinner suffered an injury scare after going over his ankle before continuing. Then Djokovic fended off a break point and squandered two set points before closing it out. 
A stunning sliding passing shot in the decider set Djokovic up with a chance to break and move to a game away from victory. Something he did with the help of a Sinner error which the Italian instantly regretted by putting both his hands on his head. After that mishit, Djokovic ended the clash with a love service game.
"I've been blessed to play professional tennis for 20 years but nevertheless I go through those doubtful moments like everybody else. The inner fight is always the biggest fight. Once you win the fight the external circumstance is more likely to go in your favor. I knew I could turn this match around. I have done that a few times in grand slams." Djokovic concluded.


 
(VIDEO EXCLUSIVE) Why Rafael Nadal Faces His Biggest Test Yet
Tennis Hall of Famer Steve Flink joins UbiTennis to reflect on the highs and lows of day 8 of Wimbledon.
Will the upcoming quarter-final be Rafael Nadal's hardest match yet? How will Nick Kyrgios' shoulder recover?
The second Monday at Wimbledon was one full of intrigue in the men's draw. Whilst on the women's side, Simona Halep was in impressive form against Paula Badosa but tennis commentator Flink explains why he thinks her upcoming clash with Amanda Anisimova will be tougher.

Alongside Ubitennis CEO Ubaldo Scanagatta, Flink also looks at Jannik Sinner's chances of causing a huge upset against reigning champion Novak Djokovic. 
WIMBLEDON: Rafael Nadal Coy Over New Injury Speculation
After the foot problems in Paris, there is a strong possibility the Spaniard could be experiencing another injury issue.
There are fresh concerns surrounding Rafael Nadal after he declined to go into the reason why he was wearing abdominal taping during his fourth round match at Wimbledon. 
The 22-time Grand Slam winner was seen wearing some kind of protection in the abdominal area after changing his t-shirt during one of the breaks. In recent weeks Nadal has been dealing with physical issues due to a long-term foot condition he has. At the French Open he revealed that he had to undergo injections in order for him to continue playing en route to winning the tournament for a 14th time.

Playing 21st seed Botic van de Zandschulp, Nadal battled his way to a 6-4, 6-2, 7-6(6), win. Speaking to reporters after his latest win at The All England Club, the Spaniard sidestepped a question about a potential abdominal problem he could be experiencing. 
"I am a little bit tired of talking about my body. It's not that I don't want to answer your question, but at the same time sometimes I am tired of myself, all the issues that I am having. I prefer to not talk about that now," he replied.
"I am in the middle of the tournament and I have to keep going. All respect for the rest of the opponents. I am just trying my best every single day. For the moment I am healthy enough to keep going and fight for the things that I want."
Continuing to stay coy about his form and health, Nadal offered an alternative perspective when asked if he was nearing his best level once again. He has dropped just two sets in four matches played so far at Wimbledon which is his first grass-court event since 2019.
"It's always the same here. It's not about how close I am to the level or not. I don't know that. I can't predict what can happen." He said.
"But the positive thing is the first two matches haven't been good. Then two days ago I played at a high level for the first time. And today most of the matches, again, at a very positive level."
The straight sets scoreline failed to tell the true story of Nadal's roller-coaster win on Center Court. Taking on Zandschulp, a player who burst onto the main scene last year by reaching the US Open quarter-finals as a qualifier, the 22-time major champion engaged in a match of two halves. Nadal looked on the verge of an easy victory after breaking once in the first set, twice in the second and storming to a 5-2 in the third. However, the Dutchman refused to go down without a fight by displaying his best tennis of the match to draw level.
Now engaged in his first real test, Nadal was under intense pressure to close it out in three. If he didn't there would have been an inevitable delay for the roof to come on due to poor light. If that occurred, there would be less than two hours of play left before the 11pm curfew began.
Nevertheless, Nadal didn't need the roof as he squeezed through the tiebreaker. After squandering three consecutive match points, he prevailed on his fourth with the help of a lob that triggered Zandschulp to smash the ball out.
Nadal is through to his 47th major quarter-final and is only the third man in the Open Era to do so at Wimbledon after celebrating his 36th birthday. In total, he has won 309 main draw matches at Grand Slam tournaments.
In the last eight, the Spaniard has a shot of revenge when he takes on Taylor Fritz who ended his 20-match winning streak earlier this year in Indian Wells. During that match, Nadal had a rib injury and he had beaten the American earlier that month in Mexico.
"That last match (in Indian Wells) was zero because I had a stress fracture on my rib, and it was difficult to learn many things because the pain was terrible playing that match." He said. 
As for Fritz, he believes their upcoming clash will be at a higher standard given the form both players are currently in. Fritz is currently on a eight-match winning streak after recently claiming the Eastbourne Open title.
"It's going to be a lot different match obviously. Indian Wells was kind of crazy with both of us being extremely beaten up before the final. This time I think we'll get healthier versions of both of us, we'll see." Fritz previewed.
The question for nadal, is how healthy is the current version of him really is? Only time will tell.