Toni Nadal: 'Everyone Goes Through Good and Bad Times'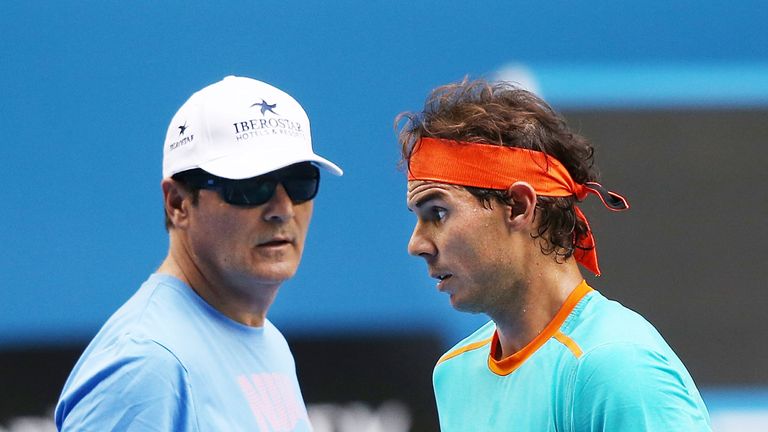 Toni Nadal, the lifetime coach of Rafael Nadal, has told Spanish media that his nephew is still confident that he can once again win a Grand Slam title.
The world No.5 has won 14 Grand Slam titles in his career, including a record nine French Open titles. His last triumph occurred almost two years ago at the 2014 French Open when he defeated Novak Djokovic in the final. Since then, the 29-year-old has endured a roller coaster experience on the tour with him dropping to 10th in the world ranking in June 2015, his lowest position for ten years.
Speaking about Nadal's recent performance on the tour, Uncle Toni justified the results by arguing that every athlete goes through good and bad stages in their career. Instead of comparing his nephew with other players on the tour, the 55-year-old cited Argentine football player Lionel Messi as an example.
"Even a phenomenon like Messi through good and bad times." Uncle Toni told AS.com when discussing Nadal's mixed form on the tour.
At the 2015 ATP Finals in London, Nadal defeated Andy Murray to grab his first win over a top-3 player for almost 18 months. His last triumph over a world No.1 player was in the final of the 2013 US Open when he defeated Djokovic. Speaking about Nadal's chances of adding another major title to his collection, uncle Toni remains level-headed.
"It is becoming more difficult as the years pass and is not easy to win, but the enthusiasm and confidence aren't lost. I always see life positively and I do not know whether we will be able to get back to winning major titles, but I am confident about it." Toni Nadal said.
In order for Nadal to once again get his hand on a major trophy, Uncle Toni has admitted that his pupil needs to improve to keep up with the latest changes in the sport. In today's game aggressiveness and power is becoming a growing factor.
"The serve is not good enough and the 'drive' doesn't do enough damage. Tennis has changed, has gone from being a strategy game to being one of shock and there is no choice but to adapt". He said.
This week the Spaniard is playing at the BNP Paribas Open in Indian Wells where he will play Kei Nishikori in the quarterfinals on Friday. Nadal, who is seeded fourth in the Masters 1000 tournament, is yet to defeat a top-20 player on the tour this year.
Another Defeat For Iga Swiatek – Should Her Fans Start To Worry?
Iga Swiatek unexpectedly lost to Beatrice Haddad Maia in the quarter-finals of the National Bank Open in Toronto. This was the third defeat of the WTA world No.1 in a month and a half. Is there anything to worry about?
Article written by Dominik Senkowski (@dsenkowski07)
It was an extremely close match played in difficult conditions. Swiatek lost to Beatrice Hadad Maia 4:6, 6:3, 5:7 in Toronto.
The Polish woman admitted that she could not deal with the strong wind, saying during her press conference "I think without the wind I would manage. But it was pretty crazy out there."
Haddad Miai, who is the first Brazilian to reach the last eight of a WTA 1000 event, revealed that she also had problems with the weather.
"We have no influence on the weather, we have to deal with it somehow. I think mentally I managed to overcome it," she said.
Three failures
This was the third defeat for Swiatek in a month and a half. She had been undefeated since February, winning six tournaments in a row, including a Roland Garros. After that, however, she did not reach the semi-finals even once. In Wimbledon she was eliminated in the third round by Alize Cornet and then in Warsaw in the quarter-finals by Caroline Garcia. Now she did not make it past Beatrice Hadad Maia in Toronto. Do fans of the Polish woman have anything to worry about?
Of course, Swiatek as the top seed should have played better against the Brazilian. However, it must be remembered that she is still only 21 years old and has the right to fluctuate in form. Even the best tennis players of recent years – Roger Federer, Serena Serena, Rafael Nadal, and Novak Djokovic – did not win all the games in their best time. Swiatek still has a phenomenal balance of 49 wins to 5 defeats this year. She is the undisputed leader of the WTA rankings and will probably end the year as number one in the world.
There is no doubt that the rivals are more motivated to clash with Iga. In addition, they increasingly believe that they are able to defeat her since Cornet, Garcia and Hadad Maia did it. But still, it all depends on Iga. If she improves her serve, she can be unstoppable again. Recently with Garcia and Hadad Maia, she had problems with the second serve. She must pay more attention to it.
Time for Iga
Time should play in favour of Swiatek. Before Toronto, she played exceptionally on clay courts in Warsaw in a tournament organized by her father Tomasz. Frequent changes of the surface from grass to clay and hard courts in 1.5 months are not easy at such a young age. In Poland Iga said that she had no experience with it, she was just learning. She continues to learn valuable lessons and still can be better. We should remember it.
It seems that in the coming days she will be training on hard courts. She could feel more confident and come stronger as in spring. In Warsaw Iga said that she treats the first tournament before the US Open swing less seriously. She was aware that she needed more playing time to get better results. Her increasing self-esteem makes her behave calmer, even after defeats. That is why she can return to the right path soon.
Rafael Nadal Returns To Cincinnati With Shot At No.1 Ranking
This is what the king of clay has to do to reclaim the top position.
It has been over a month since Rafael Nadal last played a match on the Tour but in the coming days, he will have a chance to return to the top of the ATP rankings.
The 22-time Grand Slam champion has been absent from action ever since pulling out of his semi-final match at Wimbledon due to an abdominal tear. He was set to play at this week's National Bank Open in Montreal but withdrew after feeling a 'slight bother' in his abdominal region following training. Nadal decided not to play after consulting with his doctor.
Instead, the Spaniard will return next week at the Western and Southern Open in Cincinnati. He confirmed his return in an Instagram post, where he wrote: "Very happy to play again in Cincy. Flying there tomorrow (Thursday)."
Whilst the Spaniard will be finding his feet in the coming days, in Cincinnati he has a chance to dethrone Daniil Medvedev from the world No.1 position. Medvedev lost his opening match in Montreal to Nick Kyrgios. To do this he would need to win the Masters 1000 event for the second time in his career and hope that Medvedev doesn't make the quarter-finals. Nadal won Cincinnati back in 2013 after defeating John Isner in the final.
So far in his career, Nadal has spent 209 weeks as world No.1 with his longest streak being 56 weeks in a row (2010-2011). In total, he has been at the top of the rankings for eight separate periods and last held the position in February 2020.
Nadal's No.1 stints
-Aug 18 2008 – Jul 5th 2009 (46 weeks)
-Jun 7 2010 – Jul 3rd 2011 (56 weeks)
-Oct 7th 2013 – Jul 6th 2014 (39 weeks)
-Aug 21 2017 – Feb 18 2018 (26 weeks)
-Apr 2nd 2018 – May 13th 2018 (6 weeks)
-May 21st 2018 – Jun 17th 2018 (4 weeks)
-Jun 25th 2018 – Nov 4th 2018 (19 weeks)
-Nov 4th 2019 – Feb 2nd 2020 (13 weeks)
At present nine out of the world's top 10 players will participate in the Western and Southern Open. The only exception is Novak Djokovic who is currently banned from entering America because he isn't vaccinated against Covid-19.
Jack Draper Considered Skipping Montreal Masters Before Getting Biggest Win Of Career
The rising star completes a trio of British players who have booked their places in the third round of the Masters 1000 event.
British qualifier Jack Draper says his decision to play in Montreal this week has paid off after he scored his first-ever win over a top 10 player on Wednesday.
The 20-year-old stunned world No.5 and third seed Stefanos Tsitsipas 7-5, 7-6(4), in what is only his fourth appearance in the main draw of a Masters 1000 event. Draper, who is currently ranked 82nd in the world, won 74% of his first service points and blasted 21 winners past his Greek rival. Recovering from a 1-3 deficit in the second set en route to a straight sets victory.
Leading up to this week, Draper and his team considered not playing in Montreal following his 6-4, 6-2, loss to Andrey Rublev in Washington. However, their decision to do so was the right one. After coming through two rounds of qualifying, he beat France's Hugo Gaston in the first round before knocking out Tsitsipas.
"This is why I put in all the hard work, for nights like this on stages like this," Draper said in an on-court interview. "Last week [after] Washington, me and my coach probably were thinking we weren't even going to come here. We were going to maybe train a week, get a bit of confidence. But it paid off coming."
"I didn't really have much of a game plan. I just thought I needed to play good tennis to beat Stefanos. He's at the top of the game for a reason. [He's] someone I've looked up to the last few years. It's just good to be out here and try to express myself on this stage." He added.
Draper's win comes during what has been a solid season for the Brit who has won four Challenger titles. A former top 10 junior player, he won his first main draw Grand Slam match in June at Wimbledon and reached the semi-finals of the Eastbourne International.
Awaiting the youngster in the third round will be French veteran Gael Monfils who is playing in his first tournament since May. Monfils defeated Maxime Cressy 7-6(10), 7-6(8).
Draper is one of three British players to have reached the last 16 in Montreal. Ninth seed Cameron Norrie will next play home favourite Felix Auger-Aliassime and Dan Evans faces Taylor Fritz.
According to the Pepperstone live ATP rankings, Draper will break into the world's top 70 for the first time next week.