Toni Nadal: 'Everyone Goes Through Good and Bad Times'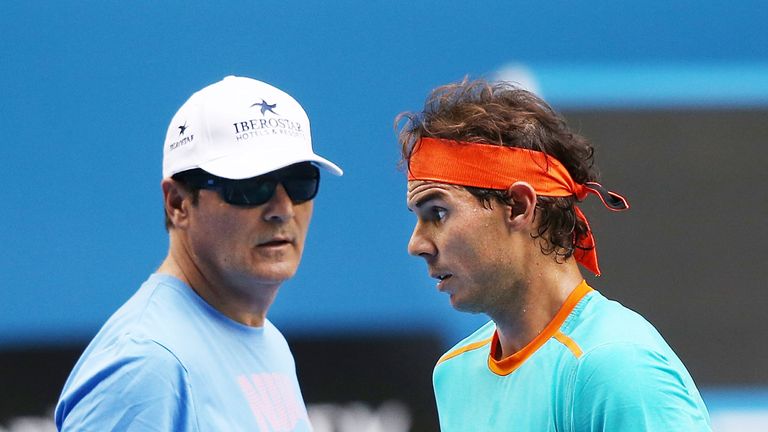 Toni Nadal, the lifetime coach of Rafael Nadal, has told Spanish media that his nephew is still confident that he can once again win a Grand Slam title.
The world No.5 has won 14 Grand Slam titles in his career, including a record nine French Open titles. His last triumph occurred almost two years ago at the 2014 French Open when he defeated Novak Djokovic in the final. Since then, the 29-year-old has endured a roller coaster experience on the tour with him dropping to 10th in the world ranking in June 2015, his lowest position for ten years.
Speaking about Nadal's recent performance on the tour, Uncle Toni justified the results by arguing that every athlete goes through good and bad stages in their career. Instead of comparing his nephew with other players on the tour, the 55-year-old cited Argentine football player Lionel Messi as an example.
"Even a phenomenon like Messi through good and bad times." Uncle Toni told AS.com when discussing Nadal's mixed form on the tour.
At the 2015 ATP Finals in London, Nadal defeated Andy Murray to grab his first win over a top-3 player for almost 18 months. His last triumph over a world No.1 player was in the final of the 2013 US Open when he defeated Djokovic. Speaking about Nadal's chances of adding another major title to his collection, uncle Toni remains level-headed.
"It is becoming more difficult as the years pass and is not easy to win, but the enthusiasm and confidence aren't lost. I always see life positively and I do not know whether we will be able to get back to winning major titles, but I am confident about it." Toni Nadal said.
In order for Nadal to once again get his hand on a major trophy, Uncle Toni has admitted that his pupil needs to improve to keep up with the latest changes in the sport. In today's game aggressiveness and power is becoming a growing factor.
"The serve is not good enough and the 'drive' doesn't do enough damage. Tennis has changed, has gone from being a strategy game to being one of shock and there is no choice but to adapt". He said.
This week the Spaniard is playing at the BNP Paribas Open in Indian Wells where he will play Kei Nishikori in the quarterfinals on Friday. Nadal, who is seeded fourth in the Masters 1000 tournament, is yet to defeat a top-20 player on the tour this year.
(VIDEO) Australian Open Day Seven: Roger Federer Fights Back Once Again
Ubaldo Scanagatta analysis the key matches that took place in Melbourne on Sunday, which includes the roller-coaster win of the Swiss Maestro.
Sunday in Australia saw two of the big favourites in the men's draw progress, but it was far from straightforward for one. Roger Federer had to battle back from a set down to edge out Hungary's Marton Fucsovics. Setting him up with a clash against world No.100 Tennys Sandgren. Meanwhile, defending champion Novak Djokovic is rapidly gaining in momentum following his triumph over Diego Schwartzman.
In the women's draw, Ash Barty has given herself a shot of revenge after setting up a quarter-final meeting with Petra Kvitova. The same player who beat her in the last eight of the tournament 12 months ago.
Thomas Musters Hints At Conflict With Thiem After Sudden Axe From Team
The unexpected move by Thiem has left more questions than answers.
Australian tennis legend Thomas Muster has seemingly suggested that a difference in opinion was behind his sudden departure from Dominic Thiem's team after just two weeks.
On Saturday the world No.5 unexpectedly confirmed that the former French Open champion has left his team. Exactly 18 days after Thiem said during a press conference at the ATP Cup that the two have arranged a 'working relationship.' The announcement followed Thiem's four-set win over Taylor Fritz in the third round of the Australian Open.
"We ended our working relationship," He told Austrian reporters in Melbourne. "It did not fit. It's easy like that. It is just about work. We get along well personally, and we said in the beginning, if anything is not all right we will tell each other."
Questions are left remaining about what the exact reason for the two to go their separate ways. Especially given their short period spent working together. Both have been coy on the subject, but Muster has shed some light during an interview with Eurosport.
Speaking with fellow former world No.1 Becker, Muster said he was initially expecting to be working with Thiem for a two-year period. Adding to the mystery, the 52-year-old fuelled further speculation when he gave a cryptic insight about the two-time French Open finalist. Who had previously said that his career was to emulate and surpass Muster's career achievements.
"To be honest, I have seen myself in this role for the next two years." He told Becker.
"Why he chose differently…l I know why, but I don't want to say the details.'
"It's like this. There are houses which look nice from the outside, wonderfully from the outside, but you rarely know who lives inside."
Speaking about Thiem's performance on the court, Muster believes there are still areas of his game that requires further improvement. Last year the 26-year-old won five titles on the ATP Tour, including his first at Masters level. Something that was only matched by Novak Djokovic.
"He's a fine guy and likes to learn a lot," he told Eurosport.
"But he has also got some shortcomings, he has to work on if he wants to be at the top. He has improved a lot, but he to catch up in the technical, physical and foremost in the mental area."
Muster isn't the only former professional with a view that Thiem needs to improve. Mats Wilander recently called on the tennis star to improve his attitude on the court.
Thiem will play fifth seed Gael Monfils in the fourth round of the French Open on Monday.
Injury-Stricken Juan Martin Del Potro Suffers New Blow And An Uncertain Future
There is more bad news for fans of the former world No.3 and his hopes of a return to tennis.
Hopes of Juan Martin del Potro returning to the tour in the coming weeks have ended after it was announced that he will undergo further surgery on Monday.
The former US Open champion hasn't played a competitive match since June after fracturing his right kneecap at the Fever-Tree Championships in London. The same one he also hurt towards the end of the 2018 season. Shortly after his mishap the Argentine underwent surgery in Barcelona in an attempt to fix the issue and have been undergoing rehabilitation ever since.
Unfortunately for the former top-five player, the surgery hasn't been a success with him continuing to have pain in the region. In an official press release published on Sunday, it was confirmed that the issue is affecting the Argentine in everyday tasks such as walking up a flight of stairs. As a consequence, Del Potro will have yet another operation on his knee in Miami.
"We want to update you that after long weeks of inter consultations in Argentina, Europe and the United States, most doctors have come to the conclusion that a new intervention in the right knee of Juan Martin del Potro is necessary." A statement reads.
"After analyzing the options, Delpo trusted Dr. Lee Kaplan to perform the surgery scheduled for Monday, January 27th in Miami."
"We hope that this is the definitive solution to eliminate the pain that not only has prevented Delpo from playing tennis, but also making it difficult for him to perform daily activities."
Speculation over the future intentions of the 31-year-old started earlier this week when he withdrew from the Delray Beach Open. The tournament were where he was set to make his comeback next month.
During his rehabilitation, Del Potro has sought various treatments. Including types of diets, training and trips to specialists. All of which failed to deliver the desired outcome and forced him to undergo surgery.
"Thank you for your patience and for understanding that these past weeks we have taken our time before communicating his next steps. The situation is never easy when it comes to the physique of an athlete and, more importantly, the health of a person." Team del Potro said.
The latest revelation has cast concerns over Del Potro's future career. Who at one stage said he was unsure if he would be able to continue playing due to his knee injury (prior to his first surgery). It is the latest setback for the injury-stricken player who have also been forced to undergo four wrist surgeries.
So far in his career, Del Potro has won 22 ATP titles and has been ranked as high as third in the world last year.