Toni Nadal: 'Everyone Goes Through Good and Bad Times'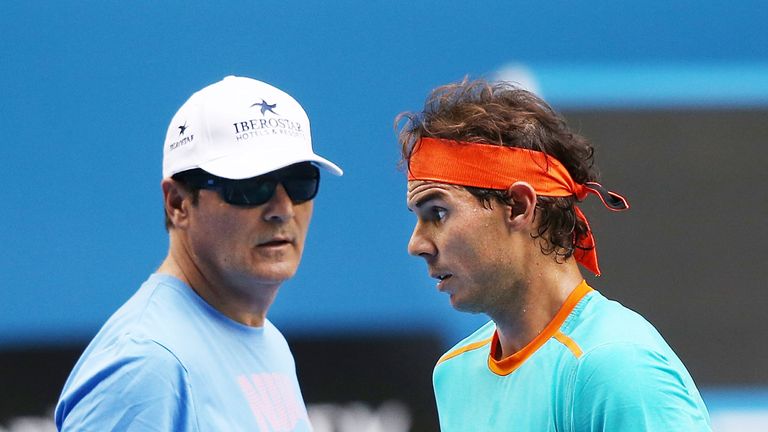 Toni Nadal, the lifetime coach of Rafael Nadal, has told Spanish media that his nephew is still confident that he can once again win a Grand Slam title.
The world No.5 has won 14 Grand Slam titles in his career, including a record nine French Open titles. His last triumph occurred almost two years ago at the 2014 French Open when he defeated Novak Djokovic in the final. Since then, the 29-year-old has endured a roller coaster experience on the tour with him dropping to 10th in the world ranking in June 2015, his lowest position for ten years.
Speaking about Nadal's recent performance on the tour, Uncle Toni justified the results by arguing that every athlete goes through good and bad stages in their career. Instead of comparing his nephew with other players on the tour, the 55-year-old cited Argentine football player Lionel Messi as an example.
"Even a phenomenon like Messi through good and bad times." Uncle Toni told AS.com when discussing Nadal's mixed form on the tour.
At the 2015 ATP Finals in London, Nadal defeated Andy Murray to grab his first win over a top-3 player for almost 18 months. His last triumph over a world No.1 player was in the final of the 2013 US Open when he defeated Djokovic. Speaking about Nadal's chances of adding another major title to his collection, uncle Toni remains level-headed.
"It is becoming more difficult as the years pass and is not easy to win, but the enthusiasm and confidence aren't lost. I always see life positively and I do not know whether we will be able to get back to winning major titles, but I am confident about it." Toni Nadal said.
In order for Nadal to once again get his hand on a major trophy, Uncle Toni has admitted that his pupil needs to improve to keep up with the latest changes in the sport. In today's game aggressiveness and power is becoming a growing factor.
"The serve is not good enough and the 'drive' doesn't do enough damage. Tennis has changed, has gone from being a strategy game to being one of shock and there is no choice but to adapt". He said.
This week the Spaniard is playing at the BNP Paribas Open in Indian Wells where he will play Kei Nishikori in the quarterfinals on Friday. Nadal, who is seeded fourth in the Masters 1000 tournament, is yet to defeat a top-20 player on the tour this year.
Andrey Rublev and Stefanos Tsitsipas advance to the semifinal in Hamburg
Fifth seed and 2019 Hamburg finalist Andrey Rublev hit 30 winners in his 6-2 7-5 win over Roberto Bautista Agut in 1 hour and 31 minutes to reach the semifinal at the European Open in Hamburg at the renovated Am Rothenbaum venue.
Rublev earned an early break in the opening game, as Bautista Agut missed a backhand down the line. Rublev went up a double break to take a 4-1 lead with a backhand winner. Bautista Agut pulled one break back in the sixth game for 2-4. Rublev broke for the third time in the seventh game to open up a 5-2 lead and closed out the first set in the eighth game with a backhand volley after 34 minutes.
Rublev went up a break in the third game at deuce to take a 2-1 lead. Bautista Agut broke back to draw level to 2-2. Rublev converted his third break point in the fifth game and held serve at love to take a 4-2 lead. Bautista Agut broke back for the second time to draw level to 4-4. Rublev broke Bautista Agut at 5-5 30-40 with two forehands at the net and sealed the win in the 12th game, when Bautista Agut hit a backhand return into the net.
Rublev will face either Ugo Humbert or Casper Ruud in the semifinal.
"Roberto is one of the most consistent players on Tour. It's really tough to beat him. You need to play at an amazing level and be really fit. He never gives you an easy match. I am really pleased as I played well, even in the first set, in the spite of the score. There were long games and I am happy to get through the second set", said Rublev.
Stefanos Tsitsipas recovered from 3-5 in the tie-break of the tie-break in his 7-6 (7-5) 6-2 over Dusan Lajovic in 1 hour and 38 minutes to reach the semifinal.
In the opening set Tsitsipas saved a break point in the fifth game and two more chances in the seventh game. The first set went on serve en route to the tie-break. Tsitsipas rallied from 3-5 down in the tie-break by winning four consecutive points to take a 7-5 lead after 57 minutes.
The second set started with three straight breaks. Tsitsipas opened up a 3-1 lead with a forehand winner. The Greek player broke twice in a row to open up a 5-1 lead. Tsitsipas missed out on two match points on Lajovic's serve at 5-1 and Lajovic held serve after three deuces. Tsitsipas closed out on his third match point to clinch his 21st win in 29 matches this year.
Steve Flink: "Djokovic Will Be Happy About The French Open Draw"
The American journalist joined UbiTennis CEO Ubaldo Scanagatta to comment on the draw of the Parisian Slam. Is Nadal still the favourite? Halep is the one to beat in the women's draw, while nobody had it worse than Thiem.
Even though the US Open is barely over, another Major, the Roland Garros, is fast approaching. Along with it, Ubaldo Scanagatta and Steve Flink's recap videos are coming back as well, starting with the draw of the tournament, which will be played for the first time between September and October. Here's the video:
00:00 – The men's draw. Scanagatta: "We have two bonafide blockbusters in the first round, i.e. Murray vs Wawrinka and Thiem vs Cilic". Who got the easier path, Djokovic or Nadal?
02:10 – "Zverev is a very good clay-courter, I'd like to see him face Nadal in the quarter finals…"
04:40 – Thiem got by far the hardest draw – will he be able to survive meetings with Cilic and Ruud before facing one between Murray, Wawrinka and Auger Aliassime before potentially squaring off with Schwartzman and Nadal? "Let's not forget that he hasn't played on clay yet…"
07:35 – "Nadal played well below his usual level against Schwartzman in Rome, he'll have to find his rhythm in the opening rounds." Is there anyone that could challenge him early on?
08:40 – What about Djokovic – who could be a foil for the Serbian's ambitions?
18:30 – The underdogs: "I don't see Medvedev going far, I wouldn't be surprised if Fucsovics beat him."
20:00 – The daily capacity was slashed from 11,500 people to 5,000, and now to 1,000 – how will the event look like?
23:15 – Murray vs Wawrinka: "I feel like the Brit has a slight edge, but it's going to be a battle."
25:45 – Thiem vs Cilic – can the Croat summon his 2014 self? "Perhaps on fast surfaces, not so much on clay…"
26:45 – Goffin vs Sinner: "The Italian ran out of gas against Dimitrov, but Goffin's performance in Rome was even worse. We know that Sinner already has several Top 10 wins…" How will the Americans and Aussies fare?
31:35 – The women's draw. "It feels a bit like the US Open, so many withdrawals!" Osaka, Andreescu and Barty are out, so who can beat Simona Halep?
33:10 – "The Romanian won in Prague and in Rome, while the second seed, Pliskova, retired against her in the Italian final, so we shall have to wait to ascertain her fitness level." Was skipping hardcourts a wise choice on Halep's part?
34:55 – Could Serena make a run for it?
36:40 – The top half of the draw seems to be more competitive, thanks to the presence, besides Halep's, of Bertens, Voundrosova, Svitolina, and Mertens. Who will come out of the bottom half? Kvitova's struggles on the surface.
41:15 – Are we in for a Williams-Azarenka rematch? There are many Americans – what are their chances?
Elina Svitolina reaches her first semifinal in six months in Strasbourg
Number 2 seed and two-time Grand Slam champion Elina Svitolina secured her spot in her first semifinal in six months at the Internationaux in Strasbourg with a 6-4 6-3 win over two-time WTA title winner Jil Teichmann after 1 hour and 23 minutes. Svitolina came back from a break down in each set.
Teichmann earned an early break in the opening game of the match. The Swiss player was not able to convert tw points for 4-2 in the first set and dropped her serve. Teichmann did not convert two game points in the eighth game and Svitolina broke back to draw level to 3-3. Svitolina did not convert two break points in the eighth game, but she broke serve on her first set point.
Svitolina won eight of the first 10 points of the second set to open up a 2-0 lead with an early break. Teichmann reeled off three consecutive games with two consecutive breaks to take a 3-2 lead. Teichmann did not convert another break point at 3-3 after three deuces. Svitolina converted her fourth break point in a four deuce game in the eighth game to win the second set 6-3.
"I was fighting to stay in and to get the win, and I think I got rewarded. That was really good today, because I don't let the bad games change my mindset", said Svitolina.