Novak Djokovic Clarifies His Equal Pay Comments As Andy Murray Speaks Out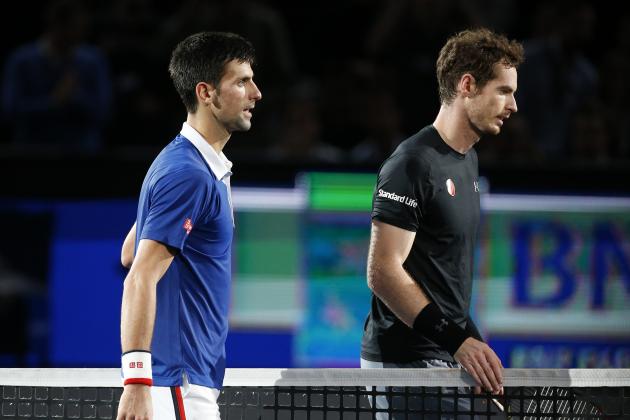 World No.1 Novak Djokovic has modified his earlier comments regarding his personal belief about equal pay between men and women on the tour.
The world No.1 triggered controversy on Sunday when he suggested that men should get paid more money than women because they have 'much more spectators'. The words from the Serbian has sparked a debate in the tennis world about equal pay. Since 2007 men and women received the same prize money at all Grand Slam tournaments.
Djokovic's comments about equal pay came shortly after the former CEO of the BNP Paribas Open, Raymond Moore, caused outrage by making a series of derogatory comments about the WTA Tour. Moore has been harshly criticized by numerous figures, including world No.1 Serena Williams, prompting his resignation on Monday.
The words from the 10-time Grand Slam champion is nowhere near to the appalling ones spoken by Moore, however, they still made headlines around the world. On Monday evening Djokovic took to social media to clarify his comments. In a lengthy statement, Djokovic said that he spoke about the matter because he wants a 'fairer and better distribution of funds across the board' for both men and women. He also talked about his love for the sport and its future.
Meanwhile, world No.2 Andy Murray weighed in on the debate on equal prize money. Murray is a strong believer in women's rights. In 2015 he wrote a column for French website L'equipe. In the column he talked about the appointment of Amelie Mauresmo as his coach and ended the article by classifying himself as a feminist.
"Have I become a feminist? Well, if being a feminist is about fighting so that a woman is treated like a man then yes, I suppose I have." He wrote in 2015.
Murray's support for women in the sport has earned him praise from numerous officials around the world. For these reasons, it was inevitable that the Brit wouldn't see eye-to-eye with Djokovic's Sunday comments.
'I have been playing since the age of two and it would be shocking to say my son would deserve more than my daughter". He told British media.
'Novak is entitled to his opinion, but if he has a daughter — I think he has a son right now — he should talk to her and tell her how his son deserves more money because he is a boy.
'It all boils down to that. I would never put a sex against another sex. It's unfair. We've had so many great women champions and players who have brought such great vision to the sport. There have been great men players too but women's tennis is the biggest sport for women — period."
The comments made by Murray were made shortly before Djokovic released his statement to clarify his earlier remarks.
Tennis has a strong history of equal pay compared to other sports. In 1973 the US Open became the first Grand Slam tournament to pay equal prize money, almost 30 years before any other major tournament. The Australian Open was the next Grand Slam to do so in 2001, followed by the French Open (2006) and Wimbledon (2007).
Graph showing the earnings for top 10 tennis players in 2015
Green Line – Men
Red Line – Women
ATP Cup Draw Ceremony to be held on Friday in Melbourne
Novak Djokovic and Rafael Nadal will be in the spotlight at the second edition of the ATP Cup from 1 to 5 February 2021. The Draw Ceremony of the second edition of the ATP Cup will be held on Friday 22 January 2021 at 12 pm AEDT.
The other stars will be Andrey Rublev (five-time titlist on the ATP Tour in 2020), the winners of the past three editions of the ATP Finals (Alexander Zverev, Stefanos Tsitsipas and Danil Medvedev), 2020 US Open champion Dominic Thiem, 2019 US Open semifinalist Matteo Berrettini and Denis Shapovalov. The 2021 ATP Cup will feature 14 of the top 15 players in the ATP Ranking.
Todd Woodbridge (winner of 22 Grand Slam doubles titles), Mark Philippousis (former Wimbledon and US Open finalist) and John Fitzgerald will conduct the draw ceremony.
The draw will be broadcast on the ATP Cup's official Facebook page. Fans will be able to follow the ceremony from around the world. Commentators Jim Courier and Mark Petchey will also feature. Official Martin Oosthuysen and ATP Cup Tournament Director Tom Larner wlll oversse proceedings.
The 12 teams will be divided into four round-robin groups of three each. The four group winners will qualify for the semifinals.
Each tie will be comprised of two singles matches and one doubles match. The country that wins two matches will take the tie. Singles will be the best of three tie-break sets. Doubles will feature No-Ad scoring and a Match Tie-break instead of a third set.
The number 1 players and the team captains:
Serbia: Novak Djokovic, Viktor Troicki
Spain: Rafael Nadal, Pepe Vendrell
Austria: Dominic Thiem, Wolfgang Thiem
Russia: Danil Medvedev, Evgeny Donskoy
Greece: Stefanos Tsitsipas, Apostolos Tsitsipas
Germany: Alexander Zverev, Misha Zverev
Argentina: Diego Schwartzman
Italy: Matteo Berrettini, Vincenzo Santopadre
Japan: Kei Nishikori, Max Mirnyi
France: Gael Monfils, Richard Ruckelshausen
Canada: Denis Shapovalov, Peter Polansky
Australia: Alex De Minaur, Lleyton Hewitt
Ashleigh Barty and Jannik Sinner join super field at "A Day at the Drive" exhibition event in Adelaide
World number 1 Ashleigh Barty and 2019 Next Gen ATP Finals champion Jannik Sinner have joined a star-studded field at the exhibition tournament named "A Day at the Drive", which will be held at the Memorial Drive Tennis Centre in Adelaide on Friday 29 January 2021.
The Adelaide event will feature 2020 Australian Open champion Novak Djokovic, 20-time Grand Slam champion Rafael Nadal, 2020 US Open winner Dominic Thiem, three-time Grand Slam champion Naomi Osaka, 2019 Wimbledon champion Simona Halep and 23-time Grand Slam legend Serena Williams, who are spending their mandatory 14-day quarantine in Adelaide ahead of the Australian Open.
Adelaide will launch the Australian summer of tennis before the ATP Cup and the Australian Open in Melbourne.
Barty has not played an official match since losing her semifinal against Petra Kvitova in Doha last February shortly before the outbreak of the global pandemic. The Australian star won the title at the inaugural edition of the Adelaide WTA tournament last year.
"I am looking forward to playing my first match of the 2021 season in Adelaide. I have fond memories from the Adelaide International last year and i twill be great to get back on court here for "A Day at the Drive", said Ashleigh Barty. The Australian Open has been delayed until 8 February 2021. The Melbourne Park will host warm-events one week before the first Grand Slam tournament of the year.
Roger Federer should make his come-back in Doha, according to Richard Krajicek
Roger Federer is expected to make his come-back at the Qatar Exxon Mobil tournment on outdoor hardcourts in Doha from 8 to 13 March 2021, according to Rotterdam Tournament Director Richard Krajicek.
Federer is currently training in Dubai, which is only 235 miles from Doha. The 20-time Grand Slam champion withdrew from the Australian Open last month.
"As far as I know, Roger will play in Doha, the week after Rotterdam. If he is fit and ready, we will hear from him", said Krajicek.
Krajicek announced that Rafael Nadal will play in Rotterdam for the third time in his career next March. The former Dutch star still hopes to invite Federer, who claimed three titles in Rotterdam.
Three years ago Federer became the oldest world number 1 at 36 after beating Robin Haase in the quarter final of the Rotterdam tournament and went on to win his 97th ATP Tour title by beating Grigor Dimitrov in the final. After undergoing the second knee surgery last May Federer decided to skip the rest of the 2020 season and returned to the court to train. He moved to Dubai to train in good weather conditions under the guidance of his coach Ivan Ljubicic, who was a former world number 3 player.