Rafael Nadal disrupts Andy Murray's year-end bid in London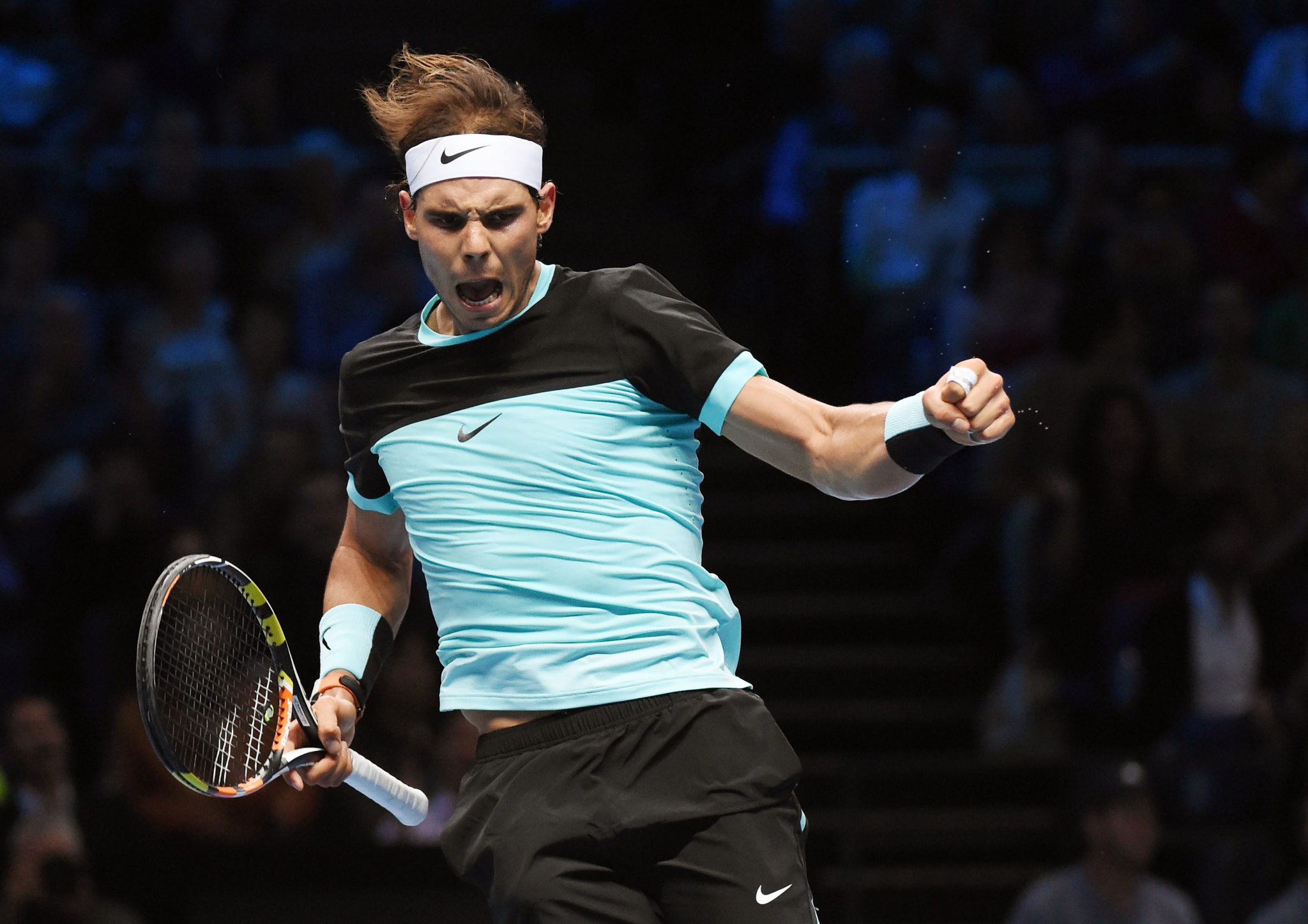 Rafael Nadal has delayed Andy Murray's bid to finish the year at number 2 in the world following a comprehensive 6-4, 6-1, win at the ATP Finals.
Both men have started their campaign in the year-end tournament with convincing wins on Monday. Murray defeated Davis Ferrer in straight sets (6-4, 6-4), winning 80% of his first service points. Meanwhile Nadal eased his way past an error-stricken Stan Wawrinka 6-3, 6-2.
Coming into the match Murray was one win away from securing his position of No.2 in the ATP year-end rankings for the first time in his career. Despite the potential milestone looming, Nadal appeared the sharpest as he at times produced shots which was reminiscent of his very best tennis.
The match got underway with a duo of breaks of service. Murray was the first to pounce after back-to-back unforced errors from Nadal gave him two break points before he took the game with a smash at the net. The early lead was short-lived as Nadal responded immediately in the following game with the help of some errors from Murray's racket. After the less than convincing start to the match, the 9-time French Open champion was the first to hold his serve in the match. As proceedings progressed so did the quality of the tennis with some thrilling rallies at the packed O2 Arena.
During the early stages of the match, Murray performed an unusual task by cutting a piece of his hair during one of his change overs, triggering a humorous response on Twitter.
New Tactics from @andy_murray: a cheeky haircut: #Tennis pic.twitter.com/s1z5Td6mcm

— Unibet (@unibet) November 18, 2015
Nadal's next attack occurred in the seventh game when he earned himself a double break point due to a wide shot from Murray which sailed outside of the court. Despite the adversity faced by Murray during the game he clawed his way back to deuce. Nadal then had another chance to break but failed to convert, as the home favorite held his nerve to level at 3-3. Nadal also had a golden chance to take a 5-3 lead and serve for the set, but once again failed as Murray closed out his lengthy service game after a long forehand shot from Nadal.
After valiantly surviving the pressure applied from his Spanish rival, Murray succumbed at the worst possible moment. A spectacular 89 mph forehand winner from Nadal gave him a triple chance to win the opening set. After trying so hard throughout the opening set, Nadal finally converted with his 7th breakpoint in the match to win the first set after 58 minutes on the court, toning down the animated British crowd.
Nadal's momentum continued in the second set as he held serve with ease against the increasingly frustrated world No.2. The approach from the Spaniard resulted in catastrophic decline in Murray's rhythm. Two double faults followed by a backhand error flying beyond the baseline enabled Nadal to extend his dominance in the match to a set and a break up. Suddenly the high quality exchanged between both players disappeared as Nadal bossed Murray around the court. The five-game streak in Nadal's favor was finally ended as Murray got himself onto the scoreboard in the second set, trailing 1-3. Despite ending Nadal's streak, there was no stopping the world no.5 as another costly error from the Brit enabled him to break for a chance to serve for the match at 5-1. A curling serve down the line forced Murray to return it out, Giving Nadal his first match point. He only required one as he hit a cross-court shot halfway up the court to grab the win.
It is the 16th time that Nadal has defeated Murray since 2007. Following his win, Nadal labelled the victory as one of the best in his season.
"For me, it's an important day. It is one of my best victories of the season without any doubt". He told the BBC.
Nadal could qualify for the semifinals of the tournament tonight, depending on the outcome of the evening match between Stan Wawrinka and David Ferrer. If Ferrer defeats Wawrinka or Wawrinka wins in three sets, he will qualify.
'I Googled How To Kill Myself' – Robin Soderling Open Up About Mental Health Battle
The ex-world No.4 speaks out about his struggles with anxiety as a player for the first time.
Former Swedish Tennis star Robin Soderling has spoken out about how he struggled with panic attacks which contributed towards his decision to step away from the sport.
The 35-year-old achieved a ranking high of fourth during his career and is best known as being the first player to defeat Rafael Nadal at the French Open after stunning the Spaniard back in 2009. However, he was also dealing with his own mental demons as he rose to prominence in the sport. Speaking to Radio Sweden, Soderling revealed that he struggled with his mental health prior to being diagnosed with mononucleosis, which forced him to retire at the age of 31.
"I had constant anxiety, it gnawed at me inside. I sat in the apartment and stared blankly, the smallest noise made me panic. When a letter fell on the doormat, I panicked so much that I fell to the floor. The phone rang I was shaking with fear," he told the radio station.
Soderling said his problems with anxiety started shortly after his win over Nadal in 2009, which catapulted him to the limelight. The increased expectation made the Swede feel that he had to live up to high expectations.
"There were only three players I could lose to," he said in reference to the Big Three. "The rest I had to beat them, if I would feel bad, a failure, a loser."
During his career the two-time Grand Slam finalist won 10 titles on the ATP Tour with five of those titles occurring after he defeated Nadal at Roland Garros. It was in 2010 when he achieved his ranking high and won his only Masters 1000 title in Bercy, France.
Solderling's last match on the Tour took place on home territory at the 2011 Swedish Open. In the final he roared to a 6-2, 6-2, win over David Ferrer to end his career on a high. At the time he was yet to be diagnosed with mononucleosis and hadn't come to a decision to retire from the sport. Shortly after that final he returned back to his home in Monte Carlo where he started to struggle once again.
"I panicked, I started crying. I was crying and crying. I went back to the hotel and threw myself on the bed, every time I thought about going on the court, I panicked. For the first time I felt that regardless of how much I wanted, I couldn't, not even if they put a gun to my temple," he recounted.
In a frank revelation during the interview, Solderling said at his worst he even 'googled how to commit suicide' but never intended to. He says his thoughts at the time was 'anything was better than this life in hell.'
Solderling hopes by opening up about his mental health battle it is a topic he believes is 'rarely' talked about in sport. Few players have openly talked about their own personal problems.
"It is very rare to talk about the psychic problems that great athletes have in sports and this is why I wanted to take a step forward and talk about it. To those who dedicate themselves to sport and their entire environment I tell them to train hard and take it very easy. From here I tell them to play sports because they feel comfortable doing it and not because of pressure. If you are succeeding, try to keep the perspective and try not to be affected much. If you succeed, everything will be fine," he concludes.
Soderling is currently the captain of the Swedish Davis Cup team.
Coach Of Roger Federer Issues Fitness Update
Details of the next stage in Federer's recovery have been revealed.
The longtime coach of 20-time Grand Slam champion Roger Federer has said the Swiss star is 'doing well' with his rehabilitation going to plan so far.
Severin Luthi shed some light on Federer's current health during a TV interview with SRF on Saturday. The 38-year-old hasn't played a competitive match since his semifinal loss to Novak Djokovic at the Australian Open back in January. Shortly after Federer underwent arthroscopic surgery on his right knee, which sidelined him from action. However, the problems continued for Federer and he had to undergo a second knee procedure in June which resulted in him pulling the plug on his 2020 season.
Despite the setbacks, Luthi has insisted that the former world No.1 is finally back on track and will be returning back to training soon. Luthi has worked alongside Federer for more than a decade and also currently serves as the captain of the Swiss Davis Cup term.
"Roger is doing well. Rehabilitation has gone according to plan after the 2nd surgery. No big intensity until now, he will start a physical fitness block with Pierre Paganini shortly," he told SRF.
Federer, who will turn 39 in August, has vowed to return to the Tour in 2021 despite his age. He is currently the second oldest player in the top 200 after world No.124 Croatia Ivo Karlovic who is 41. Despite approaching the finish line in his career, Luthi insists that age isn't an issue when it comes to training.
"First priority is that Roger gets 100% healthy again,' he stated.
"The nice thing is that with Roger you still get the feeling you're on court with a junior and not with a player who's rather at the end of his career, those are perfect conditions we're focused on next season."
So far in his career, the Swiss maestro has won 103 ATP titles and spent a record 310 weeks at the top of the ATP rankings.
Work with ON
Federer has kept himself out of the spotlight in recent weeks, but has been working behind the scenes with running brand ON. A company which he bought a stake last November after investing an 'undisclosed sum.' On July 6th he is set to feature in a livestream with the company to make what he describes as a 'big announcement' without elaborating further. The date of the announcement coincidentally coincides with the 17th anniversary of his first Wimbledon win.
"July 6 there is going to be the big launch, the big announcement, something we've been working on for quite some time now," Federer told sportswear blog Highsnobiety. "[Sneakerheads that don't know On so well] are going to get to know the company in a new way. I think it's going to be very exciting."
For me, having an impact with a company like On is really, really exciting. To be there in the workshop room, in the meetings, and hearing about whatever shoe it is, and maybe giving my input… And then, next thing you know, my input is taken incredibly serious and it grows into something quite beautiful. That is very exciting." He added.
The livestream featuring Federer will be broadcasted on a website called theroger.com.
Frances Tiafoe Tests Positive For COVID-19 At DraftKings All-American Team Cup
The announcement comes after a day he played his first match at the tournament
Organisers of the All-American Cup in Atlanta have suffered a huge blow after it was confirmed that one player has tested positive for COVID-19 on Friday.
Frances Tiafoe has confirmed that he has contracted the virus following a test done late last night. Making it the first case of COVID-19 among players at a tournament outside of Europe. The announcement comes after he withdrew from the event with what was first assumed to be injury-related. Tiafoe required a medical timeout during the second set of his match against Sam Querrey.
"Unfortunately, I tested positive late Friday for Covid-19 and have to withdraw from the All-American Team Cup special event in Atlanta this weekend," the world No.81 said in a statement.
"Over the past two months, I have been training in Florida and tested negative as recently as a week ago before travelling to Atlanta. I am scheduled to have a second test early next week, but have already begun the quarantine protocol as advised by the medical staff here in Atlanta. While I've been so excited to get back out there, the health and safety of everyone continues to be a top priority."
Reports of a COVID-19 case at the event started to circulate on Saturday morning when British player Tara Moore tweeted that she had heard 'from a couple of players' that somebody had tested positive in Atlanta. Moore is a member of the newly formed ITF World Tennis Tour Player Panel.
In a statement issued by the organisers of the All-American Cup, they confirmed that Tiafoe was showing symptoms of the virus following his match before later testing positive. Although they didn't specify as to what his symptoms are. The tournament will still continue with Tiafoe being replaced in the draw by Christopher Eubanks.
"Frances Tiafoe has tested positive for the coronavirus. Like all the players, Tiafoe was tested prior to or upon arrival in Atlanta and has passed daily temperature tests. Following his match, he was showing symptoms and was retested and tested positive," tournament director Eddie Gonzalez said in a statement.
"Tiafoe has left the event site and will not participate in the remainder of the event. Upon learning this information, we immediately began deep cleaning and sanitizing the event site, and enacted protocols in place for contact tracing and alerting individuals who may have been exposed. The health and safety of our event participants, staff and attendees are a top priority, and we will continue to diligently enforce all guidelines from local health officials."
Despite the assurances, said by Gonzalez, questions remain. Especially in regards to Tiafoe, who said during his post-match interview on Friday that he hadn't been feeling well in recent days but still decided to continue playing in the tournament.
Probably explains why Tiafoe was struggling so much in the heat as he beat Querrey yesterday: "I haven't been feeling the best the last couple of days." pic.twitter.com/u2K1vFbjO8

— Tumaini Carayol (@tumcarayol) July 4, 2020
A rise in cases
The All-American Cup is a team tournament which features the eight highest ranked American players on the ATP Tour. Held at  Life Time Fitness in Peachtree Corners, 450 people are allowed to attend the event daily. Which equates to roughly 30% of the stadium's maximum capacity.
There has recently been concerns about opening the event up to the public due to the rise in cases in the region. Georgia, which is the state Atlanta is in, has seen the number of new cases increase by more than 50% over the past week based on information obtained by the John Hopkins University. Meanwhile, 1,400 Georgia healthcare workers have signed a petition sent to the state's governor asking for stricter measures to be implemented to help stop the spread.
"I just think it's an unnecessary risk right now," world No.225 Noah Rubin told Front Row Sports about the event earlier this week. "If you weigh the pros and cons, and when I do it quickly in my head, it doesn't add up. What are we gaining from taking this risk right now? Numbers [of COVID-19 cases] are going in the wrong direction. You have Georgia being one of those states that's highly affected by a spike. It just doesn't really make sense when I put it all together."
John Isner, who is the country's highest ranked player, has previously hit back at concerns over the Atlanta event. Saying to a series of Twitter users 'You coronabros can stay in your basement all you want. I choose to live my life and play/promote the sport I love in a safe manner." In a separate tweet Isner said that he was not downplaying the seriousness of the virus. Although he did like one tweet which said 'the virus is much less lethal than the first models predicted.'
Isner was one of three players on Team Stripes to score wins on the first day of the tournament along with Tennys Sandgren and Steve Johnson. As for Team Stars, their only victory was thanks to Tiafoe, who downed Sam Querrey in straight sets.
Tiefoe is the latest top player to have tested positive as the sport nears it return to competitive tennis. Recently the Adria Tour was scrapped following an outbreak during the Zadar leg in which Grigor Dimitrov, Borna Coric and Novak Djokovic among others got infected. Meanwhile, at the Eastern European Championships two players tested positive just over a week ago.