Andy Murray Guides Great Britain To Davis Cup History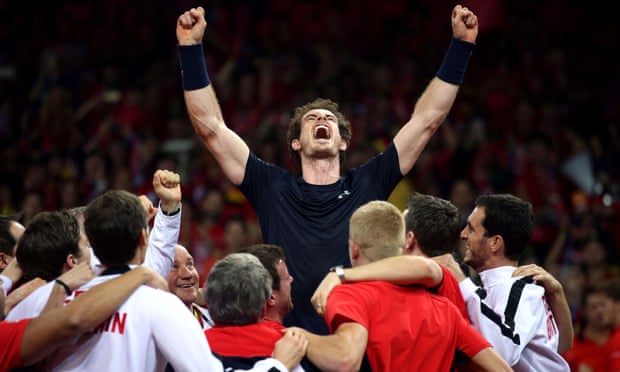 Andy Murray has ended Great Britain's 79-year wait for a Davis Cup title after beating world No.16 David Goffin 6-3, 7-5, 6-3, at the Flanders Expo in Belgium.
Going into the match Britain was in control of proceedings, leading the tie 2-1 followings wins in the Singles by Murray on Friday as well as the crucial doubles tie on Saturday.
The match was a nervous encounter for both players who were playing in front of a highly animated crowd in Ghent. Both player had to contend with off-putting sounds set off by members of the crowd whilst they were serving, sparking numerous warnings from the umpire. Despite facing Goffin on his home soil, Murray had the edge going into the final day with a head-to-head lead of 2-0. The Belgian has never won a set against the world No.2, a trait which has continued after today's encounter.
Murray has become the third man to score a perfect 8-0 winning record in singles matches in a Davis Cup season since the introduction of the World Group in 1981 after John McEnroe (1981) and Mats Wilander (1982). He is the fourth player to win 11 matches, including his four doubles wins this year and the fourth member of the Big Four to win the Davis Cup, following in the footsteps of Novak Djokovic (2010), Rafa Nadal (2011) and Roger Federer (2014). Murray has also become the first player since Pete Sampras to win three matches (two singles and the doubles) in a Davis Cup final.
It is the 10th time that Great Britain has won the title, first since 1936. During this year's tournament they have defeated three former Davis Cup champions (America, France and Australia) to reach the final before claiming their historic title against Belgium. Shortly after sealing the British victory, Murray spoke of his delight.
"I just can't believe we did it," said Murray.
"I play some of my best tennis when I'm playing for my country."
This year's achievement is a spectacular turnaround in Britain who was playing in the second group of the Europe/Africa four years ago.  Guiding them to victory was captain Leon Smith, who has worked with the team since July 2010. After experiencing a roller-coaster journey, a visibly delighted Smith spoke of his delight.
"It is amazing, as good a feeling as I could imagine. Andy has shown himself to be an absolute superstar". The British captain said.
"He will be the first to say that it is a team thing but what he has done is astonishing. I am proud of everyone."
Despite the disappointment, this weekend has also been a breakthrough experience for Belgium who played in their first final since 1904.
Since 2010 Great Britain have a Davis Cup win-loss record of 12-3. The only three countries they have lost within the past five years are Lithuania (2010), Belgium (2012) and Italy (2014).
Missed the match? Here is a recap
At 1-0 Murray hit a winner for 30-40 to bring up a break point, but Goffin saved it to hold his serve. Murray hit an ace down the middle for 40-0 before holding his serve to love with a winner in the third game for 2-1. Goffin won his service game to love with an ace for 2-2. The Belgian earned his first break point chance as Murray hit his backhand into the net. Murray held his serve for 3-2 after hitting a deep serve that Goffin could not get back. Murray hit a forehand pass and two returns to convert the break point chance to love for 4-2. Murray consolidated the break point in the next game with a cross-court pass winner for 5-2. Goffin saved three set points on serve, but Murray closed out the set with a forehand into the corner.
In the second game of the second set Goffin earned the second break point of the match when Murray hit his forehand long at deuce but could not capitalise it. Goffin fended off two break points to hold serve for 2-1 after a 10-minute third game. Murray held his serve in the fourth game to love for 2-2. Goffin made his second double fault of the match, but he held his serve to 15 as Murray hit a forehand reply into the net.
Murray hit a half-volley drop-shot to go up 15-30 on Goffin's serve. Goffin hit a smash to draw level to 30-30. At 40-30 Goffin hit a forehand down the line winner to hold his serve for 4-3. Murray hit three aces to hold his serve to love.
At 5-4 Goffin clawed his way back from 0-40 to 30-40 but he dumped into the net. Murray earned a break point with a forehand and broke serve at the most crucial moment to take the 6-5 lead as Goffin hit a forehand into the net. Murray went down 0-30 on his serve, but fought back with four consecutive points. He closed out the set with a cross-court forehand winner after a thrilling rally.
Goffin brought up two break point chances at 15-40 in the second game of the third set and converted his second chance when Murray dumped a forehand into the net.
Murray brought up two break-back points with a forehand cross-court winner and broke straight back in the third game for 1-2. Murray fired a service winner off his second serve to win his service game.
Goffin went up 40-15 with a forehand down the line and won the fifth game with a winner for 3-2. Goffin earned a break point with a forehand, but Murray saved it with a serve down the middle.
Murray got the crucial break to love at 5-3 and sealed the win on his second match point with a backhand lob.
Novak Djokovic Refuses To Blame Fatigue For Davis Cup Defeat
Novak Djokovic says his defeat in the Davis Cup on Saturday was a 'huge disappointment' but he isn't taking any credit away from the performance of his opponents. 
The 24-time major winner was on the verge of taking Serbia into the final of the competition. Taking to the court after Miomir Kecmanović beat Lorenzo Musetti, Djokovic knew that beating Jannik Sinner would secure his team an unassabile lead. Against the world No.4, he had a 5-4 lead in the deciding set with three consecutive match points at his disposal. However, Djokovic was unable to convert any of them and ended up losing 6-2, 2-6, 7-5.
Then in the deciding doubles match, Djokovic and Kecmanovic lost 6-3, 6-4, to Sinner and Musetti. Resulting in Italy progressing to their first title tie in the competition since 1998.
"Congratulations to Italy for qualifying for the finals," Djokovic said afterward. "They deserved it. They played really well, particularly Jannik, in singles against me and then doubles, as well. He barely missed a ball the entire match.
"For me personally it's a huge disappointment, because I take the responsibility, obviously having three match points, being so close to winning it. It's unfortunate really. This is sport. When you lose for your country, the bitter feeling is even greater."
It is only the fourth time in Djokovic's career that he has suffered a loss after having match point opportunities. It is also the first time in his career he has been beaten by the same player (Sinner) multiple times in the Davis Cup.
The defeat is a bitter end to what has been a highly successful season for Djokovic who has won three out of the four Grand Slam events held in 2023. Last week he beat Sinner to win his 98th Tour title at the ATP Finals in Turin. To put that tally into context, only Roger Federer and Jimmy Connors have won more ATP trophies than him.
When asked if end-of-season fatigue played a role in his latest performance, Djokovic refused to find excuses. Coming into this weekend, he had won 21 consecutive matches in the Davis Cup. 
"I don't want to talk about it because it's going to sound like an excuse," he said. 
"Obviously this is a tough one to swallow. I was really trying to hype myself and encourage myself for this week. 
"Throughout the entire season, my thoughts were this week with my Davis Cup team. I tried to contribute. I did in the first tie, but it wasn't meant to be."
As Djokovic begins his off-season, Italy will face Australia for the Davis Cup title on Sunday. It will be the first meeting between the two countries in the event since 1993. If Italy wins, it will be only the second time they have claimed the trophy after 1976. 
Novak Djokovic At Odds With British Captain Smith Over Behaviour Of Davis Cup Crowd
Novak Djokovic's comment that it is normal for fans to 'step over the line' during Davis Cup ties has been disputed by British team captain Leon Smith who argues that the highly animated atmosphere is a positive. 
The world No.1 clashed with a group of British fans during his country's quarter-finals win. Just moments after beating Cameron Norrie 6-4, 6-4, to seal an unassailable 2-0 lead for Serbia, Djokovic was frustrated with fans during his on-court interview. Whilst speaking, he had to contend with a group of fans deliberately beating their drums.
"Learn how to respect players, learn how to behave yourself," the 24-time Grand Slam winner responded to those drumming before adding, "No, you shut up, you be quiet".
During the match, Djokovic also expressed his displeasure with some of the crowd by cupping his ear and blowing kisses after winning the first set. The tie featured an estimated 5000 British fans in attendance at the event which is being staged in Malaga, Spain.
Speaking during his press conference, Djokovic said he felt that there was 'disrespect' from some of those in the stands throughout his match but acknowledged that this was not unusual in the competition. Although he believes the way he reacted was justified.
"In the Davis Cup, it's normal that sometimes fans step over the line but in the heat of the moment, you react too. You in a way show that you don't allow this kind of behavior." He said. 
"They (the crowd) can do whatever they want but I'm going to respond to that. That's what happened.'
"I was trying to talk and they were purposely starting to play the drums so that I don't talk and they were trying to annoy me the entire match."
Reacting to the incident, British captain Smith has dismissed a suggestion that there should be a review into the policy on having drums during matches when asked if he thinks more should be done to show respect to players whilst they are playing. The former coach of Andy Murray has been in charge of his country's team for more than a decade and oversaw their run to the title in 2015.
"The best ones are the noisy ones. When it's flat and dead and no one's clapping, no music, it's pretty boring." Said Smith. 
"That's one of the things that's good about Davis Cup and the team competition that actually you're kind of meant to make noise. And there is always, whether there is a bit that goes over, comments, I could hear a couple. I don't think it's that bad."
"I would hate to see it quietening down because there's enough quiet tennis as it is. If anything, that atmosphere is good for us."
In the competition itself, Serbia is set to play Italy in the semi-finals where Djokovic could continue his rivalry with Jannik Sinner. The two clashed twice at last week's ATP Finals with Sinner winning their group match before Djokovic triumphed in straight sets in the final. 
"We're kind of developing a nice rivalry lately. I have tons of respect for him." Djokovic said of the world No.4.
"He's been playing arguably the tennis of his life. I saw a little bit of singles and doubles that he won. He really played on a high level. I could see that he was very pumped to play for his nation.'
"I know that he's confident and playing some of the best tennis that we saw him ever play. But I'm not playing bad myself. So it's going to be a great match."
Serbia's semi-final clash with Italy will take place on Saturday.
'Not The best' – Novak Djokovic Gives His Verdict On Davis Cup Format
Novak Djokovic has urged the International Tennis Federation (ITF) to consult more with players regarding the future of the Davis Cup after saying he believes improvements can be made to the event.
The 24-time Grand Slam champion made his remarks about the competition ahead of Serbia's quarter-final clash with Great Britain on Thursday. This week the eight teams are participating in a knockout competition in Malaga for this year's title. Those who qualified had to come through the group stages which were held in four cities across Europe with the top two of each group progressing.
Djokovic's team hasn't played a tie in their home country since September 2018 which was against India which took place without the tennis star. Something the world No.1 believes is a flaw in the system that he believes needs to be improved for the future. 
"I feel that the best format will be somewhere in between the old one and the new one but I don't think that this is best for the nations participating in the World Group," said Djokovic.
"The fact that we, as a team, have not played in Serbia for many years is not great because we don't give an opportunity to people in Serbia to watch us play, especially young people and young tennis players.'
"It also allows (our) Federation to benefit in different ways from that home tie. So hopefully that can be back in some way."
Although Serbia's wait for hosting a Davis Cup tie could end soon. The ITF has written to the Serbian Tennis Federation twice to see if they are interested in staging one of the group-stage events next September, but they have yet to respond. They also previously contacted Djokovic via the Serbian Tennis Federation after the group-stage event in Valencia with a view to arranging a meeting in Malaga.
The Davis Cup has gone through numerous changes in recent years which was triggered by a deal with investment company Kosmos to revamp the competition. However, Kosmos' pledge to invest in the event for 25 years didn't even last five years after the ITF terminated its contract at the start of 2023.
As for the future, Djokovic says that there should be no 'behind the doors' discussions on what to do with the team event without the ITF speaking with the players and their federations. However, the modern format was voted in by a 72% majority of the ITF's member nations at the ITF AGM in 2018. The ITF is one of seven governing bodies operating in tennis. The others are the ATP, WTA and each of the four Grand Slam tournaments.
"I don't have in my mind personally a perfect format. I think it's important to put it out on the table and discuss it, but not discuss it behind closed doors. Discuss with players and discuss with Davis Cup teams," he continued.
"I think everyone should have their say because so far no one has been really communicating with us from ITF. So that's something I feel like should change because obviously we also are a very integral part of this competition. I feel like we can give some valuable information and feedback on what we think is the right way.'
"We will have probably a difference of opinions but I think the home-and-away ties is something the Davis Cup historically has been very famous for."
Another issue brought up surrounds the location of the finals. Since the competition was revamped in 2019, all of the final ties have been held in Spain despite the ITF's vow to move the competition around the world.
"Giving one nation to host every year the Last 8 for now three, four years in a row, actually five, Madrid, Malaga, is too much, in my opinion." Djokovic states.
"It has to travel. This is a competition that is played globally. I feel like the Davis Cup Finals, at least if you're going to keep it at Final 4, Final 8, should travel every year. It shouldn't stay in one place more than a year."