Andy Murray Guides Great Britain To Davis Cup History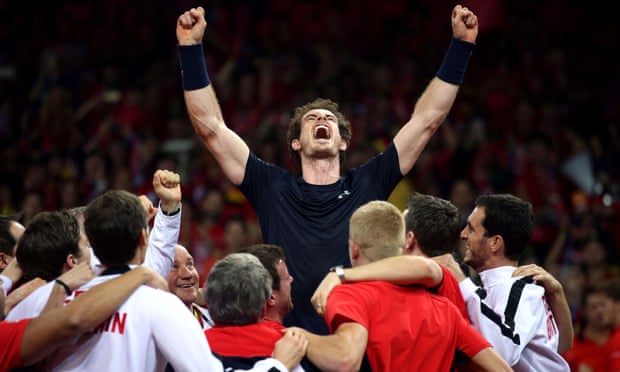 Andy Murray has ended Great Britain's 79-year wait for a Davis Cup title after beating world No.16 David Goffin 6-3, 7-5, 6-3, at the Flanders Expo in Belgium.
Going into the match Britain was in control of proceedings, leading the tie 2-1 followings wins in the Singles by Murray on Friday as well as the crucial doubles tie on Saturday.
The match was a nervous encounter for both players who were playing in front of a highly animated crowd in Ghent. Both player had to contend with off-putting sounds set off by members of the crowd whilst they were serving, sparking numerous warnings from the umpire. Despite facing Goffin on his home soil, Murray had the edge going into the final day with a head-to-head lead of 2-0. The Belgian has never won a set against the world No.2, a trait which has continued after today's encounter.
Murray has become the third man to score a perfect 8-0 winning record in singles matches in a Davis Cup season since the introduction of the World Group in 1981 after John McEnroe (1981) and Mats Wilander (1982). He is the fourth player to win 11 matches, including his four doubles wins this year and the fourth member of the Big Four to win the Davis Cup, following in the footsteps of Novak Djokovic (2010), Rafa Nadal (2011) and Roger Federer (2014). Murray has also become the first player since Pete Sampras to win three matches (two singles and the doubles) in a Davis Cup final.
It is the 10th time that Great Britain has won the title, first since 1936. During this year's tournament they have defeated three former Davis Cup champions (America, France and Australia) to reach the final before claiming their historic title against Belgium. Shortly after sealing the British victory, Murray spoke of his delight.
"I just can't believe we did it," said Murray.
"I play some of my best tennis when I'm playing for my country."
This year's achievement is a spectacular turnaround in Britain who was playing in the second group of the Europe/Africa four years ago.  Guiding them to victory was captain Leon Smith, who has worked with the team since July 2010. After experiencing a roller-coaster journey, a visibly delighted Smith spoke of his delight.
"It is amazing, as good a feeling as I could imagine. Andy has shown himself to be an absolute superstar". The British captain said.
"He will be the first to say that it is a team thing but what he has done is astonishing. I am proud of everyone."
Despite the disappointment, this weekend has also been a breakthrough experience for Belgium who played in their first final since 1904.
Since 2010 Great Britain have a Davis Cup win-loss record of 12-3. The only three countries they have lost within the past five years are Lithuania (2010), Belgium (2012) and Italy (2014).
Missed the match? Here is a recap
At 1-0 Murray hit a winner for 30-40 to bring up a break point, but Goffin saved it to hold his serve. Murray hit an ace down the middle for 40-0 before holding his serve to love with a winner in the third game for 2-1. Goffin won his service game to love with an ace for 2-2. The Belgian earned his first break point chance as Murray hit his backhand into the net. Murray held his serve for 3-2 after hitting a deep serve that Goffin could not get back. Murray hit a forehand pass and two returns to convert the break point chance to love for 4-2. Murray consolidated the break point in the next game with a cross-court pass winner for 5-2. Goffin saved three set points on serve, but Murray closed out the set with a forehand into the corner.
In the second game of the second set Goffin earned the second break point of the match when Murray hit his forehand long at deuce but could not capitalise it. Goffin fended off two break points to hold serve for 2-1 after a 10-minute third game. Murray held his serve in the fourth game to love for 2-2. Goffin made his second double fault of the match, but he held his serve to 15 as Murray hit a forehand reply into the net.
Murray hit a half-volley drop-shot to go up 15-30 on Goffin's serve. Goffin hit a smash to draw level to 30-30. At 40-30 Goffin hit a forehand down the line winner to hold his serve for 4-3. Murray hit three aces to hold his serve to love.
At 5-4 Goffin clawed his way back from 0-40 to 30-40 but he dumped into the net. Murray earned a break point with a forehand and broke serve at the most crucial moment to take the 6-5 lead as Goffin hit a forehand into the net. Murray went down 0-30 on his serve, but fought back with four consecutive points. He closed out the set with a cross-court forehand winner after a thrilling rally.
Goffin brought up two break point chances at 15-40 in the second game of the third set and converted his second chance when Murray dumped a forehand into the net.
Murray brought up two break-back points with a forehand cross-court winner and broke straight back in the third game for 1-2. Murray fired a service winner off his second serve to win his service game.
Goffin went up 40-15 with a forehand down the line and won the fifth game with a winner for 3-2. Goffin earned a break point with a forehand, but Murray saved it with a serve down the middle.
Murray got the crucial break to love at 5-3 and sealed the win on his second match point with a backhand lob.
EXCLUSIVE Interview With US Davis Cup Captain Mardy Fish: "If Davis Cup Fails, We All Fail"
Mardy Fish takes the reins of the US Davis Cup team and feels very strongly about the new format for the competition: "If you love Davis Cup you have to support it, even with this format"
After Jim Courier's resignation from the role of US Davis Cup Captain last September after the defeat in the 2018 semifinal against Croatia, the USTA decided to take their time and make some changes to the duties required by the role. Following Courier's suggestion that "the new captain should be someone closer in age to the players", the United States Tennis Association decided to trust former world no.7 Mardy Fish with this important responsibility, also making him a key figure in the Player Development Program, expanding the role of captain into a year-round presence at tournaments around the world to provide a bigger support to players.
While we were covering the BNP Paribas Open in Indian Wells, Mardy found the time to talk to Ubitennis over the phone from his house in California and provided some insight into this new adventure for him.
What can you tell us about your first few months in your new role?
It's been a fun few months, adjusting from the role of peer to the other players to that of captain. I have found a lot of respect towards me from the other players and this is obviously a great thing. I have always been a huge fan of Davis Cup, I have always said yes whenever I had the opportunity to play it, and it's an honor to be in this role.
You retired a few years ago from professional tennis: how do you feel about getting back on the road now that your life is structured in a different way?
My life at home has been quite established, with my wife and my two kids, but I have been doing a bit of personal traveling for some exhibitions and for golfing. This role will not require a lot of traveling, I will just do what I need to create some camaraderie in the team: I have spent a few days in Indian Wells, from Tuesday to Saturday, I will be a few days in Miami, then I won't be around much for the European season and I will travel again to tournaments in the summer. I just need the players to know that they have my support and the support of the USTA if it's needed.
What do you think about the new formula for the Davis Cup?
I think it's too early to tell right now, we will find out how it goes. On paper the formula sounds awesome, the time was right for a change, although I'm not sure if it was necessary to make it as drastic as this. I know there are some people that feel very strongly against this new formula, but this means that people are passionate about Davis Cup, they really care about it.
The date in the calendar for the Finals is quite tough though. But at the end of the day, if it's Davis Cup the majority of players will find a way to participate and I'm convinced we will get an excellent field.
As far as the US Team is concerned, I don't foresee any availability issue from our players, especially the younger ones: they are very excited about playing for the USA, the National Team is in a lot of conversations among our players. I can's speak for other countries, I know some of them have pledged not to play with the new format, but what we need to remember is that we are all responsible for Davis Cup: if Davis Cup fails, we all fail, we are all together on the same boat. For example, the Australian players are all very passionate about Davis Cup, they love it, and that is fantastic. But if they don't support it, it's not going to work.
With the new formula, a team getting to the final will need to play six ties in seven days: how important do you think it will be to have a 'long bench'?
I think it will be important to bring players who play only singles and other players who play only doubles. I believe that teams that only have one or two players, as it could be for Russia, and relying on them to play both singles and doubles could get into a bit of a situation should they get to the business end of the competition, because their players may get there quite tired. We are lucky in that sense because we can have someone like Jack Sock who could play doubles leaving the singles guys free to worry about the singles.
Tennis politics have recently made the headlines with Chris Kermode not being renewed as the ATP CEO. What is your take on this?
I have spoken to some of the guys who are in the Players' Council and once again I need to stress that they do what they do because they act with passion. They are passionate about tennis, they act out of love for the game even if their ranking is not high. I know Kermode personally from when he was the Tournament Directors at the Queen's Tournament and everything was perfect for me; I don't have direct experience with him at the helm of the ATP, I had already retired when he took the reins of the organization.
A few weeks ago the ITF decided the composition of the Round Robin phase of the Davis Cup Final and the US team will be in the same group as Italy and Canada. Can you tell us about these teams?
Well, Canada has the right mix of experience and youth: Denis Shapovalov and Felix Auger Aliassime are going to be there for a long time, and Milos [Raonic] will be able to give them all the support they need. Similarly, Italy has an established core of players such as Fabio Fognini and Andreas Seppi that will be supplemented by Marco Cecchinato, whom I know him anyway because he is was my opponent in my last match ever at the US Open.
I am very confident about our chances in this group: we have three top 60 players who are still 21 years old or younger, who are Tiafoe, Fritz and Opelka. Tiafoe has just reached the Quarterfinals of the Australian Open, and that's not a result that you can improvise, you need to beat good players to get there. They will be the core of our team for the years to come, and they will be helped by more established veterans like John [Isner] or Sam [Querrey].
BNP Paribas Ends Their 17 Year Sponsorship With Davis Cup
BNP Paribas will no longer sponsor the Davis Cup after 17 years.
BNP Paribas have ended their 17 year title sponsorship with the Davis Cup as they rebrand to the world cup of tennis. 
The move was announced in a press release as BNP Paribas look to focus on sponsoring the Fed Cup as well as the junior and wheelchair events.
It is clear that the move has been finalised due to the Davis Cup's new 18 team format which will be tested in November this year in Madrid.
Although there has been criticism of the new event this is the first time a sponsorship has been dropped from the Davis Cup and the banking company's intent.
Head of communications, Bertrand Cizeau, explained his decision, "We decided with the ITF to conclude the 'Davis Cup by BNP Paribas' partnership as the competition format evolves," Cizeau explained.
"During 17 years, we have been happy alongside fans, players and local audiences, all around the world, and to have fuelled their passion during unforgettable matches."
The move is certainly stunning to the ITF but their president David Haggerty did thank BNP Paribas for their contribution, "BNP Paribas has made a vast contribution to the success of the Davis Cup as a title sponsor over the past 17 years," Haggerty said.
"We are proud of the great work we have achieved together for Davis Cup, and we look forward to continuing our relationship across a number of properties from the grassroots to the top of the game."
The dedicated partner will continue to work with the ITF with a variety of schemes and projects including developing the Junior and Wheelchair events.
However with talk of a 12 team Fed Cup event similar to the Davis Cup one, would BNP Paribas stop its partnership with the Fed Cup and how would that impact the ITF?
As for David Haggerty he will now aim to rebrand the competition into the 'Davis Cup, World Cup Of Tennis,' as many see this as a significant change in the history of the competition that has now gone on for 118 years.
Davis Cup Finals Tournament Director Asks For Patience Ahead Of November Edition
Davis Cup Finals tournament director Albert Costa is asking for patience as he believes the tournament will be an overwhelming success
Davis Cup Finals Tournament Director Albert Costa has asked fans for their patience ahead of November's edition. 
The new format will see 18 teams compete in Madrid in November for the Davis Cup trophy with many people criticising the reforms.
However tournament director Albert Costa has asked tennis fans for patience as he believes in time the Finals will be a success, "After all, it's one of the great competitions in the world of sports, very attractive, unique and novel for everyone, and for the players it will be a very attractive format," Costa explained in an interview with Radio Marca.
"I do not see that it will go wrong, people have many expectations, that the first year is complicated and there may be some doubt, but I think it will be a success, I have no doubt. It comes out as we hope we will have patience and we will organize the second edition in a better way, but we do not contemplate that it does not go well."
The Spaniard is also looking ahead to the future and is in current discussion to make the Fed Cup a combined event with the Davis Cup in the future, "The Federation Cup is a two-year project, we will see if it is viable, but we have it in our heads," Costa explained.
"We are still negotiating and talking with the ATP to do a joint event and then a larger one of men and women, it is a project but it is not a reality yet. There are opinions for everyone, the changes always generate doubts and we have to show that the competition is attractive to everyone."
The Davis Cup Finals takes place on the 18th-24th of November with a weakened field expected as Roger Federer, Dominic Thiem, Juan Martin Del Potro and Alexander Zverev will all not participate in Madrid.