Andy Murray Guides Great Britain To Davis Cup History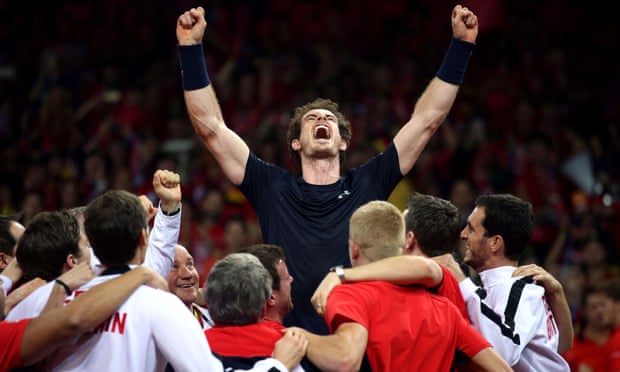 Andy Murray has ended Great Britain's 79-year wait for a Davis Cup title after beating world No.16 David Goffin 6-3, 7-5, 6-3, at the Flanders Expo in Belgium.
Going into the match Britain was in control of proceedings, leading the tie 2-1 followings wins in the Singles by Murray on Friday as well as the crucial doubles tie on Saturday.
The match was a nervous encounter for both players who were playing in front of a highly animated crowd in Ghent. Both player had to contend with off-putting sounds set off by members of the crowd whilst they were serving, sparking numerous warnings from the umpire. Despite facing Goffin on his home soil, Murray had the edge going into the final day with a head-to-head lead of 2-0. The Belgian has never won a set against the world No.2, a trait which has continued after today's encounter.
Murray has become the third man to score a perfect 8-0 winning record in singles matches in a Davis Cup season since the introduction of the World Group in 1981 after John McEnroe (1981) and Mats Wilander (1982). He is the fourth player to win 11 matches, including his four doubles wins this year and the fourth member of the Big Four to win the Davis Cup, following in the footsteps of Novak Djokovic (2010), Rafa Nadal (2011) and Roger Federer (2014). Murray has also become the first player since Pete Sampras to win three matches (two singles and the doubles) in a Davis Cup final.
It is the 10th time that Great Britain has won the title, first since 1936. During this year's tournament they have defeated three former Davis Cup champions (America, France and Australia) to reach the final before claiming their historic title against Belgium. Shortly after sealing the British victory, Murray spoke of his delight.
"I just can't believe we did it," said Murray.
"I play some of my best tennis when I'm playing for my country."
This year's achievement is a spectacular turnaround in Britain who was playing in the second group of the Europe/Africa four years ago.  Guiding them to victory was captain Leon Smith, who has worked with the team since July 2010. After experiencing a roller-coaster journey, a visibly delighted Smith spoke of his delight.
"It is amazing, as good a feeling as I could imagine. Andy has shown himself to be an absolute superstar". The British captain said.
"He will be the first to say that it is a team thing but what he has done is astonishing. I am proud of everyone."
Despite the disappointment, this weekend has also been a breakthrough experience for Belgium who played in their first final since 1904.
Since 2010 Great Britain have a Davis Cup win-loss record of 12-3. The only three countries they have lost within the past five years are Lithuania (2010), Belgium (2012) and Italy (2014).
Missed the match? Here is a recap
At 1-0 Murray hit a winner for 30-40 to bring up a break point, but Goffin saved it to hold his serve. Murray hit an ace down the middle for 40-0 before holding his serve to love with a winner in the third game for 2-1. Goffin won his service game to love with an ace for 2-2. The Belgian earned his first break point chance as Murray hit his backhand into the net. Murray held his serve for 3-2 after hitting a deep serve that Goffin could not get back. Murray hit a forehand pass and two returns to convert the break point chance to love for 4-2. Murray consolidated the break point in the next game with a cross-court pass winner for 5-2. Goffin saved three set points on serve, but Murray closed out the set with a forehand into the corner.
In the second game of the second set Goffin earned the second break point of the match when Murray hit his forehand long at deuce but could not capitalise it. Goffin fended off two break points to hold serve for 2-1 after a 10-minute third game. Murray held his serve in the fourth game to love for 2-2. Goffin made his second double fault of the match, but he held his serve to 15 as Murray hit a forehand reply into the net.
Murray hit a half-volley drop-shot to go up 15-30 on Goffin's serve. Goffin hit a smash to draw level to 30-30. At 40-30 Goffin hit a forehand down the line winner to hold his serve for 4-3. Murray hit three aces to hold his serve to love.
At 5-4 Goffin clawed his way back from 0-40 to 30-40 but he dumped into the net. Murray earned a break point with a forehand and broke serve at the most crucial moment to take the 6-5 lead as Goffin hit a forehand into the net. Murray went down 0-30 on his serve, but fought back with four consecutive points. He closed out the set with a cross-court forehand winner after a thrilling rally.
Goffin brought up two break point chances at 15-40 in the second game of the third set and converted his second chance when Murray dumped a forehand into the net.
Murray brought up two break-back points with a forehand cross-court winner and broke straight back in the third game for 1-2. Murray fired a service winner off his second serve to win his service game.
Goffin went up 40-15 with a forehand down the line and won the fifth game with a winner for 3-2. Goffin earned a break point with a forehand, but Murray saved it with a serve down the middle.
Murray got the crucial break to love at 5-3 and sealed the win on his second match point with a backhand lob.
Davis Cup Round-Up: Who Has Qualified For The Finals Group Stage?
Over the weekend 12 ties took place around the world to decide which countries would qualify for the Davis Cup Finals Group Stage later this year.

Borna Coric, Dominic Thiem, Alexander Zverev, Stan Wawrinka and Cameron Norrie were among those who participated in the historic team competition which began in 1900. There were plenty of highs and lows with some teams rewriting the history books for their countries.

Perhaps the biggest shock occurred at the Espoo Metro Arena where Finland stunned four-time champions Argentina 3-1. Home favorite Emil Ruusuvuori guided his team to victory by winning both of his singles matches in straight sets, as well as the doubles alongside Harri Heliovaara. It is the first time the Scandinavian country has qualified for the Finals stage.
History was also made in the South Korean capital of Seoul where the home nation came back from a 0-2 deficit to win a tie for the first time. Taking on Belgium, Korea fell behind after losing to David Goffin and Zizou Bergs on the opening day. However, they turned their fortunes around with a three-match winning streak to become the only Asian team to reach the final playoffs this year.

In one of the most anticipated clashes, Wawrinka guided Switzerland to a thrilling 3-2 win over Germany. The three-time Grand Slam champion endured a roller-coaster run after losing to Zverev in his opening match and then in the doubles alongside teammate Dominic Stricker. However, he clinched the decisive point for his team by defeating Daniel Altmaier 6-3, 5-7, 6-4. Switzerland's other two points were earned by Marc-Andrea Huesler who defeated Zverev and Oscar Otte.
There was also a close battle between France and Hungary. Tied at 2-2, Ugo Humbert sealed victory for his country by defeating Fabian Marozsan 6-3, 6-3. France has won the Davis Cup 10 times and was runner-up on nine other occasions.

Great Britain prevailed on the South American clay by defeating Colombia 3-1. After Dan Evans lost his opening match against Nicolas Mejia, the Brits bounced back with the help of two wins by Norrie and a crucial victory in the doubles. In the doubles match Evans and Neal Skupski stunned former world No.1 players Juan-Sebastian Cabal and Robert Farah.
Also through to the finals are America, Serbia and the Netherlands who all won their ties 4-0. Meanwhile, Sweden, Croatia and the Czech Republic all won 3-1.

The 12 winning countries will join Canada, Australia, Italy and Spain in the playoffs for the finals in September. The Group Stage will be held at four different venues from 12 to 17 September. The eight best teams will then progress to the finals in Malaga which will be held from 21 to 26 November.
Full results
CROATIA defeated AUSTRIA 3-1
Borna Coric (CRO) d. Dennis Novak (AUT) 6-3 7-5
Borna Gojo (CRO) d. Dominic Thiem (AUT) 6-3 7-6(2)
Alexander Erler/Lucas Miedler (AUT) d. Ivan Dodig/Nikola Mektic (CRO) 6-3 7-6(11)
Borna Coric (CRO) d. Dominic Thiem (AUT) 7-6(3) 6-2
FRANCE defeated HUNGARY 3-2
Zsombor Piros (HUN) d. Benjamin Bonzi (FRA) 7-6(4) 6-3
Ugo Humbert (FRA) d. Marton Fucsovics (HUN) 6-3 6-2
Fabian Marozsan/Mate Valkusz (HUN) d. Nicolas Mahut/Arthur Rinderknech (FRA) 6-2 7-6(4)
Adrian Mannarino (FRA) d. Marton Fucsovics (HUN) 7-6(6) 6-2
Ugo Humbert (FRA) d. Fabian Marozsan (HUN) 6-3 6-3
USA defeated UZBEKISTAN 4-0
Mackenzie Mcdonald (USA) d. Sergey Fomin (UZB) 64 61
Tommy Paul (USA) d. Khumoyun Sultanov (UZB) 61 76(6)
Austin Krajicek/Rajeev Ram (USA) d. Sanjar Fayziev/Sergey Fomin (UZB) 6-2 6-4
Denis Kudla (USA) d. Amir Milushev (UZB) 6-4 6-4
SWITZERLAND defeated GERMANY 3-2
Marc-Andrea Huesler (SUI) d. Oscar Otte (GER) 2-6 6-2 6-4
Alexander Zverev (GER) d. Stan Wawrinka (SUI) 6-4 6-1
Andreas Mies/Tim Puetz (GER) d. Dominic Stricker/Stan Wawrinka (SUI) 6-7(3) 6-3 6-4
Marc-Andrea Huesler (SUI) d. Alexander Zverev (GER) 6-2 7-6(4)
Stan Wawrinka (SUI) d. Daniel Altmaier (GER) 6-3 5-7 6-4
GREAT BRITAIN defeated COLOMBIA 3-1
Nicolas Mejia (COL) d. Daniel Evans (GBR) 6-2 2-6 6-4
Cameron Norrie (GBR) d. Nicolas Barrientos (COL) 6-2 7-5
Daniel Evans/Neal Skupski (GBR) d. Juan-Sebastian Cabal/Robert Farah (COL) 6-4 6-4
Cameron Norrie (GBR) d. Nicolas Mejia (COL) 6-4 6-4
SERBIA defeated NORWAY 4-0
Miomir Kecmanovic (SRB) d. Andreja Petrovic (NOR) 6-1 6-3
Laslo Djere (SRB) d. Viktor Durasovic (NOR) 6-3 4-6 7-6(8)
Nikola Cacic/Filip Krajinovic (SRB) d. Viktor Durasovic/Herman Hoeyeraal (NOR) 6-4 3-6 6-3
Hamad Medjedovic (SRB) d. Viktor Durasovic (NOR) 6-4 6-7(4) [10-4
CHILE defeated KAZAKHSTAN 3-1
Timofei Skatov (KAZ) d. Cristian Garin (CHI) 6-1 6-3
Nicolas Jarry (CHI) d. Alexander Bublik (KAZ) 6-2 6-2
Marcelo Tomas Barrios Vera/Alejandro Tabilo (CHI) d. Andrey Golubev/Aleksandr Nedovyesov (KAZ) 6-4 7-5
Cristian Garin (CHI) d. Alexander Bublik (KAZ) 6-4 3-6 6-3
KOREA, REP. defeated BELGIUM 3-2
Zizou Bergs (BEL) d. Soonwoo Kwon (KOR) 1-6 6-4 7-6(6)
David Goffin (BEL) d. Hong Seong Chan (KOR) 6-4 6-2
Nam Jisung/Song Min-kyu (KOR) d. Sander Gille/Joran Vliegen (BEL) 7-6(3) 7-6(5)
Soonwoo Kwon (KOR) d. David Goffin (BEL) 3-6 6-1 6-3
Hong Seong Chan (KOR) d. Zizou Bergs (BEL) 6-3 7-6(4)
SWEDEN defeated BOSNIA AND HERZEGOVINA 3-1
Mikael Ymer (SWE) d. Mirza Basic (BIH) 6-4 7-5
Elias Ymer (SWE) d. Damir Dzumhur (BIH) 6-1 6-4
Mirza Basic/Tomislav Brkic (BIH) d. Andre Goransson/Elias Ymer (SWE) 6-4 6-2
Mikael Ymer (SWE) d. Damir Dzumhur (BIH) 6-1 1-6 6-3
NETHERLANDS defeated SLOVAKIA 4-0
Tallon Griekspoor (NED) d. Lukas Klein (SVK) 7-6(6) 2-6 6-4
Tim Van Rijthoven (NED) d. Alex Molcan (SVK) 7-6(6) 5-7 6-3
Wesley Koolhof/Matwe Middelkoop (NED) d. Lukas Klein/Alex Molcan (SVK) 6-3 6-3
Matwe Middelkoop (NED) d. Jozef Kovalik (SVK) 6-4 6-4
FINLAND defeated ARGENTINA 3-1
Emil Ruusuvuori (FIN) d. Pedro Cachin (ARG) 7-5 6-3
Francisco Cerundolo (ARG) d. Otto Virtanen (FIN) 6-3 3-6 7-6(3)
Harri Heliovaara/Emil Ruusuvuori (FIN) d. Maximo Gonzalez/Andres Molteni (ARG) 7-6(5) 4-6 6-4
Emil Ruusuvuori (FIN) d. Facundo Bagnis (ARG) 7-5 6-1
CZECH REPUBLIC defeated PORTUGAL 3-1
Jiri Lehecka (CZE) d. Nuno Borges (POR) 6-4 6-4
Tomas Machac (CZE) d. Joao Sousa (POR) 7-6(6) 3-6 6-2
Nuno Borges/Francisco Cabral (POR) d. Tomas Machac/Adam Pavlasek (CZE) 7-5 7-6(4)
Joao Sousa (POR) v Jiri Lehecka (CZE) 6-4 6-1
Davis Cup In Danger After Kosmos Ends Partnership 
The 25-year $3bn deal in place to protect the team event is coming to an end. It remains to be seen what happens next.
The future of the Davis Cup has been thrown into jeopardy following the departure of investment company Kosmos after they reportedly failed to reach a financial agreement with the International Tennis Federation. 
Rumours of the partnership breaking up started to surface on social media on Thursday but Ubitennis has since been able to confirm that this is true through a national tennis federation source. According to the Spanish newspaper Marca, Kosmos' exit from the Davis Cup occurred after they failed to reach an agreement with the ITF concerning the $40M fee per year.
The development is a massive blow for the ITF who originally signed a 25-year deal with Kosmos worth in the region of $3bn back in 2018 after their AGM voted in favour of making changes to the event. Something that prompted a substantial divide in the sport with critics accusing them of trying to destroy the historic team competition which has been in existence since 1900. Under the agreement, Kosmos took sole responsibility for the Davis Cup and its format.
During recent interviews with Ubitennis over the past three months, the CEO of Kosmos, Enrique Rojas, claimed the organization had desires to make the Davis Cup as prominent as a Grand Slam and said in a separate interview that he wanted to use 'global ambassadors' to promote the event. 
The timeframe of the negotiations has not been made public and therefore it is unclear when Kosmos officially ended their collaboration.
One of the first officials to react to the development was Dirk Hordotff from the German Tennis Federation who agreed with Ubitennis for his remarks to be published. Hordorff is the current coach of Ricardas Berankis and has previously worked with former world No.5 Rainer Schuettler for 20 years.
"Time to review and heal this nonsense," he said. 
'Bring back home and away ties which makes the Davis Cup so unique.'
"Solve the key issues of the problem: no short notice for organizations of the ties and have a minimum preparation for each event of one year. Don't play the final every year and don't play (the event) in Olympic years. The best thing during an Olympic year would be to have a team event at the Olympics."
There is yet to be an official statement from either the ITF or Kosmos. However, an ITF spokesperson has confirmed to the AFP news Agency that the partnership is 'ending in its fifth year.' It is understood that this year's Davis Cup will continue under the sole control of the ITF but it remains to be seen what happens to the future of the event. 
As for Kosmos, they will still stay involved in tennis in some capacity. Earlier this month they announced the signings of Elina Svitolina, Borna Coric and Andrey Rublev to their management branch.
Criticism From Fellow Australians Deterring Nick Kyrgios From Davis Cup Duties 
The tennis star has taken a swipe at his critics while discussing his commitment to the team tournament and if he will participate in it again.
Nick Kyrgios says his decision to not play in the Davis Cup is partly linked to what he describes as 'negative' comments from fans in his home country. 
The Wimbledon runner-up was absent from the Australian team at this year's finale which was held in Malaga last month. Australia, which was led by Alex de Minaur, reached the final before losing to Canada.
Despite his success on the Tour, Kyrgios hasn't played in the Davis Cup since 2019. In the past, he has been publicly criticized for his behaviour in the sport and commitment to tennis. Speaking with the Australian Associated Press, the world No.22 said his decision not to play is partly related to his calendar and desire to spend time at home with his family. Although he admits that he would be tempted to get more involved in the event if he was 'embraced more' by the public.
"Maybe if Australia embraced me a little bit more, I would play it and bring home the trophy," he told AAP.
"But who knows?
"It's not always easy for me to erase everything in Australia that's said negatively about me or my family.
"You don't need that – so it's interesting that they really want me to play, but are always criticising."
The 27-year-old is no stranger to controversy and is known for receiving numerous code violations during matches. At his worst, he was slammed with a suspended ban three years ago from the ATP for 'aggravated behaviour' following an investigation.
However, Kyrgios' controversial antics subsided during the 2022 season where he has reached new heights such as reaching his first Grand Slam final at Wimbledon and winning the Australian Open doubles title with Thanasi Kokkinakis. He also won the Washington Open in August.
"I don't forget the first seven years of my career … they can't just pick and choose," Kyrgios commented on the support he has received.
"Look, I've always been one of the best players in the world – I've always held up my fair share of the bargain towards Australia.
"I feel like this is the first year I've earned respect when it should have been given when I first came on tour.
"I've represented (Australians), put them on the map, and having produced one of the most successful male years in the last decade for Australia, and am only just getting embraced (now).
"I don't think that's my fault."
Kyrgios returned to the courts on Thursday to play at the lucrative Diriyah Tennis Cup in Saudi Arabia where the champion will receive $1M in prize money. However, his title chances have been ended by Cameron Norrie who beat him 10-6, 10-6, to reach the quarter-finals. 
Quizzed about his decision to play at the exhibition event instead of the Davis Cup, the tennis star said it was an easy decision considering the reception he has received from fans and critics. 
"At this point of my career, I'll always do what's best for me," he stated. 
"I can travel around the world playing exhibitions around this time of year for six figures – you know I feel I put myself in that position – so it's an easy one for me."
Kyrgios remains coy about his future in the Davis Cup after saying he might contemplate returning to the competition.