Shapovalov Stuns Nadal… The Significance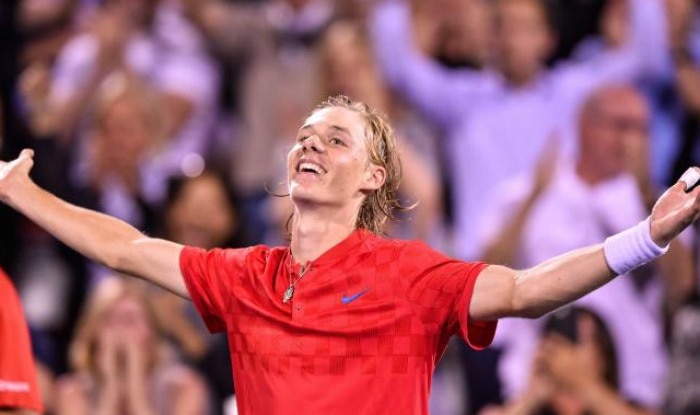 @Sportshorn
Fans in Montreal were entertained to a spectacular two hours and 46 minutes of tennis on Court Central on Thursday night. 18-year old Canadian Denis Shapovalov stunned World No 2 Rafael Nadal 3-6, 6-4, 7-6 (7-4) in front of a sold out crowd to move into the quarter-finals of the Rogers Cup. A memorable night that could go down as one of the biggest moments in Canadian tennis history. There have been some other stellar achievements including a young Daniel Nestor upsetting World No 1 Stefan Edberg in five sets at the Davis Cup back in 1992.
Daniel Nestor & Sebastien Lareau winning the Doubles Gold medal in the 2000 Olympic Summer Games in Sydney Australia was also a considerable memory.
Milos Raonic's come from behind five set victory over Roger Federer in last years Wimbledon semi-final also comes to mind.
Most would never have predicted Shapovalov would have any chance to prevail over the 15-time Grand Slam Champion. But he proved everyone wrong.
A look at the significance of Shapovalov's win:
He becomes the youngest player to EVER reach a Masters 1000 quarter-final.
He becomes the youngest player to reach the Rogers Cup /Canadian Open quarter-finals since Bjorn Borg in 1974.
He becomes the second youngest player to beat Rafael Nadal (Coric 2014 Basel).
He becomes the second unseeded Canadian player to upset a No 1 seed in a Masters 1000 event in 2017 (Pospisil def Murray at Indian Wells this year)
He moves into the Top 100 in the ATP World Tour rankings. Now currently No 100 (started week at No.143).
He would move into the Top 70 in the ATP World Tour rankings if he can defeat Adrian Mannarino in the quarter-finals on Friday.
His total earnings in 2017 are $131,399. Reaching the quarter-finals at the Rogers Cup guarantees him at least $112,255. If he reaches the semi-finals he would collect $220,760. That's more one one tournament than his $197,661 in career earnings.
It looks like Canadian tennis fans are going to be in for a treat for quite some time with this young superstar.